Srivats TS, VP Marketing
Martin Luther King Jr. had said, "Our lives begin to end the day we become silent about things that matter." He could not have been more astute. The general elections have kicked off, but is India ready to vote? In 2014, India saw an electoral turnout of 66.4%; this year the responsibility is bestowed upon the country's nearly 900 million eligible voters.
And why is it important? India is a thriving democracy and by voting, one can push the status quo, and give life to the issues we care about. Voting gives us power; we exercise our power to choose, to speak up and to stand with those who we believe in.
The 2019 elections will see many companies do their bit for the world's largest democratic process. At Swiggy, we want to use our reach and technology to create more awareness amongst millions of our consumers and our large fleet of delivery partners.
This is what we've planned for the elections this April-May:
#VoteKaroPhirSwiggyKaro: We're running a #VoteKaroPhirSwiggyKaro campaign to encourage people to vote. A banner within the Swiggy app will direct customers to a new Swiggy microsite that states Swiggy will now deliver the nation's needs. Designed to mimic the menu listing on Swiggy, the microsite allows users to add things like infrastructure, education among other asks to their cart. However, once done, there is a pop up urging them to step out and vote, reminding them that there are still some things they can't get delivered home.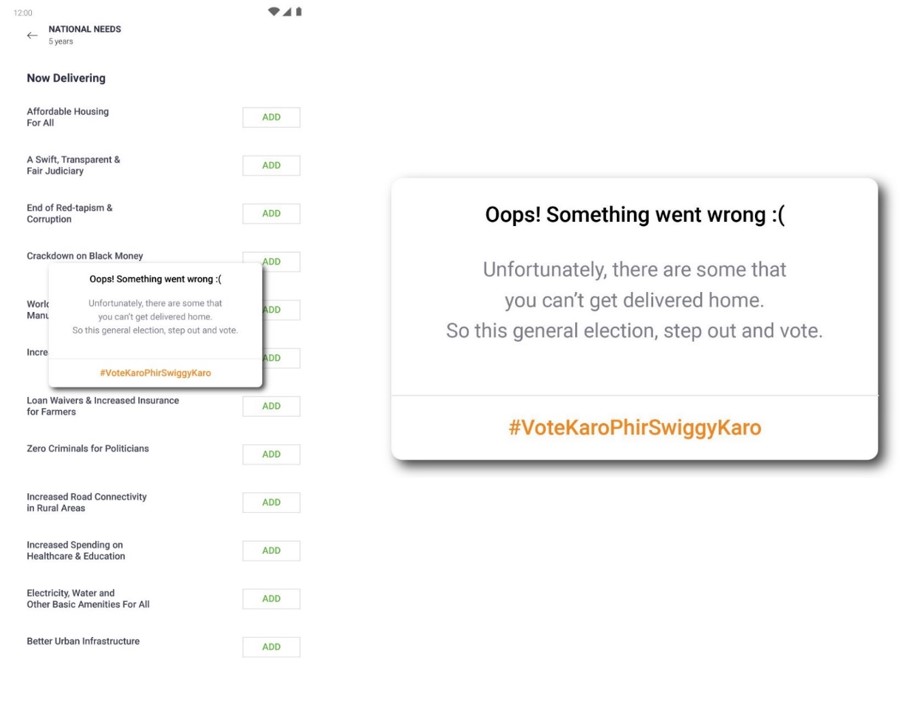 Swiggy microsite urging users to vote
Link to microsite: https://everything.swiggy.com/
Reminder on your order: Every Swiggy order around polling dates will have stickers that say #VoteKaroPhirSwiggyKaro, gently urging our users to cast their ballot.

Creating awareness amongst our delivery partners:
At over 1.7 lakh monthly active partners, Swiggy has the country's largest delivery fleet. While we continue to do our part in giving them great earning opportunities and skilling them for the future, we want to remind them about an important duty.
Pledge to vote: Across the cities that Swiggy is present in, we're urging our delivery partners through various channels including the Swiggy delivery partner app. Many delivery partners have already taken the pledge to cast their vote and are encouraging their friends and families to do the same.
This initiative is a part of Swiggy's ongoing #VoteKaroPhirSwiggyKaro campaign. Delivery partners are gathering at their respective Swiggy hubs to take the pledge- 'I pledge to perform my duty as a responsible Indian citizen. I pledge to go out and vote.'
Delivery partners who show their inked fingers as proof of having exercised their duty will win 'Swiggy Smiles' reward points. Many of them are already posting pictures post voting. Swiggy hopes that this initiative will contribute, in its own small way, to increase voter turnout at the elections.
Note: Delivery partners engage with Swiggy on a principal to principal basis
Three easy steps to prepare for E-Day:
Check your travel plans and be in town on the day your city goes to poll
Make sure your voter ID is handy and you know where your polling booth is
We suggest you start early; delaying going to the booth may end your resolve to go at all
A ton of excuses can find their way to prevent us from making the trip, so prioritize the polls. Don't worry about cooking breakfast, lunch or even a snack – we will deliver it to your doorstep, as always.
There are some things Swiggy can deliver. For everything else, step out and vote.
#VoteKaroPhirSwiggyKaro