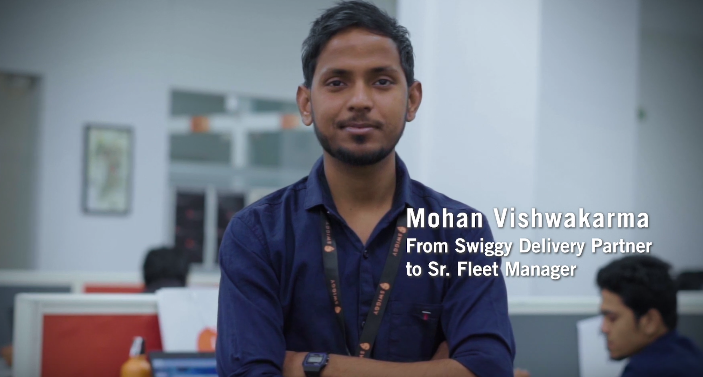 Orphaned at a very young age, Mohan Vishwakarma and his siblings were brought up by his uncle in a small town in Gorakhpur. While he managed to pursue his education till 10th standard, he was forced to quit his studies and take up work soon after graduating. With an interest in food and cooking, Mohan started working part-time as a cook for a household in Mumbai.
"I started my first job as a cook, but I was still not able to make ends meet".
Working multiple part-time jobs and surviving on a hand-to-mouth existence, Mohan tried everything to earn a quick buck. When the strain of work and travelling between jobs started taking a toll on him, his brother suggested that he join Swiggy as a delivery partner.
February 2016: Armed with his bag and bike, Mohan rode off as a newly anointed delivery partner. With sincere dedication and passion to make a mark in his new career, Mohan put in long hours (almost 16 hrs/day), all seven days of the week. His efforts started paying off early on, earning him Rs.40,000 a month.
Mohan's hardworking nature and performance were soon recognised.

"I got a call from the hub. I became a little nervous. After receiving the call, I found out that I was being offered the role of fleet manager".
He was even awarded for his consistent performance. 9 months into his new role, Mohan was promoted once again, but this time to senior fleet manager.
Today, Mohan is happy, healthy and able to take care of his family financially. He is currently funding his sister's education and his uncle's medical treatment. He has also bought some land for himself, which he plans to put to good use in the near future.