As we all work towards flattening the COVID-19 curve, citizens across the country are depending on the help of online platforms for the delivery of food, essentials and staples. In times like these, our delivery partners are nothing short of a lifeline to the nation.

To support the welfare of our partners and their families during these difficult times, Swiggy has introduced various initiatives to assist our Hunger Saviors in every way possible.
THE SWIGGY HUNGER SAVIOR COVID RELIEF FUND
From medical coverage to Income Protection Insurance, the Swiggy Hunger Savior Covid Relief Fund covers many essential benefits. As of date, we have already raised upwards of Rs. 4 cr towards the fund; our aim is to raise a total of Rs. 10 cr.
HOW THE FUND WILL BE USED:
Income Protection Insurance
Delivery partners affected by Covid-19 and suffer loss of pay during their 14-day quarantine and recovery period will receive Rs.1000/day as financial support.

Medical Coverage for Parents & Family
Compensation for medical expenses for self & family (parents, spouse and children), not covered by existing insurance policies.

Essentials Care Package
Extending assistance in the form of food/medical essentials packages to financially distressed delivery partners.

To know more about the fund or to contribute, please click here. For as little as Rs.3500, you could support a delivery partner and his family for a whole week.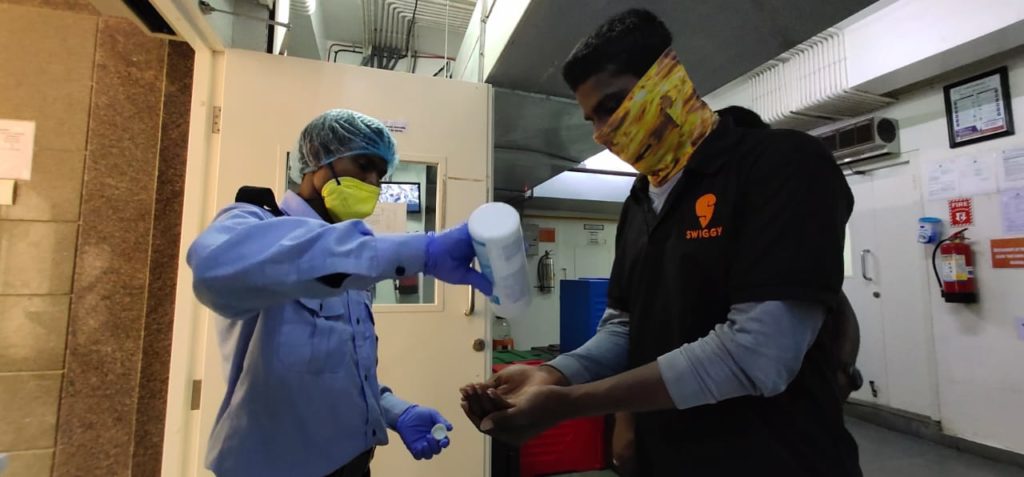 ---
NEW EARNING AVENUES
To help delivery partners earn as much as possible while they brave the streets, we've now also enabled orders for groceries and essentials in certain cities on Swiggy. This is another way in which we're helping citizens stay safe indoors during this crucial lockdown.
---
HOSPITALIZATION COVER OF UP TO RS. 1 LAKH
If a delivery partner or one of their registered family members (spouse or up to 2 children) gets hospitalized for COVID or any other sickness/injury, the Swiggy Insurance Program will cover up to Rs.1 lakh in hospitalization fees, no questions asked.
---
DOCTOR ON CALL
To help delivery partners consult with doctors without worrying about expenses, we now also offer free online medical consultations in association with Visit app.
To support the Hunger Saviors who have been there during your time of need, contribute to the Swiggy Hunger Savior Covid Relief Fund.