The COVID-19 pandemic demanded a nation-wide lockdown. Unfortunately, this solution came with a life-threatening problem: hunger. Lakhs of daily wage workers and migrant labourers lost their livelihoods overnight, and were stranded in relief camps. With no jobs and no way to get back home, several were going hungry every day.  
At Swiggy, our eyes were set on fighting this hunger crisis. 'Hope, Not Hunger' was launched on March 30th, 2020, with the aim of distributing wholesome, hygienic meals to those in need. To make this happen, we partnered with more than 75 NGOs and several state governments across affected cities in India. Partner kitchens prepared and packed meals comprising daal, rice, and vegetables, which were distributed daily. 
Seven weeks and thousands of generous contributions later, here's the difference we've made:
Rs. 9,50,14,827 raised
30 lakh meals distributed in 30 cities
75+ NGO partnerships
35,512 individual contributions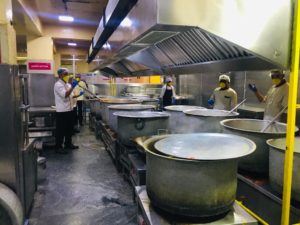 'Hope, Not Hunger' has impacted countless lives in India. Every day, all contributions went behind creating wholesome meals, and ensuring it reaches those in need.
From donations across the globe to the celebrity shout-outs on social media, the support we received was overwhelming. In fact, it helped us extend the campaign and save many more lives. We'd like to thank everyone who supported this cause – whether by contributing, volunteering on ground, or cooking and packing lakhs of meals every day. Together, we not only prevented hunger, we gave several Indians hope for a better tomorrow.