Most foodies would tell you that their first love for food blossomed on the roadside, right by a street cart where they spent the better part of their weekly pocket money. In 2020, it's been tough for every foodie to visit these 'first loves'. Tougher still, is helplessly watching our beloved pani puri wallas, vada pav bhaiyas, and bhel puri didis shut their shops overnight.
Our hearts went out to these vendors, and we were looking for ways to help them revive their business again. Fortunately, it just so happened that the Ministry of Housing and Urban Affairs (MoHUA) wanted to do something about their plight too. And that's how the partnership of the MoHUA's PM SVANidhi scheme and Swiggy came to be.
The PM SVANidhi scheme, in collaboration with Swiggy, aims to enable online ordering and home delivery for street food vendors. Now, we're scouring India's top street food destinations, continuously identifying iconic vendors, and holding their hands through food safety practices and the world of online ordering.
We're excited to not only support street vendors and give their business a new lease of life, but are also thrilled to have you bite into the street fare you've been missing. From hygiene practices to vendor partnerships, here's everything you need to know about this project:
1. How is Swiggy ensuring the hygienic preparation and packaging of food?
To create a safe experience, Swiggy has facilitated several hygiene protocols for SVANidhi.
Swiggy works with potential street vendor partners and the FSSAI to facilitate necessary training on safe food preparation and handling, as per the guidelines prepared by the FSSAI. In Ahmedabad for example, the FSSAI Ahmedabad and Swiggy will be conducting a joint 360-degree training program for street vendors on-boarded by Swiggy.
A 20 point customized hygiene audit checklist has been created by Swiggy's Food Safety team which is based on standards set by FSSAI and before onboarding we are ensuring that the street vendors meet the critical safety criteria.
Swiggy is working on facilitating FOSTAC training of street food vendors in partnership with MoHUA, FSSAI and the 3rd party organizations accredited by FSSAI to conduct such training by providing it for free or at subsidized costs.
We are also making high-quality packaging available to the vendors at affordable prices.
For added safety, we also recommend customers pay online and opt for no-contact delivery.
2. How can I find the street food vendors on the Swiggy app?
If SVANidhi has been launched in your city, you will find a new tab on your homepage, which will lead you to all the street food vendors open for orders near you.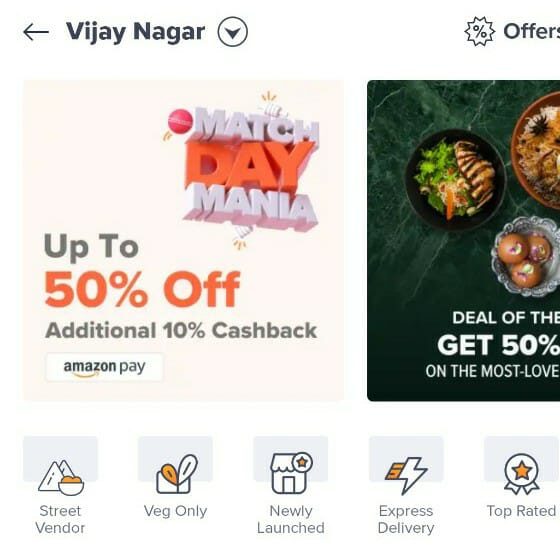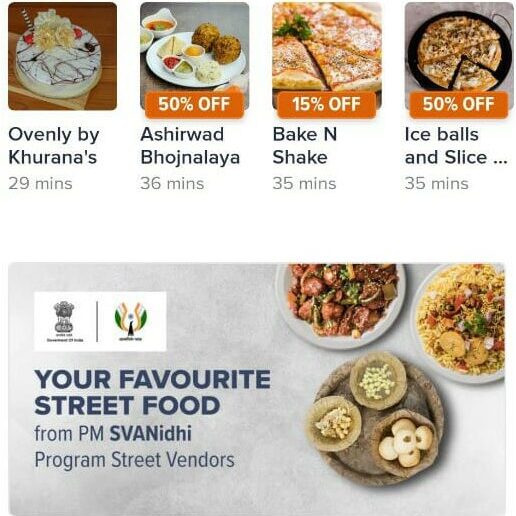 Currently, SVANidhi x Swiggy is available in Indore, Ahmedabad, and Varanasi. To open this opportunity for more street vendors, we aim to expand to several more cities in the coming months.
3. On what basis have the street vendors been chosen?
A dedicated team is continuously exploring and identifying iconic, popular, and known-to-be safe street vendors. A suitable vendor is chosen based on their response and adaptability to safety protocol and technology.
4. Will a Swiggy order from a street vendor feel just as seamless as a restaurant order?
Yes, we've put several processes in place to give you the same Swiggy experience you love. All SVANidhi street food vendors have to undergo a three-stage training programme before being on-boarded on Swiggy. They are trained by our onboarding team in person, online, and finally over a 1:1 call. This ensures that they are able to accept, prepare and fulfil orders, while maintaining the required experience consumers expect from Swiggy.
5. What kind of prices can we expect under the SVANidhi category? Can orders actually support these street food vendors?
As the goal of this initiative was to help support street food vendors, all SVANidhi vendors have been onboarded as per the online prices set by the street food vendors themselves. Every order you place empowers these vendors to remain financially self-sufficient, while reviving street food culture in a safe manner.