Swiggy started 7 years ago in one locality of Bangalore with a mission to change the way India eats. While we embarked on the journey of fulfilling that mission and scaling our offering across multiple cities, we also iterated constantly on how we could leverage our core strength of hyperlocal logistics and delivery to make daily lives easier for our consumers. Some of our experiments evolved and became products that saw huge consumer love and turned out to be lifelines for consumers viz. our hyperlocal delivery service, Genie and our grocery delivery service, Instamart. Our mission then evolved into being enablers of convenience, thereby empowering our consumers to live their best lives, with the confidence that Swiggy will always have their back.
We launched our first membership program Swiggy SUPER back in 2018 with the intent of making ordering-in affordable for our consumers by waiving off delivery charges on restaurant orders. With a bouquet of services now live on Swiggy, we needed to upgrade it to a program that offered benefits across all the various service lines. Thus, Swiggy One was born – A single membership that offers unlimited benefits across restaurants, Instamart and Genie orders on Swiggy including free delivery and exclusive discounts from select restaurants. Today, Swiggy One has gone live across all the 500+ cities that Swiggy currently operates in.
Members will get access to benefits across all services present in their respective cities. Here's a look at the benefits that Swiggy One members get access to: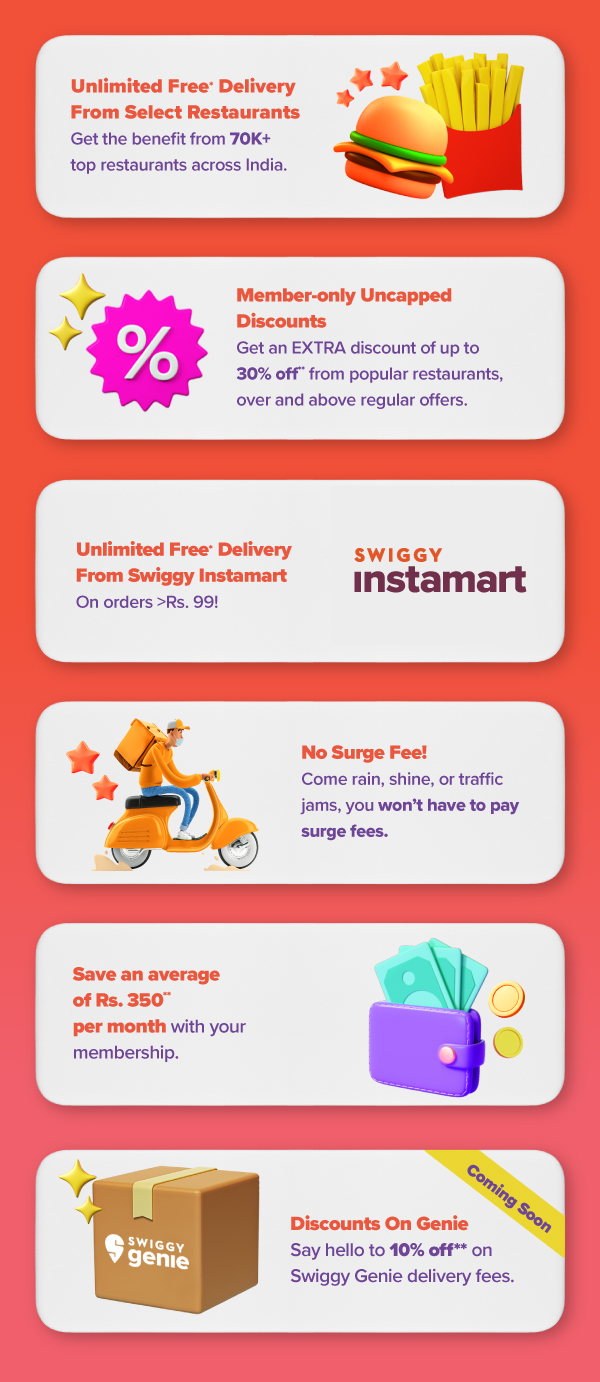 Swiggy One members can get all these benefits starting as low as Rs. 75/month. They can choose between 2 plan durations.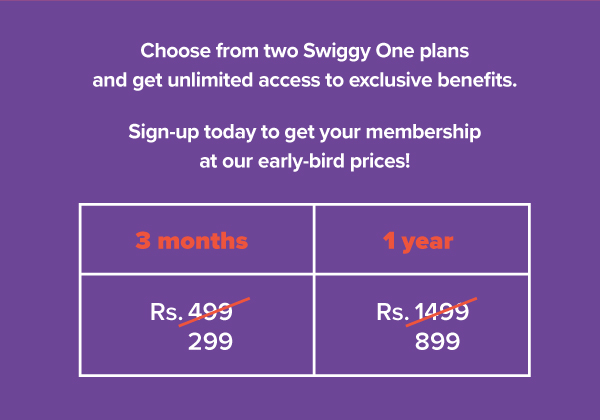 With the launch of Swiggy One, all our existing Super users will be automatically upgraded to a Swiggy One membership with an additional duration of one month for free!
To become a Swiggy One member, login to the Swiggy app and click on the 'Swiggy One' banner.