An industry-first initiative to ensure that our delivery executives are attended to in minutes in case of an accident
The current average response time of this ambulance service is 12 minutes
Delivery executives can contact the ambulance service directly from the partner app through the SOS section on the homepage or through a toll-free number
Swiggy's mission is based on offering unparalleled convenience to consumers. Every day, delivery executives across 500+ cities deliver lakhs of food, grocery, and other orders. Ensuring their safety and well-being is important to us, and we are always looking for ways to help make their deliveries with us safer. We are also committed to ensuring they get quick and easy assistance in the rare and unfortunate event that something goes wrong.
In line with this commitment, today, we're sharing an update on how we're making deliveries with Swiggy even safer with the launch of what is probably an industry-first initiative-a free, fast and on-demand ambulance service whenever our delivery executives and their dependents need it.
Delivery executives can reach out on the toll-free number: 1800 267 4242. Sometimes, making a call is not an option, and executives can tap the SOS button without leaving the partner app in the case of an emergency before, during, or after a delivery.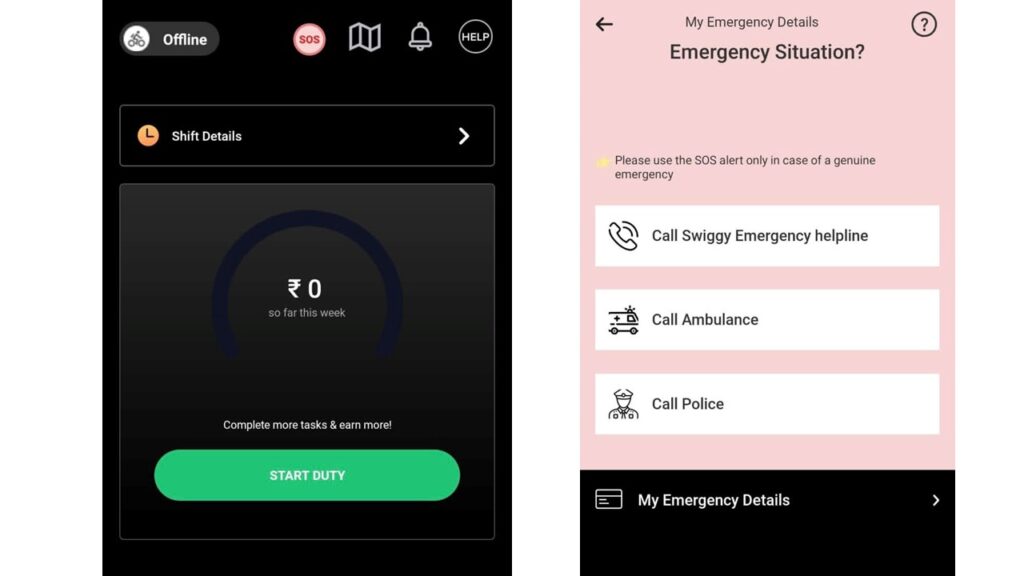 We have partnered with Dial4242 Ambulance Service which has over 10,000 ambulances across 500+ cities and can assist our executives in a matter of minutes should anything untoward happen. We have launched this service pan-India after piloting it in Bangalore, Delhi, NCR, Hyderabad, Mumbai, Pune, and Kolkata. In the test runs and the cases raised so far, the response time has been an average of 12 minutes. Dial4242 can dispatch different ambulances such as Basic Life Support ambulances, Cardiac ambulances, Advanced Life Support ambulances, Inter-state ambulances, Covid-19 ambulances, and Hearse Vans based on the severity of the case. The ambulance service then identifies the nearest cashless hospital from Swiggy's vast network of partner hospitals, ensuring they get timely treatment. The ambulance will stay put till the Swiggy partner's treatment begins. 
Mihir Rajesh Shah, Head of Operations at Swiggy said, "Swiggy is committed to the safety of our delivery executives, and over the years, we have been investing in products and policies that prioritise their safety and well-being. Every day, lakhs of deliveries are carried on smoothly by our delivery executives, however, emergencies have a way of coming unannounced. With the free ambulance service that is fast, on-demand, and comprehensive, Swiggy has got our executives' back, giving them safety and peace of mind and getting them help when they need it the most."
With the launch of this service, Swiggy has an active emergency support mechanism in place to ensure our Delivery executives are attended to at the earliest in case of any unfortunate accident and taken to any of the nearby network hospitals on time. In 2021, we launched the Emergency Support Services (ESS) through the SOS button, which directly connected our executives with the Swiggy hotline, ambulance services, or the police helpline.
More than 99.9% of our daily deliveries happen without safety concerns but we understand that this can change in a matter of minutes and that is what we need to be prepared for. We look forward to continuing to make deliveries on Swiggy safer so our executives can have the confidence that there will be help in their time of need.
Delivery executive speak
A delivery executive from Gurugram, Sanjeev Kumar shared his experience, "When I contacted the toll-free number directly, the ambulance reached in 10 mins. I am grateful to Swiggy for helping us with this prompt and free emergency service."
Anwarpasha Syed, a delivery executive from Pune says, "I contacted our Swiggy Hotline team, and the ambulance reached my accident location in under 15 mins. They took me to the hospital, which I had suggested, and I got timely treatment for some major scratches on my body. This is a great service from Swiggy and I will inform all my fellow executives and friends regarding it."