Here are some of the most popular dishes you can find in Hyderabad.
If you're a travel food junkie, then we understand how important food is to your journey of experiencing a new city. Exploring local food and authentic cuisine makes you acquainted with the rich history of how these dishes came into existence and how, after all these modern adaptations, the aroma of that sweet delicacy or delicious street food has evolved.
The staple biryani is one such Indian classic and is the most famous food in Hyderabad. In fact, it is so essential to Indian culture that time and again, we see lots of 'Biryani versus Pulao debate' on the internet (BTW, there is a veg biryani called Qabooli Biryani, but don't tell the non-vegetarians we told you that). Such a trivial matter, is it not? And yet, it is the most fun-filled debate of all time.
Whenever we say biryani, the first thing that comes to our head is the Hyderabadi Biryani – the most loved OG dish of Hyderabad. But is that the only must-try food in Hyderabad you need to know about? Surely not. If you truly pride yourself on being a travel food junkie, then keep on reading to find out the most famous Hyderabadi dishes that you must order online from the top-rated restaurants on Swiggy or eat out in Hyderabad.
Hyderabadi Biryani at Fanooz Restaurant:

First things first, let's get the dish that needs no introduction anymore. A cooked-to-perfection blend of herbs, spices, and mouth-watering tender chicken, the Hyderabadi Biryani is the best food item to have in this city, as iconic as it gets. For the most authentic Hyderabadi Biryani, head over to Fanooz Restaurant in Lakdikapul, which is known for its consistent marinating process that never disappoints and is a regular repeat order among Swiggy customers.
Chicken Shawarma at Mehfil:

And now, let's get on with street food! A primary starter in Hyderabadi cuisine, Shawarma is a thin roti roll with minced meat and is the best starter food in the city. This delicious food is bound to fill the soft meat craving your heart is calling out for, and with some mayo to dip in, nothing tastes better than the oh-so-good shawarma. Get the best of shawarma at Mehfil in Banjara Hills as a side dish to your mains, which also specialises in mutton and chicken curries.
Capital Special Mutton Marag at Capital Multi Cuisine Restaurant:

Marag is a local favourite, so if you aren't trying this dish out, you are missing on something good, big time! Painstakingly cooked to perfection, this tender mutton stew is an essential at Hyderabadi weddings, which is enough to give away the importance this dish holds for Hyderabad's tradition and culture. And did we mention that it's brimming with flavour? Our tip: The mutton marag doesn't get better than any of the Special Mutton Marag at Capital Multi Cuisine Restaurant, so order it for a dinner scene with friends.
Murgh Malai Kabab at Palate House Family Restaurant:

We see you, chicken lovers, and we got you. This dish is so popular, it's listed in most Indian cuisine restaurants across the country, but did you know the origin of malai and chicken comes from Hyderabad? Enjoy this spicy dish at its best in the heart of food city, at Palate House Family Restaurant which is a favourite for dinner orders on Swiggy.
Irani Chai at Shah Ghouse Hotel & Restaurant:

Sip on the rich, aromatic Irani Chai that doesn't get better anywhere other than Hyderabad City. Visit the Shah Ghouse Hotel for some authentic Irani Tea, and if you prefer your home balcony's view, then get it delivered to your doorstep! We also suggest pairing it with some traditional Osmania biscuits to dip in.
Veg (Andhra) Meal at Harsha Mess:

Hyderabad might seem like a non-vegetarian paradise, but there is so much to explore in vegetarian options as well. One such must-try, which is an extremely famous food in Hyderabad, is the Veg Meal, also known as the Andhra Meal. It's a platter of various dals and gravies served on a banana leaf. Go to Harsha Mess for the most authentic Veg Meal experience, or order in for Andhra at your doorstep!
Murgh Korma at Dhana Estd 1986:

Another famous must-have, the malai murgh korma is a creamy, tangy preparation of gravy that can be garnished either with vegetables or meat, as per your preferences and liking. Get to Dhana Estd 1986 for the best Murgh Korma you will ever have. Thank us later!

Special Jouzi at Hameedi Confectioners:

A halwa with a deep history, the Jouzi Halwa is a lesser-known yet must-have Hyderabadi sweet dish. Prepared over the span of 16 hours, this delicacy was invented by an 11-year-old Turkish kid around a century ago. If you are visiting the Mozam Jahi market, make sure to head to Hameedi Confectioner to try their Special Jouzi warm, sweet delight!
Khubani Ka Meetha at Ohri's Silver Metro in Basheerbagh:

Dry fruit fans, this dessert will have you going for seconds! Made with apricots, Khubani ka Meetha is a Hyderabadi wedding essential. This place makes the most authentic Khubani Ka Meetha, so absolutely do check this dish out if your sweet tooth is craving something not too heavy but just the right amount of sugar. Order this sweet tooth fav on Swiggy after your dinner to give your meal the perfect ending.
Check these dishes filled with spices, sugar, and history off your list the next time you're in Hyderabad, and you are sure to bag the coveted travel foodie tag in your friend circle! Which of these yummy meals are you trying first, and what combination of starter, main course, and dessert would you be customising for the perfect Hyderabadi cuisine? Let us know! Go to the Swiggy app now to start your Hyderabadi cuisine journey.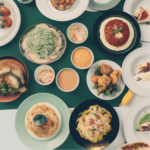 Satisfying your cravings, one bite at a time. Discover the best eats, trends, and uncover the hidden gems with us to make your online ordering or dining experience a memorable one.