Check out some of the dishes that are well-known across Bangalore.
Have you ever thought why 'explore' rhymes with Bangalore? No brainer, this is the city for those who love to explore, be it food, nature, and everything new! With its burgeoning food culture and creative food menus, a trip to this city is totally worth a food pilgrimage! The food scene in this city is a melting pot of different cuisines, ranging from famous food in Bangalore, such as South Indian to North Indian and from Chinese to Continental. The city offers countless lip-smacking cuisines that every visitor must taste. But in this blog, you will get a list of the humble, most famous food items that have the quintessential flavour of this city. You can indulge in the finest flavours that Bangalore has to offer with our carefully curated list of top-rated restaurants based on popular demand and glowing feedback from food enthusiasts like you on the Swiggy app.
The city is awesome in every way, but the only thing that bothers citizens/visitors is the distance. We know the city is far stretched, making it difficult to reach different places on the same day. Moreover, the rise in the number of working professionals in this major IT hub of India has only triggered traffic issues. So, before you start stressing out, let us introduce ourselves here! With Swiggy, you can get your favourite food delivered to your doorstep within a few minutes. Sounds like a tough job, but we get it done.
All right, fasten your seat belts as we go on a craving-drive, learning about the best and most iconic dishes that you must order or try during your visit to Bangalore.
The Food Culture of Bangalore
Bangalore's food culture is a vibrant and diverse mix of cuisines and flavours. The city's food scene constantly evolves, with new restaurants and food trucks popping up daily. From the iconic South Indian dishes to the unique blend of flavours, you get to taste the best food in Bangalore without a doubt.
All in all, regional cuisines are a must-try for those who want to experience local spices and flavours.
Some Lip-smacking Dishes of Bangalore That You Must Try
When it comes to the best food in Bangalore, it's impossible not to mention the city's most iconic dishes – Idli and Vada. These dishes are a staple of South Indian cuisine and are an essential part of people's daily diet in the city. It is also a famous food in Bangalore that people love to eat throughout the day, especially for breakfast. Served with chutney and sambar, these dishes are best enjoyed at one of the many famous South Indian eateries in the city, such as MTR or IDC Kitchen, which you can order online with Swiggy.
Another must-try dish in the city is Biryani. This aromatic dish of spiced rice and meat is a popular delicacy all over India and a must-try food in Bangalore. However, the Andhra-style biryanis found in the city are a class apart with their unique blend of spices and flavours. Some of the best places to try biryani include Meghana Foods, Mani's Dum Biryani, and Nagarjuna, which are popular for their lip-smacking Biryanis.
No trip to South India is complete without trying the filter coffee. This unique blend of coffee is brewed using a traditional filter and is served in small steel glasses. People here love to order their filter coffee from highly rated restaurants and cafes like Udupi Shanthi Nagar, IDC Kitchen, Chaayos, Filter Coffee, etc.
Apart from the best food in Bangalore, some dishes are a must-try when in the city. One of these is the Masala Dosa, a crispy crepe with spicy potato filling. This dish is served with chutney and sambar and is a breakfast staple in the city. Another great thing about Masala Dosa is it comes in many varieties of flavours and fillings. Some of the best places to order Masala Dosa include Sri Udupi Park, Srinidhi Upachar, and MTR.
Are you someone who loves to try different sweets to satisfy their inner sweet tooth? Then here comes one of the most famous foods in Bangalore – the Mysore Pak. This sweet dish is made from gram flour, ghee, and sugar and is a popular dessert in the South Indian region. Many people eat it during festivities and celebrations. So if you are in the city, Mysore Pak should be on your list of foods to eat in Bangalore. Some of the best places to try Mysore Pak include Asha Sweet Center and Anand Sweets and Savouries.
Apart from the above dishes, there are other famous foods in Bangalore that you must try during your visit. One such dish is the iconic Karnataka dish, Ragi Mudde. Ragi Mudde is a nutritious dish made from finger millet flour and is a staple food in Karnataka. It is typically served with sambar or a spicy curry and is a must-try for those who want to experience the authentic flavours of Karnataka. You can order this must-try food in Bangalore from Gowdas Nati Cafe and Sahana's Nati Style Cafe.
Are you a meat lover? If yes, then you are indeed in for a treat. Another dish that is popular in the city and should be on your list of foods to eat in Bangalore is the Kebab Platter. This dish is a mix of different types of kebabs, including chicken, lamb, and vegetarian options. It is typically served with a side of naan bread and chutney, making for a satisfying meal. Some of the best places to try Kebab Platter include Barbeque Nation and Punjab Grill.
In conclusion, Bangalore is a city known for its vibrant food scene, and it's no surprise that it has some of India's best and most famous food. Whether you are a resident or a tourist, the city has something to offer to everyone. Choose Swiggy to order your food online and try the best food of Bangalore to satisfy your taste buds.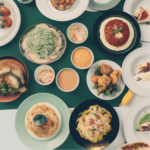 Satisfying your cravings, one bite at a time. Discover the best eats, trends, and uncover the hidden gems with us to make your online ordering or dining experience a memorable one.