Ask anyone about their favourite food item in Mumbai, and they are bound to say one word, "VADAPAAV"! Why not? This iconic Mumbai dish is a blockbuster with 'hot spicy vada' and 'soft paav' in the lead; and chutney and authentic masala in supporting roles. But other than vada paav holding superstar status, there are a number of dishes to eat in Mumbai. This city of dreams serves a delectable range of cuisines, flavours and street food options for a perfect gastronomic affair.
Being a city of migrants, Mumbai draws people from every region around the world. Its streets are densely packed with dreams, aspirations, old buildings and flavoursome street food. The vibe of the city is so welcoming that everyone manages to get along. Thus, the street food of Mumbai becomes a breeding ground for millions of stories.
As magical and captivating as Mumbai is, the food here ranges from sweet to zesty! In fact, there are so many food items that are named after Mumbai, for e.g., Bombay sandwiches, Bambaiya bhel, Ragadaa Pattice, etc., owing to the authentic flavour they represent of quintessential Mumbai. So, whether you are planning to munch on some snacks or dine fine, Mumbai has it all for you. Here are the top 10 mouth-watering famous food in Mumbai, also available at Swiggy's top-rated restaurants that you can simply not miss:
Bhel is a Marathi word for puffed rice, and this dish is a tasty pish pash of tamarind and mint chutneys, chilli, garlic, Kanda (chopped onions), Batata (boiled potatoes) mixed with deep-fried mathri, sev, chickpeas and bhel. Loaded with flavour and texture, this goodness is tossed together and served on a paper plate.
One can simply not overlook this quickly prepared, lip-smacking dish in Mumbai. And, if while reading this, you feel like you need to have this thing of beauty, then Swiggy is right here! Chelaram Farsan, Sharma Bhelpuri house or your favourite street vendor, we can reach every place you say to get you this bomb of flavours right to your doorstep!
Prepared from scrambled eggs mixed with onions, tomatoes, red and green chillies and fresh coriander, Akuri is one of the best dishes in mumbai! The best thing about this dish is that it is as perky as the culture of Mumbai. Different stalls have different ways of preparing it, some might mix it with curry leaves and GGC mix to add flavours to it, while some might even prepare it using raw mango and jeera powder. And we suggest you save your energy on finding this 'one-of-its-kinds' Parsi snack and sit back. This time, Akuri will make the first move towards you- Swiggy Promise!
Frankly speaking, Frankies in Mumbai won't go straight to your stomach; they reach to your heart! Eaten on the go, grab a Frankie from any roadside kiosk and indulge in this superfood! And if you can not see one near you but can't control the craving either- SWIGGY'S QUICK FOOD DELIVERY CAN HELP!
Tibbs Frankie kiosk was the very first stall set up in Powai in 1969, to introduce this nutritious fast-food snack, today available in cheese, paneer, chicken/mutton or schezwan variants. The Indian pita bread is pan-fried and then coated with a thin layer of beaten egg, later stuffed with Indian spice-coated vegetables and other fillings of your choice. Have it once, and its flavour will become an essential taste memory for a lifetime.
Mumbai has a love affair with paav, for real! Served with a thick red curry of mashed potatoes, peas, and other vegetables, with a slab of butter floating on top of it, Mumbaikar's love for paav bhaji is unbeatable. Sprinkle raw onion, squeeze lemon and dive your bread right into this bhaaji… FOODGASM! While this dish can be found in a lot of kiosks and stalls across the city, you can order a satiating portion from your favourite place.
We also insist you grab another one of the most famous foods in Mumbai, i.e., maska bun with a cup of cutting chai! It is the comfort food/favourite breakfast/gup-shup snack for every Mumbaikaar. The baked bun is smeared with a layer of soft butter. When dipped into hot tea, the crusty bread softens but never falls apart.
The list of top dishes to eat in Mumbai can never be complete without vada paav. You can find this delicacy around the corner of any street in Mumbai. The soft bun stuffed with hot spicy vada and special masala makes vada paav the most loved appetiser for the locals.
The zesty flavour of Ragda (soft and spicy curry of chickpeas) comes along with the patties (potato cutlets), topped with some sev and chutney makes for a flavour riot inside your mouth. This dish tastes exactly what life in Mumbai tastes like- a crazy mix of sweet, spicy, hot and soft. If you want to order it right away from Swiggy, we recommend you try one from Brijwasi sweets! We bet we deliver it to your doorstep before you stop craving it.
Bombil nahi khaya to kya khaya? If you enjoy eating non-vegetarian food, then Bombay Duck Fry has no escape. Every day crates of these dried fish travel from old Bombay to the interiors of the city. It is delicate and non-smelly dried fish, loved by the locals. Drenched in rice flour and dipped in flour, this delicacy is made with the help of 30 hand-pounded ingredients- oh so flavoursome!
So, let's cut the hustle. This most famous food item of Mumbai can also be served to your very own place by Swiggy! Order in 3..2..1.
Who said mess isn't fun? Kheema Ghotala is a flavourful mess of meat mince and eggs. It's a tasty amalgam of meat mixed with spices and beaten eggs. This spice-loving city absolutely loves this dish available in Cafe Military, fort and various other places.
All spices, no sweets? Well, that's not the case with Mumbai. Mumbai Falooda is a rich drink made from vermicelli mixed with cream, milk, dry fruits, rose syrup, and sabza (Basil seeds) seeds. Topped with ice cream and sprinkles, it is the best escapade from the hot climate to energize yourself. You must grab a glass at the Ice-cream factory and Shahi Durbar or order from there. Thank us later!
With all of these most famous dishes of Mumbai, you can always enjoy chana chaat with nariyal pani by the beach for a soothing experience. The unusual yet delicious street food, the warm and jovial food vendors, the interesting stories, and everything around make Mumbai special! So, If you are in this beautiful city, make sure you taste every flavour it serves!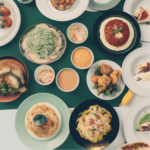 Satisfying your cravings, one bite at a time. Discover the best eats, trends, and uncover the hidden gems with us to make your online ordering or dining experience a memorable one.