Food in Kolkata is a brand in itself because of its standalone taste and variety! No ads needed, no branding needed; there are some of the most authentic and secret flavours in Kolkata food that make it delectable. This city of joy is a bustling metropolis that is renowned for its rich culture, history, literature, Rabindranath Tagore', and whatnot! Local food served here is a fascinating blend of flavours, aromas, and textures that reflect the many cultural influences that have shaped the city over the centuries.
From its iconic street food to its fine-dining restaurants, Kolkata is a perfect place for foodies. Ranging from the most famous roshogollas, sondesh to its creative twists on momos, the city has some of the most iconic food dishes that you can order online in Kolkata. You may ask anyone who has recently visited the city, they will tell you that this place has more culinary delights like maach, mishti doi, etc.
In this blog, we take you on a culinary journey through the top 10 food dishes to eat in Kolkata.The city's food culture does not only appeal to the locals in the region but it also taps into the taste buds of tourists alike. So, get ready to tantalise your taste buds and discover some of the city's most delicious and beloved food dishes, coming straight from the top-rated restaurants on Swiggy. Let's dive in and explore the vibrant food world of Kolkata!
If you have a sweet tooth, you must fly straight down to Kolkata to fill your mouth with this sweet. Roshogolla is a signature Bengali dessert that is made from soft and spongy chenna (cottage cheese) balls soaked in a sweet sugary syrup. Whether you wish to go to K.C. Das and Balaram Mullick & Radharaman Mullick sweets to have them or you wish to order them online with Swiggy, here is a disclaimer: YOU CAN NOT HAVE JUST ONE!
Luchi Alur Dom is a classic Bengali rendition of dum aloo and poori. Luchi is a deep-fried, fluffy bread, and alur dom is a spicy potato curry that sounds like a simple dish, but is extremely flavoursome and satiating. There are a string of stalls at the Fairley Place at B.B.D Bagh that sell the most authentic luchi-alur dom. But, if you are manifesting a plate of piping luchi and alur dom, then Swiggy can do a quick delivery from Calcutta's best food joints.
Kolkata is known for its love of fish, and fish fry is one of its most popular dishes. At any time of the day, it is possible to feast on succulent fish fry and various Bengali iterations of this dish. The fish is marinated in a blend of spices and then deep-fried until crispy and golden. Simply rush to Machhli baba fries and try the amazing fish platter they serve- ami tomake bhalo bhashi moment!
Loved as one of the most famous foods to eat in Kolkata, Jhal Muri is a spicy and tangy snack made from puffed rice, peanuts, chopped onions, tomatoes, and green chillies. A perfect appetising bite that you can relish amidst exploring Jawaharlal Nehru Road or Triangular park, or simply order online!
When in Bengal, you must not miss out on the sweet blessings of this state! Sondesh is an extremely popular and oh-so-yummy dessert in Kolkata. Made from cottage cheese and sugar and moulded into beautiful shapes, this dessert is gonna leave you asking for more – all the time! Sharing the limelight with Sondesh, Chom Chom is also heavenly! Made of flour, cream, sugar, saffron, lemon juice and coconut flakes, chom chom is at the heart of every celebration in Kolkata.
If you are fortunate enough to get an invite to a Bengali household for a meal, Kolkata biryani is definitely gonna greet you there! It is a flavourful and aromatic dish made with long-grain rice, meat (chicken, mutton, or beef), and a blend of spices, served with a side of juicy mutton/chicken, potato or egg.
You can also go ahead to surprise your mashis and pishis (aunts) with the most delectable biryani by ordering it from Swiggy, and be assured that you will win hearts!
You absolutely do not have to order starters and main courses separately if you go for this one food item in Kolkata. The ultimate saviour for your hunger pangs if you are a non-vegetarian is Chelo Kebab. It is a classic Iranian platter of mutton and chicken seekh kebabs that has become popular in Kolkata. Served with steamed rice, veggies, and a boiled egg, it is a hearty and flavorful meal that is perfect for meat lovers.
If there is anything that reminds the world about Kolkata after its rich culture, it has to be Mishti Doi! This sweet yoghourt dessert is thick, creamy, and flavoured with cardamom and jaggery. Super refreshing and an indulgent dessert, Mishti doi, can be enjoyed at any hour of the day! If this has got you drooling over it, Swiggy can get you the best Mishti Doi from the top-rated places in Kolkata, like Nepal Sweets, Mullick Sweets or Nalin Chandra Das & Sons.
No rock-n-roll, it's rolls rocking in Kolkata! The Kathi roll is a popular Kolkata street food that consists of a paratha wrap filled with spiced meat (chicken, mutton, or beef), vegetables, and chutney.
Golgappa, phuchkas, paani patasha, or pani puri – this particular dish is loved universally. Phuchkas in Kolkata are famous for their unique flavour. These water bombs look light, but they are quite filling and toothsome. It is a fun and delicious snack, also named so cutely!
These top 10 dishes are just a glimpse into the diverse and food culture of Kolkata. Each dish offers a unique blend of flavours and textures that will leave you craving more. So, if you're visiting Kolkata, indulge in these delicious and beloved dishes to experience the true essence of the city's food culture. And, in case you feel lazy or cosy, we can serve it all right to your doorstep – SWIGGY, NAAM TO SUNA HI HOGA! Download the Swiggy app now.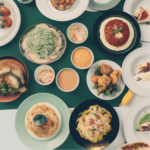 Satisfying your cravings, one bite at a time. Discover the best eats, trends, and uncover the hidden gems with us to make your online ordering or dining experience a memorable one.