Fiery missal, beautiful hills, reputed educational institutions, amazing infrastructure, and so much more this beautiful city of Pune, also called the "Queen of the Deccan", has to offer! Also a Queen for food lovers, Pune mirrors authentic Maharashtrian culture in its food. This stunning city offers the most simple yet piquant dishes around every nukkad (corner). Despite its modernisation and rapid development, Pune's food culture stood the test of time, and the traditional flavours are still retained. Pune is also a hub for top-notch pubs and restaurants that make life in Pune quite happening. So, it attracts a good mix of people from different cultures with one thing in common- their passion for good food!
Once a paradise for retired people, Pune city has had a complete makeover to attract a lot of young people coming to study or work there. These Punekars take fun very, very seriously; even if you visit this place for a few days, you will find their CELEBRATION GAME STRONG! The energy and enthusiasm of the people living in this city can be experienced at different college fests, music fests and at the biggest fest of all time- Ganeshotsav! Along with a larger-than-life picture of the vibrant Maharashtrian culture here, food scenes are lit too.
So, for the sake of the community of good-food lovers, we are listing the top 9 food items you can eat out or order online in Pune from Swiggy's top-rated restaurants! Scroll on to read:
Right when you think that vada pav is a little overrated in Maharashtra, Pune will change your conception. A soft potato patty, coated with a flavourful crisp layer, and wrapped in cotton-soft paav– is heavenly! So, if you have not tried vada pav in Pune, you haven't tasted anything.
Here comes the most popular snack of all time- Chaat. Sev puri, Dahi puri, Pani puri, dahi ragda pattice and Bombay bhel are the list of food items that can set your mood right instantly. Kalyan Bhel is the oldest and the most legendary chaat outlet in Pune. Still, you may also explore various other chaat corners serving the tastiest flavourful chaat to calm your hunger pangs. And, talking about instant delivery of these food items to your doorstep- Swiggy can make it happen!
When in Pune- mastani khao mast ho jao, for real! We bet you will readily skip your meals to enjoy this blended ice cream and milkshake speciality of Pune. Loaded with garnishes, dry fruits and kesar, Mastani is the best thing you can enjoy the most during summer. This drink comes in a variety of flavours, including different types of nuts, seasonal fruits, whipped cream, chocolate, and more. Falooda Junction or Sujata Mastani, Swiggy will get you your favourite flavour from these top-rated restaurants in no time.
Sweet and spicy, Bakharwadi is a very famous Maharashtrian snack. The outer covering is crunchy and is made with gram flour, while the inner stuffing has poppy seeds, sesame seeds, tamarind, mango powder, coconut and other spices. This food item in Pune is so easy to carry and eat that it is almost found in the bag of every foodie who loves munching on it.
Puran Poli is a well known Maharashtrian savoury in which roti is stuffed with powdered gram, ghee, and jaggery, and cooked. The sweet filling is called Puran, and the roti is knownas Poli. Our customers have rated Kalpataru foods and Joshi's Puran Poli as their favourites, and we bet you will not regret trying it.
Let's recall the aroma of that generous amount of butter floating on flavoursome bhaji, served with soft and hot pav! Pune people's guilty pleasure is to keep craving a hot plate of pav bhaji until they step out and have the best one at Rajendra Pav bhaji or MH-12 pav bhaji. And if the busy work day has deprived you of the energy to travel all the way to your favourite pav bhaji joints, then here we are!
No food guide is complete without the mention of melt-in-mouth kebabs in Pune. If your appetite is craving wholesome dining options, then a plate of hot spicy kebabs is just your thing. All meat lovers must try this lip-smacking dish, found the best at the Pind Punjab in Pune.
Originating from Nashik and Ahmednagar, Misal Pav is the OG snack of Pune. This delicious breakfast item is a balance of spicy and tangy flavours. The Misal portion is made of sprouted pulses, cooked with spicy Maharashtrian masalas, while paav is a bread roll buttered. The dish is served hot, garnished with sliced onions, lime, sev, and coriander is too tempting.
Again, a lip-smacking traditional dish of Maharashtra served the best in Pune- Bhajaniche thalipeeth. Generally preferred for breakfast or for snacking, this dish has a multigrain flatbread made from roasted grains, spices and cereals. Full of nutrition, thalipeeth is a healthy food choice which is served with butter, chutneys, onions and chillies.
With tons of street-food lanes and stalls in Pune, you might have to extend your trip to enjoy each, and every amazing dish served here. With the legendary street food in Khaogali and delicious quick bites at premium bakeries, the food culture of the city is resplendent, and it will surely leave you asking for more! PS: Do not forget to grab some modaks! Order these amazing dishes now with Swiggy!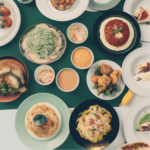 Satisfying your cravings, one bite at a time. Discover the best eats, trends, and uncover the hidden gems with us to make your online ordering or dining experience a memorable one.