Rich in history, Ahmedabad is an exciting metropolis you must visit at least once in your lifetime. It is quite a fascinating city to explore for its buildings, museums, old quarter, and the intense food scene. Apart from the amazing garba nights this city hosts, Ahmedabad is renowned for its friendly people and hospitality. And that is not all, the city scores high on serving the best authentic dhokla, faafda, khandvi, Handvo and locha! Gujaratis are known for their love of all things sweet in their foods. Get ready to have a tantalising food experience in this beautiful city of Gujarat.
Ahmedabad boasts a presence of parks, museums, educational institutions, and temples. It is also a major financial hub. Therefore, it draws the attention of people from all over the nation. One of the most suitable ways for visitors to satisfy their appetites is by checking out the wide range of must-try foods in Ahmedabad. Here are 10 must-try food items in Ahmedabad that are available at Swiggy's best-rated restaurants:
1. Fafda Jalebi
As far as the best food in Ahmedabad is concerned, Fafda Jalebis top the list undeniably. The amazing sweet-savoury dish combination is rated as one of the best breakfast dishes in Gujarat. Fafdas are prepared with chickpea flour and a mix of spices. On the other hand, Jalebis are made artistically from the batter of chickpea flour and all-purpose flour, later dipped in sugar syrup. Do not miss out on the taste of this dish at Swiggy's top-rated restaurant – Gwalia Sweets and Restaurant.
2. Khaman
Also referred to as Khaman Dhokla, it is yet another popular breakfast dish that you must try out in Ahmedabad. The soft, steamed, and fluffy cake is extremely delicious and savoury in flavour. Khaman is prepared from a chickpea flour batter, a leavening agent, and interesting spices. Several ingredients, like mustard seeds, coriander leaves, chilis, curry leaves, and grated coconut, are used for tempering the dish. Make way for the best Khamans at the famous Das Khaman.
3. Khakra
This famous snack in Ahmedabad can be consumed during breakfast as you run late for work. Best to give you the most tongue-tickling experience, khaman is a lightweight snack best for your evening tea as well. There are several places and outlets where you can try different variants of this popular snack. The crispy and crunchy khakras are one of the leading specialties of Ahmedabad and are quite popular amongst tourists as well. You can head to Vipul Dudhiya Sweets store to try out the wide range of Khakras in Ahmedabad.
4. Khandvi
This is available as a high-protein, lightweight, and scrumptious Gujarati snack that is quite popular across Ahmedabad. Some leading places to try Khandvi in the city are Das Khaman and Swati Snacks. Khandvi is prepared by mixing chickpea flour with ginger-garlic paste, chilli, curd, and an assortment of spices. Khandvi is also renowned as a low-calorie snack that can be enjoyed guilt-free. Khandvis are available across all famous Ahmedabad food joints for you to relish -including Das Khaman.
5. Sev Khamani
Are you fond of lightweight, yet mouthful Gujarati snacks? Sev Khamani is yet another sweet, savoury street-side food that you must not miss out on your next trip to the city. Sev Khamani is also known as Amiri Khaman -an extension of the staple Khaman in Gujarat. It is prepared out of crumbled khaman while tasting equally delicious. The snack receives tempering from mustard seeds, garlic, sesame seeds, chopped green chilis, and curry leaves. You can enjoy the unmatched tastes of Sev Khamani at Das Khaman in the city.
6. Lacho
It is a staple dish in Gujarat. Therefore, you can come across leading food hotspots like Jani Locho & Khaman House and Neelkanth Surati Locho and Khaman House in the city offering this mouth-watering dish. It is a great side dish for your evening tea or even for a fuller breakfast. Locho is cooked with a combination of split black gram, chickpea, sour curd, flattened rice, and various other ingredients.
7. Vada Pav
The popular Maharashtrian dish is quite popular across Ahmedabad as well. The snack tastes its best when served with the signatory garlic and green chutney and chillies. It is a popular evening snack. Udupi Shree Darshini Restaurant is your go-to place to try out the dish.
8. Dabeli
Also known as Kutch Dabeli, this food item is a must-try while visiting Ahmedabad. Dabeli features a pav bun with the stuffing of a blend of potato combinations with mild, spicy, salty, and sweet flavours. As you feel hungry exploring the city, you can try out Dabeli across famous food joints like Mewad Dabeli & Snacks and others in Ahmedabad.
9. Jinni Roll Dosa
It is a delicious fusion of the standard South Indian delicacy with the street food smartness of Gujarat and Maharashtra. The dosa is filled with a delectable stuffing of veggies like onions, capsicum, cabbage, carrots, cheese, sauces, and spices. You can enioy this famous dish at Udupi Shree Darshini Restaurant.
10. Dal Vada
Are you a fan of pakodas/ fritters? You will then adore the delicious flavours of the city's lip-smacking and crunchy Dal Vada. It is a famous evening snack -best served with tea. The inviting local dish is also served with fried green chillies and chopped onions. Udupi Shree Darshini Restaurant offers the best range of Dal Vadas for an intense gastronomical experience.
If your trip to Ahmedabad was not already on the cards, we are sure you are now looking to book your tickets to this city. Go ahead and explore the unique flavours and amazing street food in Ahmedabad. We know that the city has amazing food joints placed distantly. Don't worry. Swiggy has got your back here! Just order with us from the top-rated restaurants in Ahmedabad, and we will bring your food right to the place you wish to enjoy it! Download the Swiggy App now.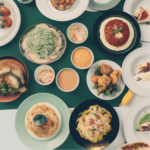 Satisfying your cravings, one bite at a time. Discover the best eats, trends, and uncover the hidden gems with us to make your online ordering or dining experience a memorable one.