The southern-most metropolis of India, Chennai is a vibrant culinary destination. Often perceived about being a region that is overly skewed towards South Indian cuisine, Chennai serves a diverse culinary experience. While on one side, the city takes pride in its booming economy and thriving culture of arts and music, Chennai is also home to the oldest artistic traditions in the country.
Sidewalk vendors, push carts, food trucks, and even the best food destinations in the city boast a line-up of multiple cuisines for you to try out. If you think South Indian delicacies are the only staple here, then you should also try out various other delicacies.
The most famous recommendations that we get from food connoisseurs about Chennai's food are the early-morning Filter Coffee and the all-time favourite Curd Rice or Thayir Sadam. In addition to this, the city has an abundance to offer to food afficionados, right from the typical Idli Sambhar to the spicy Chettinad dishes. As a food-lover, if you are paying a visit to this famous coastal city, you can dine out or order food online from Swiggy's top-rated restaurants to try out the popular cuisines in Chennai.
1. South Indian
Chennai is not only famous for its beaches and ancient temples, but also for its happening culinary scenes. The state capital city is renowned for its authentic South Indian cuisine.
South Indian cuisine is not just famous in Chennai. It is loved by people all around the globe. The delightful cuisine of South India primarily encompasses the home-grown, original flavours of the major southern states, including Tamil Nadu, Andhra Pradesh, Kerala, Telangana, and Karnataka.
Meals in South Indian Cuisine have rice as its staple. Rice is either combined with Sambhar (a soup-type lentil curry tempered with spices and chilis) or Rasam (a hot & sour soup-like lentil curry) along with curried & dry veggies and even meat dishes. The unique flavours of dishes in this local cuisine encompass the essences of tamarind, curry leaves, seafood, vegetables, and coconut.
If you wish to try out the best South Indian cuisines in Chennai, some of the top-rated restaurants here are Hotel Saravana Bhavan and Sangeetha Veg Restaurant.
2. Mediterranean
A typical Mediterranean cuisine involves dishes blending a myriad of flavours coming from diverse cultures in the region of the Mediterranean Basin. The food here is mostly concerned with the use of abundant herbs and wine. The Mediterranean diet is committed to promoting healthy & sustainable living. Therefore, the dishes in this cuisine include lots of fruits, veggies, olive oil, and even grains.
Bread is the staple food of a Mediterranean platter. You can come across a wide range of delicacies prepared out of bread and other similar combinations. If you are craving Mediterranean food or simply wish to try out a new cuisine, you can explore the wide range of top-rated restaurants offering Mediterranean cuisine in Chennai. Some of best picks are 22 Constanzaa and Mezze.
3. Chinese
Chinese cuisine is one of the oldest cuisines in the entire world. With a long, impressive history, numerous styles, unique cooking styles, and exquisite flavours, Chinese cuisine is one of the significant aspects of the Chinese culture. Traditional dishes of this cuisine are renowned for their overall aroma, colour, taste, appearance, and depictions.
The taste base of most Chinese dishes feature ginger, garlic, roasted sesame seeds, and five-spice powder (Sichuan pepper, star anise, clove, fennel seed, and cinnamon). Wherein our notions of something delicious are primarily linked to the taste of the dish, foods in Chinese cuisines are intrigued by the overall texture.
If you wish to unravel the taste of Chinese dishes in Chennai, some of the famous Chinese restaurants in the city are Kin Ling Specialty Chinese Restaurant, Chin Chin, and Southern Chinese Restaurant.
4. Italian
Italian cooking includes more than just pasta and pizza. There is a wide range of unique flavours, ingredients, and dishes you can experiment with. Italian cuisine is bold and satisfying without being too heavy. It is textural and rich while utilising an entire palette of unique flavours.
Italian cuisine is indeed a celebration of produce. Therefore, protein here is a secondary consideration. A typical Italian meal will commence with a large plate featuring core veggies like mushrooms, pepperonis, and artichoke hearts. Then, the cuisine advances to smaller pasta-based dishes and even something towards protein-based.
While in Chennai, you have the chance to explore the famous Italian restaurants, including Little Italy, Ottimo Cucina Italiana, and so more.
While the authentic multi-cuisine restaurants in the city are renowned for their delicacies, carts and food joints providing world cuisines are also gaining a huge impetus amongst food enthusiasts of the city. To unravel the ultimate food delight in Chennai, you can explore the top-rated restaurants at Swiggy based on your preferences. From the expansive list of the best restaurants in different categories, you can order food online in Chennai to relish your favourite dishes.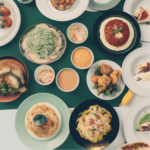 Satisfying your cravings, one bite at a time. Discover the best eats, trends, and uncover the hidden gems with us to make your online ordering or dining experience a memorable one.