If you've stumbled across this post, this is a sign from the universe because it's raining DISCOUNTS at Swiggy Dineout.
And guess what? You only pay HALF of the bill for double the food and fun. Yes, your long wait ends here…….. The Great Indian Restaurant Festival is back!
While a Flat 50% off does sound great, here's the cherry on the cake: You can get a 100% off on your bill! Yes, the universe is finally answering your prayers because
Swiggy is bringing back "Bill Waapsi"
While you may already know the rules, there's nothing like being 100% sure when it comes to getting a 100% Off on your dining bill!
So, let's brush up on the Eligibility Criteria:
Step 1
Pay your GIRF Bill using Swiggy Dineout only at select participant restaurant partners to avail a flat 50% discount on your bill.
Step 2
Take a screenshot of the bill paid with the restaurant name, transaction ID and the GIRF discount of 50% clearly visible.
Step 3
Share the screenshot of the bill on Instagram or Twitter and mention @dineout_india and #BillWaapsi.
PS – Make sure your social media account is public. Otherwise how will we see your entry?
*Follow all the steps in order to be eligible to win.
Winning Criteria:
Bill payment should be made via Swiggy Dineout only
Only bills paid between 27 April and 3 June 2023 are eligible to win.
2 winners will be selected every day from the participating users. The winners shall be selected at random, via a lucky draw.
Rules:
Participants must fulfil the eligibility criteria mentioned above to be eligible to win
2 winners selected each day will win the bill amount they have paid, in the form of Swiggy Money. Swiggy money voucher details will be shared via social DM with the winner.
Frequently Asked Questions
1) What is the maximum number of entries one participant can send?
You may send out multiple entries. However, you will be eligible to win only for one entry.
2) What are the photo requirements?
Follow all the rules to be eligible to win. Only screenshots of GIRF bill payments done between 12th April and 3rd June 2023 are eligible for participation. Details such as the restaurant name, transaction ID and the GIRF discount of 50% should be clearly visible. The bill will be verified by Swiggy Dineout for originality. Any fake/photoshopped bill will be disqualified.
3) By when should I be sending the entry?
All entries between 27th April and 3rd June 2023 are eligible for participation.
4) Which restaurants are a part of this contest?
All the restaurants participating in Swiggy Dineout GIRF 2023 are a part of this contest. Visit the Swiggy app to know the list of participating restaurants.
5) How are the winners decided?
From the submitted entries, 2 winners will be selected every day at random, via a lucky draw.
6) How will I get my prize?
The winners will be contacted on their respective participating social media accounts and will be asked to share contact details. Winners will receive Swiggy money worth the amount of the submitted bill, which can be used to pay bills for Food delivery, Instamart and Swiggy Dineout.
Terms & Conditions
The contest will be held on the Instagram & Twitter handles of Swiggy Dineout and is open from 27th April to 3rd June 2023
The contest is open to all residents of India, including and above the age of 18 years.
To participate in the contest, it is mandatory to tag Swiggy Dineout: @dineout_India on Instagram/Twitter.
The participants must use the following hashtag with their entries: #BillWaapsi.
By participating in the contest, you (i.e. 'the participant') accept the terms and conditions of the contest.
The decision of Swiggy Dineout (i.e. The Company) will be final and binding, and no correspondence of any nature whatsoever will be entertained in this regard.
Participants must submit their entries on Instagram/Twitter in the form of photos and must follow all the rules of the contest.
The winners will be announced every day from 28th April August to 4th June 2023 on Twitter and Instagram.
2 lucky winners will be announced each day and will win the final paid amount back. Only one bill per person will be acknowledged and gratified.
The final paid amount will be given as a Swiggy money voucher on the consecutive Monday of announcing the winners.
The contest is confined to the GIRF participating restaurants only.
In case of any dispute or difference with respect to this contest, the decision of the company shall be final and binding for all parties concerned.
All disputes shall be subject to the exclusive jurisdiction of the courts in Bengaluru, India, only.
The Company shall not be liable for any loss or damage whatsoever or for any personal injury/death that may be suffered as a result of participating in this contest.
All rights, titles and interests, including but not limited to the Intellectual Property Rights in the promotional material(s) and any/all posts, shall vest solely and exclusively with Swiggy at all times.
Swiggy will have the right to reproduce all the content in any and all formats, media and/or mediums, including but not limited to television, internet, mobile, print, etc., without any permission and/or payment to the participants.
The participant exclusively undertakes that content given by him/her does not infringe the Intellectual Property Rights of any third person and/or party.
The participant shall indemnify and at all times keep indemnified and hold harmless Swiggy against any claims, loss, the damage that may be suffered by it as a result of such infringement by the participant without contestation or demur.
Swiggy reserves the right to change, alter or cancel this contest in part or full or change any or all of the terms and conditions that are applicable without assigning any reason or giving prior intimation/notice of any kind and will not be liable for any consequential losses/damages.
If any entry is found to be fraudulent, fake, photoshopped and/or have abusive or profane language, or an attempt to attack the integrity or personality of any individual or an entity or where there is any attempt to harass any individual or entity or doing/having anything which, in our view, is demeaning or derogatory, such an entry shall stand disqualified from the contest.
The validity of Swiggy money is 1 year.
This contest is not open to Swiggy employees and their relatives.
So, what are you waiting for? Get. Set. Participate.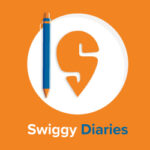 Swiggy Editorial is a team of writers who work with the company's Employer Branding team.