From crumbling colonial buildings to the intense fragrance of the famous Mullik Ghat flower market of the city, Kolkata is indeed one of the most charming metropolis cities out there. In addition to its diverse range of the best attractions in the country, ensure you make your way to taste the must-try cuisines in Kolkata.
Kolkata, more than anything, is a high-end emotion, one you might find difficult to put into words. The capital city of the state of West Bengal blends its unforgettable history of the British Rule with its true Bengali roots and the additional influence of immigrant communities.
The cuisine of Kolkata has been influenced by different migrant communities who have since long settled in the city. As far as delicious food is concerned, Bengalis are famed for their unmatched love for fish and milk-based sweet dishes. Fish is a staple dish that is consumed almost every day, sometimes even twice a day. The liberal use of mustard oil and mustard seeds, along with an interesting blend of panch phoron spices (including fennel seeds, cumin seeds, black mustard seeds, nigella seeds, and fenugreek seeds) for tempering most dishes, make cuisines in Kolkata highly distinctive. If you are a hard-core food enthusiast and love trying out new cuisines, Kolkata is your go-to destination. The best part is that you can order food online in Kolkata from your favourite restaurants on Swiggy. Swiggy brings forth a list of the best cuisines offered by top-rated restaurants in the city.
1. Bengali Cuisine
Traditional Bengali food, especially the delicious mouth-watering sweets, are quite popular across the nation and even the globe. Bengalis boast the preparation of cottage cheese-based sweet dishes, including rosogolla, sondesh, and chanar payesh. Some other popular delicacies to look out for are Misti Doi (a sweetened version of the classical curd) and Patali Gur (date palm jaggery).
Bengali cuisine is renowned for its fiery and subtle flavours that are effectively suited for the typical Indian palate. A traditional cuisine in Kolkata will feature an assortment of savoury dishes along with an impressive spread of desserts and confectionaries. Bengali cuisine takes its inspiration from the Christians, Nawabs, and even Europeans. You can effectively compare Bengali cuisines with the contemporary "a la russe style" cuisine from France in which meals are brought up sequentially. Moreover, in this cuisine, dishes are served in portions on the existing plate by the waiter. Some must-visit, top-rated places to enjoy bespoke Bengali cuisines in Kolkata are Bhojohori Manna, 6 Ballygunge Place, Petuk Bangali, and more.
2. European Cuisines
Typical European Cuisine features flavours that are deeply rooted in the history of Kolkata. European foods comprise dishes that are heavy on flour, meats, and starches. Noodles, lamb, potatoes, butter, beef, and bread are all some of the popular dishes found in this place. Salad is an important part of the cuisine as well. European cuisines are significantly centred around appetisers being served in unique ways.
If you savour European dishes and wish to try something different for a new experience, some top-rated restaurants in Kolkata are The Tibetan Cuisine, Magnolia Restaurant, and Santa's Fantasea -Tribal & Seafood.
3. Chinese Cuisine
Around two centuries ago, the first Chinese immigrated to Kolkata. While in the city, immigrants used to work in tanneries to manufacture leather goods. While a majority of the Chinese population still resides in designated areas of the city, Kolkata boasts famous Sichuan, Cantonese, and Indo-Chinese eateries offering a wide range of delectable Chinese dishes.
Chinese cuisines have long been a part of the culinary culture of Kolkata. Some of the most famous and recognised Chinese dishes are prepared at family-run food joints. A classical Chinese meal is usually made out of rice, veggies, meat dishes, steamed buns, and noodles. What all Chinese cuisines have in common is the overall variety, just like Indian cuisines. This cuisine also encompasses multiple dishes in a single serving.
Wherein our concept of taste might be defined by the flavours of the particular dish, Chinese dishes are intrigued by high-end texture. The more fibrous, chewier, and crunchier an ingredient is, the more interesting taste a Chinese meal delivers. Some of the famous Chinese food joints in Kolkata are Just Chinese, D'Ley Chinese Restaurant, and Classy Cuisine.
Conclusion
Kolkata is well-renowned for its diversified food culture featuring a wide range of world-famous cuisines and unique cooking techniques. Kolkata, the Cultural Capital of the country, is heaven for food lovers, especially those with a sweet tooth. To make the most of your trip to the City of Joy, you must indulge in the expansive offering of multiple cuisines that you will adore. If you crave something unique and delicious in the wee hours of the day or night, you can order food online in Kolkata and enjoy your scrumptious meal right in the comfort of your home. Swiggy brings forth a list of the top-rated restaurants for you to try the most delicious dishes you desire.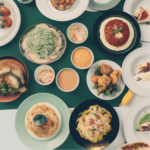 Satisfying your cravings, one bite at a time. Discover the best eats, trends, and uncover the hidden gems with us to make your online ordering or dining experience a memorable one.