A vibrant, thriving metropolis, Pune remains at the core of high-end academia and non-stop business that epitomises the notion of 'Modern India'. As the second largest city of Maharashtra and a rapidly-evolving city, Pune has eventually managed to step out of the shadow of its "rich" cousin Mumbai while carving its own niche on the country's map.
The city of Pune might be famous for its lovely hills and pleasant weather, in addition to the IT parks and renowned educational institutions. However, it is the local food scene here that snags first place. Even with its immense modernisation and ongoing development, the culinary scene of the city has been successful in retaining the same old flavour and taste.
The cultural capital of Maharashtra offers a wide array of cultural bastions wherein you can experience a seamless blend of ethnic roots and values with a contemporary stance. The best aspect of the must-try cuisines in Pune is that you are showered with a myriad of options, including street food, fast foods in Pune, contemporary and traditional Indian cuisines, international flavours, and Pune specialities. Such an intense mixture of the best cuisines in Pune makes food joints here quite crowded and a highly sought-after stop for every visitor.
If you desire to indulge in the best cuisines in Pune, Swiggy has come up with a list of the top-rated restaurants in Pune where you can drop in and have the best-ever culinary experience of your life.
Maharashtrian Cuisine
The true expression of Indian food continually invokes a war of flavours arising out of immense diversity across the landscape, cultures, and climate of the country. In addition to specific signature dishes that have secured themselves a fixed place in the menus of famous restaurants (like Pav Bhaji and Vada Pav), traditional Maharashtrian cuisine is famous beyond the boundaries of the state. Maharashtrian cuisine can be regarded as one of the most wholesome cuisines out there.
Overlooking the sprawling expanse of the Arabian Sea, the cuisine in Maharashtra is significantly under the influence of seafood and a perfect blend of contemporary and traditional preparations. The state's coastline is known as the Konkan. Therefore, it boasts unique Konkani cuisine, a harmonised combination of Gaud Saraswat Brahmin, Goan, and Malvani cuisines. The interiors of the state feature the distinctive Vidarbha cuisine.
To relish on the divine tastes of Maharashtrian cuisine in Pune, you can try out some of the famous food joints in the city, including Mathura Pure Veg, Hotel Shreyas, Sri Murlidhar Veg Thali, and so more.
Awadhi Cuisine
Awadhi cuisine comes from Lucknow, the city of Nawabs. With outspread popularity, the cuisine and its unique heritage spread out to other areas of the country, including Maharashtra. Nawabs, in their exquisite Awadhi cuisine, made use of a specific diet consisting of grains, dry fruits, veggies, and fruits. The style was further refined through generations by adding dry fruits and saffron with special inputs from Persian style of cooking as well.
There was an extensive use of fragrances made out of plants and flowers to add a unique touch. Awadhi cuisine can be regarded as a form of art that has been perfected through multiple practices while infusing contemporary tastes and essences to make every dish more authentic.
If you wish to try authentic Awadhi cuisine in Pune, some must-try restaurants are Behrouz Biryani, Biryani by KCCO, Kebabs & Curries Company, and Biryani Blues.
Goan Cuisine
The unique flavours of Goa came out of the blend of different cultures that it came into contact with multiple centuries ago. Those include the Portuguese, French, African, Brazilian, Arab, and even Chinese. Goan cuisine is typically characterised by the liberal use of coconuts, rice, kokum, fish, vinegar, cashews, and spices.
Goan dishes are aimed at tickling your tastebuds. The tropical climate of the region inspires intense, spicy flavours. Goan cuisine also takes its inspiration from local seafood, including shrimps, prawns, lobsters, oysters, clams, and so more. If you are not able to travel to Goa to enjoy its scrumptious range of food items and beverages, you can enjoy the divine tastes in Pune as well. Some top-rated restaurants on Swiggy in Pune to try out are Prem's, Ishaara, Chopsticks Spice Malabar, and Sampan.
South Indian Cuisine
South Indian cuisine has earned ample popularity across the globe, especially for a wide range of scrumptious dishes including Vada, Idli, Dosa, Sambar, and so more. South Indian meals are derived from the famous states in South India, including Karnataka, Kerala, Tamil Nadu, Andhra Pradesh, and Telangana. The region offers access to a huge spectrum of both vegetarian as well as non-veg food to suit your palate.
South Indian cuisine is as diverse as the region it originates from. Every bite of South Indian delicacies burst with intense flavours. Some of the popular and authentic South Indian dishes that are prevalent to the region are Sambar & Vadai, Chakra Pongal, Kadala Curry, Rava Idli, and so more. When in Pune, you have the opportunity to savour the delicious flavours of the popular South Indian cuisines. Some of the popular South Indian food joints in the city are Anna, Wadeshwari, Priya, and Navratna Veg.
Whether you live in Pune or pay a visit to the beautiful city, you can make the most of your trip by exploring the food in Pune. Either you discover all the food joints or order their famous food online in Pune from Swiggy, do not forget to try Pune's lip-smacking flavours.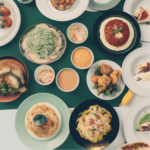 Satisfying your cravings, one bite at a time. Discover the best eats, trends, and uncover the hidden gems with us to make your online ordering or dining experience a memorable one.