If you have always believed that Chennai's cuisine can not be anything more than idli, dosas or vada, then get ready to be pleasantly surprised. We are going to unfold some of the amazing healthy food options to try when in Chennai. This city is a food lover's paradise. From traditional South Indian fare to global cuisines, this bustling city has it all. This capital city of Tamil Nadu is one of India's largest metropolises, where food is constantly shaped by international influences. Known for its delicious vegetarian food, Chennai is also considered a meat eater's paradise.
If you're health-conscious and want to indulge in some delicious yet nutritious food, you're in for a treat. We have listed down the top 4 healthy restaurants in Chennai that will satisfy your taste buds without compromising your health goals. These restaurants in Chennai offer a wide range of options for the health-conscious foodie. There's something for everyone, from salads and smoothie bowls to gluten-free and vegan options. Not only are these restaurants delivering healthy food to eat in Chennai from Swiggy, but they're also doing it in style. With trendy interiors and creative, Instagram-worthy dishes, these restaurants suit your body and social media game. We have curated this list based on the highest user ratings on the Swiggy app. That means you can be assured of the best options. So, without further ado, let's dive into the 4 restaurants in Chennai that are top rated on Swiggy!
Top 4 Healthy Restaurants in Chennai That You Must Try
1. Millet Maagic Meal
If you're looking for a popular restaurant that offers healthy and delicious Indian and vegetarian cuisine, Millet Maagic Meal in Chennai is the place to be. At Millet Maagic Meal, they strongly believe in the philosophy of healthy eating, and that's evident in their menu. They specialise in millet-based cuisine, which is nutritious and delicious. With over 150 products spanning various categories, Millet Maagic Meal has something for everyone.
When it comes to their menu, you're in for a treat. From the nicely cooked sambhar, broccoli soup, and mushroom pizza to the tasty biscuits, brownies, and payasam, every dish at Millet Maagic Meal is made with fresh and healthy ingredients. And let's not forget about the coffee – it's really good, as many visitors have noted.
If you're looking for personal recommendations, we highly recommend trying their Ginger Murukku, Coriander Murukku, and Millet Manoharam. These dishes are delicious and healthy, and packed with nutrients. And the best part? They're all reasonably priced, making Millet Maagic Meal an excellent value for money.
2. Ciclo Life
Ciclo Life is one of Chennai's best healthy food places, offering a smartfood philosophy that allows people to eat healthy while enjoying delicious food. The restaurant is committed to providing people with healthy food in Chennai that does not compromise on taste. Their menu is full of options that cater to all kinds of diets and preferences, from veg Jalfrezi to Murgh Dum Masala and Paneer Tikka Masala; there is something for everyone.
The salads and juices offered by Ciclo Life are their specialities. They are prepared fresh every day using only the best ingredients. Their menu features an array of salads like millet salad, summer salad, three 'C' salad (cucumber, corn, and carrot), prawn caesar, barley legal, pineapple express, and many more. Each salad has a unique combination of fresh and healthy ingredients, making it a perfect choice for salad lovers in Chennai.
If you want a personal recommendation, we suggest trying the Chicken Tikka Salad, a delicious combination of perfectly spiced tikkas in a yoghurt masala dressing topped with crunchy onions. It's a low-calorie dish that's perfect for those who are health-conscious. Another must-try is The Big Teriyaki, a cult classic made with zucchini and carrot noodles tossed with pan-fried teriyaki chicken, alfalfa sprouts, and cabbage with a spicy red chilli splash.
Ciclo Life is known for its focus on using fresh, preservative-free ingredients and its commitment to finding more environment-friendly packaging options. They also provide an option on their website for customers to opt out of cutlery, reducing waste and promoting a more sustainable approach to dining. If you're looking for a healthy meal that doesn't compromise on taste, Ciclo Life should be your go-to destination.
3. Fresh Pressery Cafe
If you're looking for healthy restaurants in Chennai, Fresh Pressery Cafe is one name that should be on your list. Their food philosophy is all about using fresh, high-quality ingredients to create healthy food that nourishes your body and satisfies your taste buds. The menu is diverse, with plenty of options for those looking for healthy food. Whether you're an ardent meat eater or a vegetarian, there's something for everyone.
One of the top menus at Fresh Pressery Cafe is the Spicy Thai Basil Chicken with Jasmine Rice, a must-try for those who love Thai cuisine. The Soba Noodles with Asian Curry are another popular option bursting with flavour. The Norwegian Seared Salmon is a personal recommendation for seafood lovers that will impress. But if you're looking for something lighter, the Mediterranean Buddha Bowl is a great choice. This dish is healthy and delicious, with fresh cherry tomatoes, cucumbers, bell peppers, and beetroot hummus topped with a flavourful Mediterranean dressing.
And if you are looking for some desserts, Fresh Pressery Cafe has got you covered with their Lemon Blueberry Keto Cheesecake. Made with almond flour and erythritol, this low-carb cheesecake is perfect for those on a diet or following a keto lifestyle. With only 310 calories, it's a guilt-free dessert you can enjoy without worrying about ruining your diet.
What sets Fresh Pressery Cafe apart from other healthy food places in Chennai is the attention to detail they put into every dish. Everything is top-notch, from the quality of the ingredients to the presentation of the food. So, whether you're looking for food for weight loss or just want to enjoy a healthy meal packed with flavour, Fresh Pressery Cafe is worth visiting.
4. The Lean Bean
If you're looking for healthy food places in Chennai, The Lean Bean is a must-try. Their food philosophy is all about making healthy snacking delicious and easy. Started with the intention of helping people enjoy their journey towards fitness by offering nutritious yet tasty munchies, this Chennai-based online snacking label has won many hearts. The Lean Bean's snacks and desserts are made without preservatives and refined sugar, making them the perfect option for anyone looking for healthy food in Chennai.
Their menu is diverse, and they offer a wide range of gluten-free, dairy-free, and refined sugar-free desserts and snacks like cakes, cookies, energy bites, nut butters, nutola, greek yoghurts and muffins. Their granola, in particular, is a top seller among customers. It's freshly packed, gluten-free and can make for a perfect pre-workout meal. For a creamy indulgence, you can also mix it with their artisanal Greek yoghurt that comes in various flavours like banana, spiced vanilla, mango, and strawberry.
Their protein shakes are another highlight of their menu, with options like Dark Chocolate and Chocolate Peanut Butter, which are delicious and healthy at the same time. They also offer candied nuts like honey-roasted almonds, pecans and walnuts.
They also offer banana bread, almond brookies, blondies, and cupcakes. Still, the Alcove Jar Cake with Dark Chocolate Ganache and the Dark Chocolate Ragi Brownie are the most frequently ordered ones at Swiggy. The Alcove cake is made with only almonds, olive oil and cocoa and is a perfect option for anyone looking for food for weight loss.
Factors to Consider While Ordering Healthy Food Online in Chennai
With so many healthy food places, choosing the right one can be overwhelming. In this section, we'll explore the top factors you should consider when choosing healthy food to eat in Chennai.
Location
The location is the first factor to consider when choosing healthy food in Chennai. The healthy food is best when eaten fresh. Therefore, it is essential to choose a restaurant that is easily accessible and located nearby. Opting for the best restaurant near your workplace or home can save you time and money.
Menu Options
Explore the menu properly to see what healthy dishes restaurant offers that suit your dietary preferences. Whether you're looking for vegetarian, vegan, gluten-free or low-carb options, the menu should be detailed about all the ingredients used in making the dishes, to help you make an informed decision.
Ingredients
The quality of ingredients used to prepare your meal is critical. When choosing healthy food places in Chennai, ensure the restaurant uses fresh, locally sourced ingredients. The food should be free from preservatives, chemicals, and artificial additives. Look for restaurants that use organic and non-GMO ingredients.
Portion Size
Portion sizes play a significant role in healthy eating habits. Chcek the reviews added by the customers on the website or on the mobile application to know if the portion served is suffiecint for you or not.
Price
Price is another essential factor to consider when choosing healthy food in Chennai. While it's true that healthy food can be expensive, you can still find affordable options.
Conclusion
Making healthy food choices while eating out is essential for maintaining a healthy lifestyle. With so many restaurants in Chennai offering fresh healthy food, you can easily find exactly what you are craving for.
At Swiggy, we understand the importance of healthy eating and offer various healthy food delivery options. With our superfast, convenient and easy-to-use food delivery service, you can enjoy healthy meals from the comfort of your own home. Get.. Set.. Order!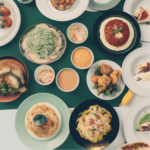 Satisfying your cravings, one bite at a time. Discover the best eats, trends, and uncover the hidden gems with us to make your online ordering or dining experience a memorable one.