Famous for its sprawling bungalows, flea markets and luxurious vehicles, the most planned city of India, Chandigarh has also recently become quite popular for its intense food scene. Serving as the centralised spot for multiple routes to several hill stations in North India and also a leading getaway close to Delhi, most travellers to the 'Beautiful City' love treating their taste buds to the authentic tastes of Chandigarh at some of the best top-rated restaurants here.
The city of Chandigarh is best known for its amazing treats. It is a place wherein people from all corners of the nation drive to enjoy a wonderful time, exploring its wide range of street delicacies. Street food and local cuisine in Chandigarh are as delightful and colourful as the residents here. Chandigarh is the city of foodies. Therefore, people here love indulging in a wide assortment of amazing delicacies that are loved by one and all.
In this blog, we aim at taking you on an intense gastronomical journey through the top 8 must-eat dishes in Chandigarh. Get ready to be amazed by the wide array of food delights this beautiful city has to offer to its residents and tourists alike. We enlist the best food items you can order online in Chandigarh from the top-rated restaurants on Swiggy. Here are some of the best foods in Chandigarh for you to try out:
1. Chole Bhature
Chole Bhature is one of the most fulfilling and delicious dishes, which is extensively enjoyed in Chandigarh. The dish features the richness of thick, spice-filled gravy prepared from chickpeas, Chole. The gravy is paired with fluffy, soft Bhatura, prepared with white flour. It is then deep-fried. A Bhatura is either served plain or stuffed with potato or paneer filling, based on your taste preferences. The dish is served with green chutney, onions, and pickles on the side.
This scrumptious local dish in Chandigarh blends perfectly well with a glass full of lassi. Chole Bhature is a must-have dish while in the beautiful city. Some of the famous restaurants to try out this must-try food in Chandigarh are Nukkar Dhaba and Sodhi's Zaika.
2. Amritsari Kulcha
This dish is an eternal North Indian delicacy prepared out of refined flour. There are several variants of Amritsari Kulcha you can come across in Chandigarh, including paneer kulcha, potato kulcha, creamy cheese kulcha, onion kulcha, and so more. All the variants are finger-licking and equally delicious.
The Kulcha is baked on a clay or earthen tandoor while being served with a large portion of butter or ghee. You are served a spicy, hot bowl of chole along with other curries, tangy & sweet chutneys, and pickle on the side. The dish is one of the most famous street foods that you can come across famous roadside stalls of the city.
3. Rajma Chawal
It is one of the famous dishes in North India, loved by food-lovers of all age groups. Rajma essentially is presented as cooked red kidney beans in thick, spicy gravy with tomatoes and diced onions. Rajma is served with jeera or steamed rice. It is one of the most satisfying dishes for fuller meals.
Some of the best restaurants to try out this dish in Chandigarh are Pal Dhaba and Bholey Di Hatti.
4. Chicken Tikka
It is yet another famous food item in Chandigarh. It features broiled pieces of chicken that are effectively marinated in curd along with a wide range of spices including salt, turmeric, cayenne pepper, cumin powder, ginger-garlic paste, and chillies. These spices are richly absorbed by the chicken pieces, making them juicy and tender.
Upon skewing, the chicken is grilled on hot charcoal and garnished with tangy lime juice, offering a delicious, tangy flavour. The succulent Chicken Tikka is presented with an assortment of chutneys along with onion rings on the side serving.
5. Sarson Da Saag and Makki Di Roti
It is a classical, traditional dish of North India, especially Punjab. The fulfilling dish is served by both street-side vendors and at fine-dining settings.
Sarson Da Saag is a mashed curry prepared out of mustard greens. The curry is prepared with authentic spices and consumed with flat cornbread also known as Makki Di Roti. The combination is presented with a generous topping of butter and ghee.
6. Lassi
The classic Punjabi Lassi is chilling during the hot summer season. Lassi is one of the most famous beverages of North India, especially during sweltering hot weather. Lassi is a famous yoghurt-based beverage that is also served with spices, dry fruits, and other condiments.
You can get either salty or sweet versions of Lassi in Chandigarh. Some of the best destinations to enjoy your glassful of Lassi are Daba Dairy and Shiv Sweet and Bhojnalaya.
7. Butter Chicken
Butter Chicken in North India is a flavour-packed, delicious, decadent, and creamy dish that is enjoyed thoroughly by a majority of the non-vegetarian population of the country. Butter Chicken is presented as a buttery, smooth, and creamy onion and tomato-based gravy featuring chunks of grilled chicken in addition to condiments and spices.
The curry is garnished with coriander leaves and is served with hot, fluffy tandoori bread. Nothing can beat the delectable combination of Tandoori Butter Naan and Butter Chicken.
8. Paneer Tikka
It is another lip-smacking North Indian delicacy that is quite famous across the street-side stalls of Chandigarh. Cubes of paneer are grilled on skewers in addition to other veggies, including broccoli, bell peppers, and onions.
The Paneer Tikka is presented with a dash of lime spread on them and other sauces on the sides.
With this, we are stopping right here. Rush straight to the famous food joints or order food online in Chandigarh at your convenience right away! One can never have enough of the lip-smacking flavours served in this city. So, relish the delicacies and let us know how you liked them.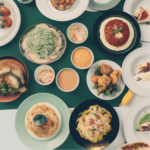 Satisfying your cravings, one bite at a time. Discover the best eats, trends, and uncover the hidden gems with us to make your online ordering or dining experience a memorable one.