There has been a major change in consumers' preferences in the food landscape. More and more people are opting conscious eating. People love to find healthier snacking alternatives to balance their indulgence and functional food needs. Eating healthy does not always have to be a boring, flavourless affair. Thus, many food players have ventured into opening restaurants that serve gourmet healthy food items that are filled with interesting flavours. For all health-conscious people out there, Bangalore too has some of the famous food joints and cafes offering delectable healthy dishes.
Bangalore, renowned as the Silicon Valley of India, gets many professionals flocking into the city from different parts of the country and world. The 'All work, no play' kind of life here also leads to an increase in health issues, especially with respect to the food people have. Long hours of commute, a sedentary lifestyle, and hectic working hours are the key affecting factors that lead to negligence in monitoring the food intake.
But, if the healthy food is made available easily in restaurants and cafes, then people will just have to shift their choice in food they order. So, here's the good news! There is a plethora of top-rated restaurants in Bangalore offering access to an impressive assortment of healthy, vegan, organic, and gluten-free meals for all the health afficionados out there.
What are the Best Healthy Food Places in Bangalore?
There is no denying the fact that some days we love to take a break from the hectic everyday schedule and enjoy special meals. Most of us prefer visiting famous local cafes, dine-outs, and high-end restaurants with family and friends. As the weekend sets in, our palate instantly steers towards indulging in something new and unique.
Nowadays, even food-lovers are becoming increasingly health-conscious. Are you amongst one of them? The growing consciousness for health and well-being has been driving major shifts in the modern food industry. This has resulted in the launch of multiple health-centric restaurants and cafes across the city. We have curated a list of the best healthy food places in Bangalore based on customer love on Swiggy, which you must try out:
1. Goodness to Go
Healthy food should not be boring, or lacking flavour. Goodness to Go in Bangalore personifies the notion of eating healthy yet delicious food through its impressive offerings. Here, you would love to try out a lot of healthy food alternatives – including Pret Keto Salad Bowl, healthy chicken sandwiches, low-carb falafel bowls to fresh smoothies and juices.
You can also choose from a wide assortment of healthy cakes and bread prepared in a calorie-conscious style. Get ready to try out the amazing things they serve by ordering from Swiggy.
2. Green Theory
Located in the heart of the IT hub, Green Theory is a green, cosy café, perfect for your romantic date or a night-out with friends. The place is quite famous for its vegan options. You can try out the classic pizzas, delicious pastas (especially Spinach Pesto Pasta), and lip-smacking desserts. The portions here are perfectly sized for around 2-3 people. To top it all, you can even get access to Jain preparations on demand.
The green restaurant is famed for hosting a number of special events for health-enthusiasts out there. You would love the fact that the restaurant features an in-house bakery putting forth a healthy spin on cakes, cookies, and everything else you need to avoid for your sugar craving. On your next visit, stock up the highly sought-after rose & pistachio or oatmeal & raisin cookies at the café.
3. Yogi-sthaan
Situated in Indiranagar, it is a leading café made by converting a house. Part of the restaurant is the Yoga Studio, and the remaining is the café. The healthy café serves fresh fruit juices. The best part is that you can go ahead with sipping your healthy drink, just after an intense Yoga session at the venue.
Most of the dishes at Yogi-sthaan are tempting and nutritious to consume just after working out. However, the overall ingredients used here are freshly curated and organic. They offer the ease of home delivery services as well. Therefore, you can select your favourite healthy dishes from Swiggy and place an online order in Bangalore.
4. Enerjuvate Cafe and Studio
Residents of South Bangalore have lately embraced the healthy lifestyle by consuming diet-conscious food items. This place has become their go-to destination to try out something healthy and delicious at the same time. Enerjuvate serves as the ultimate destination for the food lovers who love to explore new variations in preparation styles of healthy foods.
This healthy food corner also hosts a wide array of events like yoga classes, music gigs, and motivational talks promoting the notion of well-being, along with offering delicious, nutritious food. Try out the delicious range of Burrito Brigade, Cracker Platter, and Green Fiber Momos if you are feeling adventurous.
5. Mama Keto Craves
For all the Keto-lovers out there, Mama Keto Craves is the one-stop destination to satiate all cravings for keto-friendly dishes. With a rich menu for healthy food, Mama Keto Craves offers a delectable range of keto-friendly cakes, jars, tarts, cookies, and even energy bombs.
Order your favourite item and relish the flavours they serve!
6. Living Bowls
The wide assortment of healthy dishes the restaurant offers is not just limited to bowls. The restaurant is situated in Indiranagar. Living Bowls offers a line-up of healthy dishes, right from scrumptious & healthy bowls to shakes, delicious beverages, and even sides to stir your taste buds.
The food items offered at this famous outlet are gluten-free and organic. The overall values of the dishes here clearly indicate that they wish to promote the notion of healthy eating. Therefore, the entire concept here is based on healthy and nutritious eating.
Factors to Consider While Choosing Healthy Food
Do you wish to adopt a healthy lifestyle? Working on your diet is your first step in the direction. The key to a healthy diet plan is ensuring that you are balancing all the vital nutrients in your food choices, without compromising on the taste. This is why you can search for the best healthy foods to eat in Bangalore from a wide array of top-rated restaurants and cafes on Swiggy. To top it all, if you are craving to eat something healthy and exotic, order food online in Bangalore with Swiggy and get it delivered to your location in a few minutes.
Some important tips while choosing healthy food items are: <H2>
Explore the complete menu: To get the best thing delivered on your plate, it is recommended to read the ingredients carefully through the menu and then make a choice.
Consume Lots of Water: The ultimate guide to staying healthy and ensuring that you consume lots of water throughout the day. You should always keep your body well-hydrated. An average, healthy individual is expected to consume around 2.5 litres of water every day. Try to avoid consuming fizzy drinks, alcohol, and sweetened beverages to the best possible extent.
Never Avoid Breakfast: If you are on a weight loss goal, you should not carry the misconception that skipping your breakfast can help you achieve it. As a matter of fact, breakfast is regarded as the most important meal of the entire day. To opt for healthy breakfast options, Bangalore has a number of sought-after cafes offering a gamut of healthy breakfast snacks. Some of the low-calorie and fat-free Indian breakfast options can be idlis, uppumas, poha, and fresh juices.
Minimise Saturated Fat: If you have plans of following a healthy and nutritious diet diligently, including healthy fats is also essential. Still, you can change the form of fat intake on daily basis, especially saturated fat. Some of the food items in this category are animal fat, cream, butter, etc. You can replace the same with unsaturated fats like ghee.
Conclusion
Whether you reside in Bangalore or are a visitor here, you can try out an extensive range of healthy and nutritious food options in the city. The city boasts the rise of a number of cafes and restaurants offering access to healthy, nutritious, yet delicious snacks and meals to satisfy your cravings. With Swiggy, you can also order food online in Bangalore to get your favourite dishes delivered right where you are!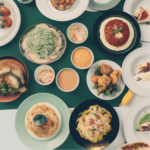 Satisfying your cravings, one bite at a time. Discover the best eats, trends, and uncover the hidden gems with us to make your online ordering or dining experience a memorable one.