The IT hub and Silicon Valley of India, Bangalore is a vibrant city of diverse cultures, people, and choices. It is also the city that serves the most unique, mouth-watering delicacies that you cannot say no to! With a lot of must-see must-eat places that've become legendary, Bangalore is heaven for foodies. Alongside the South Indian heart, Bangalore has retained the soul of various cuisines like Italian, Chinese, British, etc.
Bangalore's cuisines take inspiration from surrounding areas and states, including Andhra Pradesh, Maharashtra, Kerala, and Tamil Nadu. However, the flavours vary from one region to another. While areas across North Bangalore are famous for tangy seafood options, the southern parts of the high-tech city are known for their spicy touch to almost all dishes. Rice, ragi, Jowar, semolina, and urad dal are some of the staples of the region. Palm jaggery is also an important ingredient in Bangalore's cuisine.
With the roadside vendors selling South Indian delicacies and some North Indian surprises across the city, there is something for everyone in Bangalore. Swiggy brings forth the best cuisines of Bangalore you must try at the top-rated restaurants here.
1. Japanese Cuisine
While you might not believe it, the urban city of Bangalore has some delicious delights for lovers of Japanese cuisine as well. A typical Japanese cuisine encompasses both traditional and regions foods of Japan, that have eventually developed across centuries of social, political, and economic changes. A conventional Japanese cuisine features rise with the famous Miso soup as well as other dishes. There is a greater emphasis on the use of seasonal ingredients as well.
There is an assortment of side dishes, including pickled veggies, fish, and veggies cooked in broth. Surprisingly, millennials and Gen Z generations in the city are getting drawn to the classic Japanese cuisine through the influence of famous TV series and entertainment. Therefore, Bangalore is witnessing a rise in the number of Japanese restaurants in Bangalore, including Daily Sushi, YouMee, Ru Ramen Co, and Antie Fung's.
2. Karnataka Cuisine
The culinary fare offered by Karnataka cuisine in Bangalore is quite varied in comparison to surrounding regions having its unique flavours. Karnataka cuisine features a wide range of diverse culinary traditions. The cuisine here depends on a vast spectrum of pure vegetarian food along with non-veg delicacies served at leading restaurants and eateries in the city.
Kannadigas are immensely fond of both non-veg as well as vegetarian dishes. Karnataka, especially Bangalore, is home to abundant variety in terms of dishes served with respect to Karnataka cuisine. Both culture and food vary significantly in these regions, from the popular fish cuisine of Mangalore to the scrumptious Jowar Roti cuisine of North Karnataka. A typical Kannadiga Oota or meal features ingredients like ghee, rice, idli Sambhar, pickles, and other curry-based dishes.
Famous Karnataka dishes at the famous restaurants in Bangalore are served on banana leaves for the true cultural experience. Some must-try restaurants in the city are Namaste, South Kitchen, A2B -Adyar Ananda Bhavan, Vidyarthi Bhavan, and so more.
3. Italian Cuisine
Is your mouth watering for creamy mouthful of delicious pastas or a cheesy bite of Pizza? You can join the Italian food lovers club in the city at some of the top-rated Italian restaurants in Bangalore. Delicious wood-fired pizzas, rich Lasagna, and creamilicious pastas are scrumptious gifts from Italy.
From fine dining restaurants in luxury hotels to comfortable cafes or trattorias, there is no dearth of Italian dining options in Bangalore. The dining culture of the city has been shaped by expats, locals, and scores of working professionals from all parts of the nation who have migrated to the city during past few years.
In addition to true blue Italian eateries, there are several international restaurants featuring exclusive menus having room for pastas, risottos, and classic Italian desserts like a pannacotta or a tiramisu. Some of the must-visit Italian restaurants in Bangalore to consider are Bologna Italian Restaurant, Pasta Street, Via Milano, The Pizza Bakery, and Amore Gelato.
4. Korean Cuisine
Do you love grooving to the BTS songs? Is Seoul your dream destination? Bangalore has several places for K-drama lovers to relish the divine flavours of the famous cuisine. While you might have immersed yourself in the Korean culture by learning the lyrics to your favourite Korean song, you should try out the delicious food the cuisine has to offer.
If you are fond of a fulfilling bowl of Kimchi Kimbap, there is no better place to try out than Bangalore. The city is home to a number of famous Korean chains and restaurants that revive your favourite K-drama scenes. Order from the famous Korean spots in the city and enter a flavourful journey like never before, right from the comfort of your home.
Korean cuisine is characterised by a perfect balance of textures, flavours, and colours, along with a wide assortment of healthy side dishes and scrumptious garnishes. A typical Korean spread is regarded as the shower of love. While the hustle of life in Bangalore might not allow you to indulge in preparing a full-fledged Korean meal, you can definitely order them online from Swiggy. Some of the famous Korean restaurants in Bangalore to order from are Hi Seoul, Taiki, Dofu, and so more.
Conclusion
While top-rated restaurants in Bangalore are famous for their local cuisines, you can also try out a myriad of other cuisines and iconic dishes with influences from all around. Swiggy unfolds the list of must-visit restaurants in Bangalore you should try out, whether you are a local or a tourist here.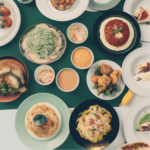 Satisfying your cravings, one bite at a time. Discover the best eats, trends, and uncover the hidden gems with us to make your online ordering or dining experience a memorable one.