Isn't it nice sometimes to hitch plans for a casual lunch or dinner, when you can go out to eat something healthy? In fact, something that could be healthy and appetising? A healthy meal could potentially mean eating a plate full of roasted veggies with a choice of protein and a glass of yummy smoothie and so much more!
Mumbai is one such mega city that brings forth a plethora of mixed feelings altogether. The city is famous for its busy streets and hustling crowds, famous street-side shopping, and even delectable street foods across the city. In addition to the overall hustle and bustle that the city is famous for, another aspect that makes 'City of Dreams' popular amongst food afficionados is the unmatched diversity of food items that the city has to offer.
When in Mumbai, you will always have something to satiate your untimely cravings, especially if you wish to go guilt-free with the option of healthy food items. The city is known to never sleep as it keeps buzzing with lots of activities throughout the day. Thus, to keep you full and happy with good food, we are enlisting a series of healthy restaurants in Mumbai that are also top-rated on Swiggy, for you to try out.
Healthy Restaurants in Mumbai
Eating healthy has become immensely crucial and cool in this Instagram-friendly world. Many people have become conscious about what they consume and are keen on following a healthy lifestyle. However, you might not have ample time to whip up a healthy meal every day in & out. If you wish to enjoy a scrumptious healthy meal right at your doorstep, you can order food online in Mumbai from Swiggy.
Here are some healthy restaurants in Mumbai you must try out:
1. Yogisattva Cafe
Yogisattva Café is a popular eatery in the city and offers access to plant-based dishes that are completely gluten-free. Moreover, the dishes here are also lactose-free and free from refined sugar. The menu of the café has been curated by Founder and Chef Raveena Taurani. The classic healthy menu of the restaurant features scrumptious dishes like 'Nobody Stacks Up to You', blueberry and banana pancakes made of organic buckwheat flour, unrefined coconut sugar, and peanut butter.
Then, there is also the most sought-after 'Bravo Avo' -a seeds and oat flatbread with mushrooms, pesto, za'atar, cherry tomatoes, and spiced avocadoes. You can wash down these delectable dishes with famous beverages like 'You're the Zest' available as ginger and mint lemonade.
2. Café Duco
Café Duco is founded and operated by the famous entrepreneur and chef Urvika Kanoi. The café aims at bringing forth an ingredient-based gastronomical experience to the coastal city. The entire café and its dishes are significantly inspired by Mexican and Latin American cuisines.
The famous healthy eatery in Mumbai offers access to wholesome and flavourful dishes like 'La Passion' -available as a salad with passionfruit, barley, pomegranate, mixed leaves, basil, and chili. Then, there is the divine healthy dish known as Roast Chicken with Zucchini Crudo and Peruvian Green Sauce, a cold platter featuring soy, sesame, scallions, and sweet potato crisps.
3. One Tight Wrap
One Tight Wrap is made available by the delivery kitchen unit of the famous chain Out of the Blue in Mumbai. Here, the culinary team of the café whips up scrumptious salads and wraps. The wrap bases here are prepared out of gluten-free, organic, and vegan flours along with interesting options like soybean-cauliflower and amaranth-beetroot.
It is suggested that you should try the restaurant's Pickled Vegetable Wrap, Amaranth Beetroot Nachos, Hummus Falafel, and Thai Style Fish Wrap.
4. Smoke House Deli
For several years in a row, Smoke House Deli has been popular for serving appetising European dishes to its guests. You can place an order from the classic Goodness to Go station, featuring delectable sandwiches, salads, smoothies, and cold-pressed juices that are prepared out of ethically sourced local ingredients.
It is recommended that you should try out the mouth-watering Avocado Celery Smoothie, Low-carb Falafel Bowl with super grains, and the Keto Power Breakfast.
5. Flax Healthy Living
Featuring its multiple delivery kitchens across different parts of the city, including Powai, Bandra, and Lower Parel, Flax -Healthy Living is famous for its healthy yet delicious bowls. Moreover, you can also have the scrumptious range of sandwiches and salads.
The all-new menu of the cloud kitchen features crowd-favourites like the Vietnamese Bowl, Korean Kimchi Bowl, California Cottage Cheese Salad, Smoked Chicken Salad, Chicken Tikka Sandwich, and Calabrese Bocconcini Sandwich. You can order your favourite food online from Swiggy to be delivered right at your doorstep.
6. Seeds of Life
It is yet another famous eatery delivering healthy food options. The eatery has its locations across Juhu and Bandra. The entire menu of the restaurant is focused on health-conscious consumption of the desired food items. The menu of the restaurant is effectively curated to offer healthy eaters with a wide range of choices.
The signature dishes of Seeds of Life are the Harvest Sandwich, Mixed Berry Smoothie Bowl, Quinoa Veggie Upma, Raisins Cookies, Almond Blueberry Cakes & Oats, and Wild Mushroom & Walnut Salad.
7. Rue Du Liban
Situated in the heart of the Kala Ghoda, the healthy restaurant is an elegant and divine Levantine eatery. Rue de Liban serves an impressive array of healthy dishes like the Fattoush Salad (a vegetable salad featuring lemon dressing and pomegranate molasses), toasted Lebanese bread & crispy onions, and the Lentil Soup tempered with Dukkah.
How to Choose the Best Healthy Food in Mumbai?
The choices that you make about what you eat or drink matter significantly. The foods that you consume should be capable of adding up to the nutritious, balanced diet. Some of the best categories of food items you should include in your daily diet to form a well-balanced diet are:
Grains: While you order food online from a leading healthy restaurant in Mumbai, it is imperative to choose products listing whole grains as the primary ingredient, including whole-wheat flour or whole grain breads. Whole grains tend to be high in fibre and low in fat. They also contain complex carbs helping you feel fuller for a longer period of time while preventing overeating.
Fruits & Veggies: Fruits & veggies are low in fat. They offer flavour and immense variety to your diet. These also contain essential nutrients, minerals, vitamins, and fibre. Avoid including unnecessary fat in your bowl of fresh fruits & veggies.
Protein: If you prefer obtaining protein through a meat-based diet, you should choose lean, low-fat cuts of meat. Roasting, grilling, broiling, and baking are the healthiest ways to prepare these meats for your healthy diet.
Conclusion
If you wish to maintain a healthy lifestyle, it is crucial to ensure healthy food choices. With a number of healthy restaurants to try out in Mumbai, there should be no excuse to prioritise your health. Whether you are in search of food for weight loss in Mumbai or simply wish to consume something healthier, there are several options to suit your needs.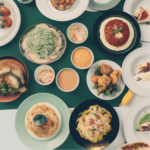 Satisfying your cravings, one bite at a time. Discover the best eats, trends, and uncover the hidden gems with us to make your online ordering or dining experience a memorable one.