Thiruvananthapuram, the capital of Kerala, is a popular coastal area located in South India. Home to the largest IT park in the country and rich in diverse culture, Thiruvananthapuram or Trivandrum, is quite famous amongst tourists from all over the country and abroad. An abundance of natural beauty is evident almost everywhere, particularly reflected in the rich flavours of the local cuisines here.
With immense use of rich ingredients, the divine food in God's Own Country is unmatched. As you visit the city during festivals like Onam, you get an opportunity to not only be a part of the rich culture but also relish the most flavourful cuisine the entire south has to offer. From the familiar Dosa and Idlis to the exotic recipes like Naadan Beef Fry and Fish Molee, there is something scrumptious to try almost every day and across the entire city.
The best part is you can enjoy most of these famous delicacies across Swiggy's top-rated restaurants in Thiruvananthapuram.
Famous Dishes in Thiruvananthapuram You Must Try
From tangy Biryani to spicy Chaats, the city has abundant food options to offer to those depicting a love for local cuisines. Get ready to savour the divine local flavours while experiencing the bustling markets and food stalls that serve to be an integral aspect of the exquisite food culture of Trivandrum. Here is a detailed tour to the best foods of Thiruvananthapuram available at the top-rated/ best restaurants of the city.
1. Puttu
It is available as a delicately steamed and delicious rice cake, typically in cylindrical shape. The dish is beautifully decorated with several layers of freshly grated coconut. To enhance its flavours, Puttu is served with a rich chickpea curry. It is a staple breakfast dish in Thiruvananthapuram. The dish boasts its history as rich as Idlis and Dosas. You can also have Puttu on its own with a steaming cup of sweet, black coffee during breakfast. At the same time, you can also enjoy this local dish for meals with fish or chicken curries. This popular rice cake in Thiruvananthapuram is both fulfilling and delicious.
When you are in the city, you will come across Puttu that is traditionally prepared at several roadside stalls and even in cafes across different parts of the city. Most of these street-side stalls operate their businesses right from the wee hours of the morning till noon, as most locals like to have this popular local dish while on their way to work. Some of the famous restaurants in Thiruvananthapuram from where you can order Puttu are Steampot Restaurant, Indrapuri Rajadhani, and Nirvana.
2. Appam
Slightly less popular than the staple Dosa in Trivandrum, the Appam is yet another rice pancake dish that is mostly consumed during breakfast by the local people. You can try appam at the leading restaurants or at the roadside kiosks and carts. Paper-thin and crispy around the circumference, appam gets slightly thicker, fluffy and soft towards the centre. This popular rice pancake is served with an assortment of delicious chutneys.
Prepared out of fermented rice, the batter of the recipe is grounded well and cooked in traditional cutlery known as kadai. These tasty South Indian pancakes are easy to prepare and serve. Moreover, the dish is consumed with an abundance of taste and fulfilment. While you might love having Appam with beef fry and fish curry in Trivandrum, you can also have this dish on its own to give your day a perfect start. Some of the must-visit restaurants in Thiruvananthapuram to try out Appam are Lords Restaurant, Steampot Restaurant, and Indrapuri Rajadhani.
3. Idli
It is always about the humble Idli, especially when you are visiting a South Indian city like Trivandrum. There is probably no place in India where you will not come across this simple, steamed, fermented, and delicious rice cake. Served with delicious chutneys and hot Sambhar at breakfast, you can easily come across stalls, restaurants, and carts, along with local Idli vendors with large steel vessels upon their heads, selling freshly steamed idlis.
Conventionally steamed and served on fresh banana peels, pop shops and local cafes in Trivandrum are offering a taste of authenticity that is uncommon across other parts of the nation. Rich, flavourful Sambhar and colourful Chutneys serve as perfect match with this popular dish. Some must-try places to order delicious Idlis online in Thiruvananthapuram are Ariya Jyoti, Sri Gavuri Nivas, Annapoorna Kitchen, and Pais Kitchen.
4. Iddiyapam
Idiyappam or string hoppers, equally famous amongst the locals, is a type of traditional noodle dish prepared out of rice flour dough that is cooked to perfection. The dough is put through a perforated hand press while being steamed further to bring about the right texture and patterns. The dish is popularly served with a coconut-based egg curry for a fulfilling breakfast. At the same time, you can enjoy this local dish during other meals as well. With Idiyappam, you get the perfect match for all your delicious cravings of rich, divine Kerala curries.
The dish is traditionally served on banana leaves across top-rated restaurants and eateries across the city. The banana leaves are also conventionally steamed to impart more flavours to the recipe. These bland noodles are enriched by combining them with rich, flavourful curries. Most restaurants and local street vendors in Trivandrum are still using recipes and traditional methods of preparing Idiyappam, passing down through generations. You can head to famous restaurants and eateries serving authentic Idiyappam in Trivandrum, including Hotel Taj Palayam, Steampot Restaurant, and Al Hassan Restaurant.
Conclusion
If you are visiting Thiruvananthapuram anytime soon, follow the quick food guide and be delighted to try out the divine South Indian flavours. You can head to the best, top-rated restaurants in Thiruvananthapuram by Swiggy and satisfy your cravings for something local, famous, and delicious at the same time. Visitors to the city can grab the opportunity to indulge the senses in a diversity of true South Indian dining styles in Trivandrum.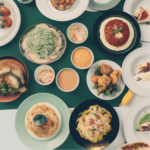 Satisfying your cravings, one bite at a time. Discover the best eats, trends, and uncover the hidden gems with us to make your online ordering or dining experience a memorable one.