Northeast India, especially Assam, is a melting point of outstanding cuisines and unique cultures. With high-end influences from its neighbouring states and nations, Assam has developed a distinctive food culture that you seldom come across anywhere else in the country. Guwahati is one of the most happening sides of Assam. Therefore, while most other towns in the state will present local preparations in a few restaurants and local food joints, Guwahati outshines with the abundance of choices an urban city can offer. You will find Burmese-, Tibetan-, and even Bangladeshi-inspired menus at leading restaurants and food stalls everywhere in the city. If you wish to relish the divine flavours the eastern provinces of Guwahati have to offer, indulge in a gastronomical experience of the must-have dishes in the city.
Top Traditional Dishes of Guwahati That You Must Try
To any quintessential foodie, Guwahati offers an intriguing spectrum of culinary delights. Guwahati or Assamese food is all about minimising waste. It features a diverse combination of rich ingredients, right from rustic veggies and the complex 'Khar' to an abundance of animal-based proteins. Irrespective, the ultimate foodie in you must be curious to unravel the marvels of the local cuisine in Guwahati.
Rich aroma with a perfect blend of intense flavours is the key distinctive feature of the food in almost all states of North India. In this aspect, Guwahati, the capital of Assam, stands no different. Inspired by the rich culinary experiences of neighbouring states, the dishes consumed or cooked by the locals of the city are a unique combination of rich flavours and aromas. As you order the best food in Guwahati, you can expect a spicy yet delicious blend of herbs and delicious spices.
Here are some of the must-try food items in Guwahati that are available at the top-rated restaurants of Swiggy:
1. Momos
Relished by almost everyone and one of the most famous north-eastern dishes until now, the versatile Momos boasts its origins back to the provinces of Tibet. You can easily come across this traditional dumpling, deep-fried or steamed, around almost every street corner in Guwahati. It is a favourite snack amongst visitors and locals alike.
Momos are usually stuffed with a variety of ingredients, right from mushrooms to chicken, lots of veggies, prawns, pork, or even paneer, to deliver a melting taste in your mouth. These mouth-watering, mildly seasoned morsels are deliciously accompanied with conventional chillies dip indigenous to the state.
At the famous Ganeshguri Market, located towards the southern area of Guwahati, you will come across a series of local street food stalls offering a wide variety of Momos in terms of fillings and intense flavours.
2. Khar
Khar is both the name of a popular local dish and a famous ingredient used in the preparation. The dish is prepared with lots of veggies, pulses, or even meat or fish. The primary ingredient 'Khar' is prepared by filtering out the liquid from a water solution that is eventually dried on a charred banana peel. This local dish in Guwahati is unique as it is known to preserve the astringent or alkaline taste of the Khar liquid.
The dish is believed to have both digestive and appetising properties. In some recipes, you can consider using baking soda in case you have shortage of Khar. The invention of the ingredient owes to the fact that it is highly cost-effective and a readily available ingredient for the preservation of food.
3. Luchi
Luchi is a flatbread that is prepared by using refined flour. The preparation is deep fried. The dish is almost identical to the famous Poori in most North Indian states. In Guwahati, you will find roadside vendors serving this deliciously lightweight fried bread. The popular local dish across restaurants and local street food vendors is served hot & fresh with both vegetarian & non-vegetarian gravies.
As soon as the preparation of refined flour is poured into hot oil, it is ready to relish. The mildly crispy and delicious flavours of the simple dish make it a highlight of a meal instead of only a side show. If you are exploring any of the commercial areas of Guwahati, you are likely to come across famous small shops and stalls selling mid-day meals served with piping hot Luchis.
4. Thukpas
Satisfy not just your hunger pangs but every gastronomical sense with this heart-warming, conventional Assamese dish. Fragrant with ginger and lemongrass, along with a touch of fish sauce, this Tibetan-inspired noodle soup is filled with flavours moulding deliciously into something divine.
A complete meal in itself, Thukpa is served either with shredded chicken or in the vegetarian format. In its non-veg version, the dish also includes shredded prawns or pork. The healthy bowl of soup is garnished with the goodness of fresh herbs and spring onions. The variety of intense flavours and textures feeds your body and soul. There is no need to make any reservation for trying out this delicacy in Guwahati. Almost every restaurant and street side vendors offer a delectable range of different Thukpas to delight your senses. One of the leading hotspots to try a fulfilling bowl of Thukpa is Uma Yetii -the Himalayan Kitchen.
5. Chowmein
With a stronger proximity to high-end Tibetan influences across the entire Northeast region, it comes as no surprise that there are similarities in Tibetan and Assamese cuisines. Chowmein is a dish famous around the globe in the form of a Chinese staple sharing its name across borders.
The dish presents delicate handmade noodles that stir-fried with crispy veggies and shredded seafood or meat. In Guwahati, Chowmein can be easily found across roadside carts and famous cafes. Reboti Chat House on MN Road in the city is famous for its Chowmein and other dishes inspired by the Chinese cuisine.
Indulge in divine tastes and uniqueness of the famous foods in Guwahati and try these lip-smacking dishes on the streets of the city.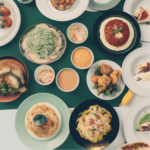 Satisfying your cravings, one bite at a time. Discover the best eats, trends, and uncover the hidden gems with us to make your online ordering or dining experience a memorable one.