Venture Into an Intense Culinary Experience with the Best Healthy Delights in Jaipur
Want to up your health game? Start with Swiggy's list of top-rated healthy restaurants in Jaipur! The Pink City has no dearth of options when it comes to relishing on something nutritious and delicious at the same time. The royal city has outgrown its number of healthy food joints to offer something for all types of food lovers.
Quite too often, seemingly healthy dishes are loaded with carbs, saturated fats, and sugar. This is why we have handpicked the best healthy foods to try in Jaipur at top-rated restaurants by Swiggy. Rule number one to healthy eating is to stick to a smart meal plan and not get bored. The healthy foods to try in Jaipur will keep on your toes.
If you are a lover of fine delicacies but more importantly, your overall health and well-being along with a stunning ambiance to complement your equally delectable meal, you can head to some of the best restaurants in Jaipur offering healthy meals. With some of the choicest cuisines served alongside keeping your health in mind, there are several additions to the list of healthy restaurants in Jaipur.
Top Healthy Hotspots in Jaipur
Each eatery reflects the rich heritage and culture of the famous Pink City through scrumptious dishes and unmatched décor. As food is pivotal for any vacation or trip, visiting some of the best healthy restaurants of the city will make it more worthwhile. Go through this listicle to sort out your healthy meal plans or add these to your itinerary on your next trip to Jaipur.
1. TGIH or Thank God Its Healthy
A relaxed and vibrant place to have your health-conscious meals, TGIH or Thank God Its Healthy is a food paradise for all healthy food-lovers of the city. There are two outlets of the eatery making a widespread presence in the rich culinary scene of Jaipur. From healthy pancakes to delicious salads, delightful puddings, and healthy platters, TGIH has got you covered in all possible aspects.
The outlet is also renowned for serving calorie-counted meal plans along with meals for weight loss plans and a dedicated plan for gaining lean muscles. The restaurant is famous for its extensive menu comprising healthy and nutritious salads, burgers, falafel wraps, burrito bowls, juices, hummus wraps, and so more.
2. Go Unjunk
Craving a delicious yet nutritious salad for your upcoming meal? Get a nutrition-filled alternative without compromising on your overall taste at the famous Go Unjunk. This restaurant comes forth with wholesome, flavour-filled salads. The delicious salads and additional offerings of the eatery revitalise the way you consume daily meals.
The famous healthy spot in Jaipur also features nutritious, low-calorie meals. The menu features an impressive range of salads, bagels, smoothies, and salad pizzettes. Go Unjunk is the perfect place to be in the city if you are concerned about healthy eating without compromising on your overall taste.
3. Go Satvik -Dump the Junk
If you wish to get rid of your habit of eating junk food quite often, you can order delicious healthy meals from Go Satvik. It is a famous takeaway eatery offering a brilliant combination of healthy Indian recipes like Oat Pancakes or Cheela, rich salads, and Semolina upma.
The place provides freshly prepared balanced meals rich in proteins and loaded with the right proportion of carbs and healthy fats. The café features a healthy breakfast menu to satiate your hunger pangs for something nutritious and savouring at the same time.
4. Jaipur Adda
With new cafes launching across every nook & corner of the Pink City, Jaipur has no shortage of healthy cafes dominating the healthy food scene in the city. Jaipur Adda is amongst some of the famous restaurants in the city allowing you to feel the wind in your face as you devour some of the mouth-watering healthy dishes here.
In addition to its healthy menu, the fact that sets this place apart from others is the cheesy interiors, fine wood furniture, and magnificent wall art, all adding a royal feel to the entire experience.
5. Meraaki Kitchen
The brainchild of the famous chef Neha Deepak Shah and entrepreneur Shivika Kothari, Meraaki Kitchen aims at serving minimalistic yet flawless and global food to the patrons. With its impressive range of healthy and nutritious dishes, the eatery strives to craft a narrative of transmitting goodness far & wide.
Feast on the popular dishes like Thai noodles and Sushi while enjoying the signature Kala-Khatta Sangria (Kala Khatta featuring orange bitters, served with popsicle) in the aqua-toned outdoor area.
6. Townsend Kitchen & Bar
Townsend Kitchen & Bar, the famous eatery in Jaipur offers the experience of a delightful café delivering unmatched healthy delicacies. The elegant and bright outdoor décor of the place is complete with yellow and blue hues for creating an inviting ambiance.
For trying out the healthy touches, you can dig into the Italian and pan-Asian fare like Spaghetti Bolognese ragu and Uramaki as you continue watching well-known comedians and musicians perform.
7. Tapri Central
Are you a tea-lover? Tea afficionados should experience the vintage charm and an array of fragrant spots across Tapri Central. You can go ahead with sipping on their teas, ranging from basic herbal tea to handcrafted teas like Jasmine Pearl (white tea with a hint of jasmine).
Here, you get to munch on a wide assortment of healthy, comfort food like poha, upma, lentils and various salads while enjoying the weekend staying indoors.
Conclusion
With the fine list of healthy food joints in Jaipur that serve the most delicious dishes, you can make the most of your food cravings without any guilt. It might be slightly difficult to switch to a healthy diet altogether, but with some influence, patience, effort, and self-care, you can get used to it while eventually leading to a healthy life.
Maintaining a balance in your daily food consumption and eating in moderation can help you live longer. With Swiggy, you can browse the list of top-rated healthy restaurants in Jaipur and pay a visit as they help you follow your diet without giving up on the taste and flavours.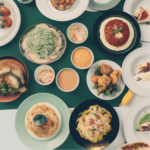 Satisfying your cravings, one bite at a time. Discover the best eats, trends, and uncover the hidden gems with us to make your online ordering or dining experience a memorable one.