Heading to Chandigarh anytime soon? This city is a paradise for food-lovers out there. While you must have heard of lip-smacking North Indian cuisines here with the special Punjabi Tadka, you will also be surprised to come across a wide assortment of healthy food options across leading food joints of the city. The City Beautifully unfolds a range of healthy exotic salads, smoothies, nutrition bowls, and much more for you to relish.
What are the Best Healthy Food Options in Chandigarh?
While being renowned for its gardens, parks, serenity, and the overall beauty, Chandigarh is rapidly gaining the impetus of being the ultimate food destination of North India. With a myriad to offer on your platter, you can look forward adopting a healthy lifestyle easily in this food paradise. The city has lately come up with a plethora of famous healthy food joints offering a delectable range of scrumptious, nutrition-filled diets featuring attractive ingredients.
To savour the best available healthy flavours in the City Beautiful, here are some top-rated restaurants in Chandigarh offering the healthiest options:
1. AJA Honestly Good Food
The restaurant boasts an award with the title 'Best Healthy Restaurant in India.' AJA Honestly Good Food not only serves great dishes but also makes them healthy from every point of view. The restaurant features a specially curated menu by Rajkanwar Singh, a leading food consultant and a former International Tennis player.
This place brings forth a mouth-watering spectrum of international favourites that are pumped up with touch of good health and nutrition. The expert chefs here revamp your food preferences, right from classics to gourmet, into healthy food options. All the dishes here are drool-worthy and make use of fresh, gluten-free organic ingredients. All the natural ingredients here are sourced locally.
At AJA Honestly Good Food, you can enjoy a wide assortment of nutrition-filled beverages as well. The beverages here are delicious and prepared out of fresh, natural sweeteners without adding any sugar. From organic teas to freshly pressed juices, toothsome shakes, Vietnamese Iced Coffee, and healthy smoothies, you must try them all! The restaurant also uses soy milk and homemade yogurt for the smoothies and shakes to improve the overall health quotient.
2. Back to Source
It is a one-stop destination in Chandigarh for all-organic food, beverages, and bakery items. The ingredients used in the kitchen here are 100% organic and sourced locally, directly from farmers. The bakery menu at the restaurant is impressive as you get to satisfy your sweet cravings deliciously without any guilt. The bespoke organic menu here features delectable items like Focaccia Bread, Organic Sourdough Bread, Soft Wheat Loaf, Best Ciabatta Bread, and Soft White Sandwich Loaf.
All Back to Source items, including beverages, bakery items, and organic meals, are prepared by following the nature's pattern. The restaurant delivers appetising cuisines by combining century-old techniques and organic ingredients to fill up with simply the best. The leading chefs here only make use of cold-pressed oils, Bilona desi ghee, single-source cow milk-based products, and desi khaand. The restaurant is committed to avoiding aluminium utensils and pressure cookers.  
3. DND -Daily Nutritional Diet
DND – Daily Nutritional Diet serves to be a leading healthy food delivery service in Chandigarh that specialises in putting forth its rich menu of nutritionally balanced and perfectly portioned dishes. The healthy team at the popular eatery pledges to offer the healthiest and the most delicious meals throughout. Therefore, experienced chefs here come up with freshly cooked, highly diversified, and macro-counted meals that are full of nutrition and health. Calorie-counting made easy!
All the meals at this healthy venue are designed by an experienced team of health enthusiasts and fitness experts. The restaurant features meal plans as per different fitness goals, right from weight loss to fat gain, lean muscle gain to keto meals. At the same time, the dishes here are totally organic and prepared with the help of fresh veggies, fruits, and in-house sauces.
4. Saladisht
It is one of the healthiest eateries in Chandigarh as it brings forth the longest list of healthy, nutrition-filled salads. The menu of the café is highly comprehensive and features shakes, smoothies, wraps, salads, and summer drinks. With an overall focus on bringing about a healthy lifestyle, the café also serves vibrant, fresh, and crunchy salads with ample greens, including lettuce, green peppers, onions, cucumbers, and so more. Ordering healthy food from this place will be tricky, but the good part is that you can go days without reordering the same food!
The menu at the eatery comes forth with as many as 16-18 variants of delicious, nutritious salads. If you are not fond of salads that much, you can also try out the scrumptious range of wraps here that are filled with the goodness of veggies and chicken (for non-veg lovers). Therefore, if you are craving for something green, do pay a visit to Saladisht.
Factors to Consider While Choosing Healthy Foods in Chandigarh
Does following a healthy diet or weight-loss plan make you swear off all your favourite food items? Not necessarily! With mindful eating and healthy dietary habits, you can bring about an affirmative change in your day-to-day eating patterns, that too with ample taste and flavours. Here are some tips for those starting out on the healthy journey:
Keep Your Portion Sizes Small: If you are looking forward to adopting a healthy lifestyle in Chandigarh, you must focus on keeping the overall portion sizes small, irrespective of the meal you are having. If your favourite food joint offers delicious sandwiches, you can go ahead with picking the smallest. Also, you can select smaller servings of fries rather than the large ones.
Select Healthier Side Dishes: Leverage the benefit of healthy side dishes available at a number of restaurants and cafes across Chandigarh. For instance, rather than fried potato wedges, you can think of adding a side salad with a baked potato or low-fat dressing. Or, you can also think of adding a fruit or yogurt or a fruit bowl option to your hearty meal.
Add more Greens: Select an entrée salad with lots of veggies or grilled chicken. Select a dressing you prefer. Still, be cautious with the total amount. Keep an eye on high-calorie salad. Also, try to skip extras, like croutons and cheese, which rapidly increase the overall calorie count. You can have all these options at the leading top-rated healthy restaurants in Chandigarh.
Conclusion
Choosing healthy food options while in Chandigarh is a great way to incorporate the goodness of a nutrition-filled diet in your day-to-day life. Thankfully, the city presents an array of must-visit, top-rated healthy restaurants and cafes for you to try out.
If you wish to enjoy your favourite healthy meal right in the comfort of your home, you can order food online in Chandigarh from Swiggy.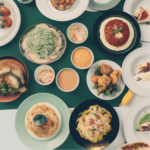 Satisfying your cravings, one bite at a time. Discover the best eats, trends, and uncover the hidden gems with us to make your online ordering or dining experience a memorable one.