Healthy restaurants in Ahmedabad
Ahmedavadis love food! If you are also a food afficionado, you would love visiting this food haven in Gujarat. While the city offers numerous options to satiate your palate for some Gujarati delights, you will also come across a number of healthy food joints that give way to nutritious and delicious dishes. Make the most of your time here as you visit the famous healthy food joints in Ahmedabad and relish on the divine flavours.
From holding the historic tales of Mughal emperors, Maratha and British rule to being the land of freedom fighters who contributed to the country's freedom struggle, Ahmedabad has revolutionised itself on all possible fronts. The city has transformed into a high-end urban metropolis and a world-class education and textile hub. The world-famous UNESCO World Heritage Site has a rich history of more than six centuries, becoming the first-ever world heritage city of the country.
Whether you visit the majestic monuments of the renowned walled city or impressive art galleries, shopping streets, or trendy cafes, Ahmedabad has a gamut of offerings. For those having large appetites, the city boasts multiple delights. Dream about heavenly food in Ahmedabad, and healthy food served here will make your wishes come true. While it might appear quite contrary to the popular belief, the city has an abundance to offer in terms of both nutrition and flavours.
Top Healthy Destinations in Ahmedabad to Enjoy Your Meal
Whether healthy or scrumptious, Ahmedabad is nothing less than a paradise for food afficionados. From the ultimate Maharashtrian fare to classic Gujarati snacks and even delectable healthy meals, the city knows how to win the hearts of foodies. Let us help you guide through the best destinations to head to as you wish to experience the joys of having something both delicious and healthy at the same time.
Here is the list of top-rated and the best healthy restaurants in Ahmedabad on Swiggy offering an impressive menu of the healthiest food options out there. Mind you, they are heart-warming and delicious as well!
1. Cellad Eatery
The famous healthy eatery drives the right balance between the overall taste, variety, healthy, and nutrition-filled vegetarian food. If you wish to have salads for a healthy meal, Cellad Eatery has a wide range of options to try out. The eatery has been designed in the buffet setup. Additionally, the place also offers access to a full-course balanced meal, right from soups to coffee items, salads, and so on.
Some of the leading diet items to try out at the eatery are Boiled Peanut Salad, Mexican Salad, Brown Rice, Caesar Salad, and so more. The restaurant also offers a line-up of vegetarian and vegan options. The entire atmosphere here is inviting and relaxing with a friendly staff and comfortable seating. If you do not feel like dining in, just order from their wholesome menu and enjoy right on your couch!
2. Falafel Express
Almost every item on their menu is low in calorie content. The famous Lebanese cuisine here makes up for a healthy meal for you to enjoy at the eatery. Some of the diet items at the restaurant to try out are the wide gamut of salads, including Falafel Fatoush Salad, Lebanese Fatoush Salad, and Greek Salad. Other highly sought-after items at the eatery are Mezze Platter, Lavash Platter, and Crispy Pita with Hummus.
Falafel Express is a multi-cuisine healthy restaurant located in Navrangpura, Ahmedabad. The place is famous for its nutrition-filled serves like Mutabbaq, Handrolled Pizza, Manakeesh, and Turkish Bread. The menu is vast and serves to be assorted, moreover, it is priced averagely.
3. Sandwichworkz
Sandiwchworkz is one of the places wherein you can enjoy healthy items together in a cosy, vibrant environment. While the restaurant is famous for its delectable range of sandwiches, you can also try out other dietary items like Masala Egg Dosai, Mushroom Stuffing, Panch Ratni Dal, and a wide array of fulfilling salads. As the name of the place implies, some of the must-have healthy sandwiches here are Spicy Banana Sandwich, Spicy Omelette & Paneer, Elvis Presley Sandwich, and Egg in the Nest Sandwich.
The place has been there in the city for more than a decade now. The café is one of the most trusted destinations in the city to enjoy a fulfilling meal while not going through the guilt trip of having something unhealthy. Here, you can look forward to indulging into delectable sandwiches, snacks, and all-day English breakfast.
4. Falashin Juices & Dishes <H3>
Falashin is famous for its healthy range of dishes and nutritious juices. You have the option of enjoying a glass of healthy juice if you do not wish to indulge in a platter full of salads. The eatery also serves lip-smacking, fresh dishes along with delicious juices. Some of the must-try items at the eatery are Exotic Fruit Bowls and Russian Salad.
The place is an amazing hangout destination but who can stop you from ordering your choice of healthy meal from this place and enjoy it in your own space? The platter of salads and other dishes served here are truly exotic and enjoyable with your group of friends.
5. FitFuel & Co
At this another leading destination to have healthy and nutritious meals, you can savour the delicious flavours of sought-after dishes like Granola Meal Bowl, Oats, Special Masala Oats, Sautee Vegetables, and so more. To satiate your sweet cravings, try the desserts oats smoothies, whey protein smoothie, and other delicious drinks that are nutrition-filled at the same time.
The intelligent selection of the healthy menu at the FitFuel & Co café ensures that you remain fit and active throughout without indulging in something to regret later. The place also specifies the amounts of calories against every meal. This makes it easier for you to choose the right meal depending on your fitness goals and diet plan.
6. Fit O'Clock
Yet another famous healthy eatery in the heart of the city, Fit O'Clock does not feature an exclusive dine-in option. However, you can enjoy the delectable menu and its classic offerings through takeaways or online food delivery options through Swiggy.
With Fit O'Clock, you have more reasons than only cheat days to enjoy a range of nourishing foods that are loved by all. You can celebrate your health and well-being by ordering healthy food from the vast menu, including lemon & herb salad, quinoa vegetable pilaf, and crisp field greens in tomato basil vinaigrette. You can go through their extensive menu to understand your healthy options better.
Now that you are aware of the healthiest hangouts to explore in Ahmedabad, you should prioritise your overall health and well-being. You can do so by indulging in healthy eating and dietary habits on a day-to-day basis to imbibe the benefits. Here are some easy-to-adopt habits to include in your daily routine.
Eating Habits for a Healthy Lifestyle
1. Skip Drinks with Added Sugars
Added sugars are abundant in some of the seemingly nourishing drinks, like sports drinks and fruit punches. Unfortunately, consuming too much sugar has been linked to a wide range of adverse outcomes like type 2 diabetes, obesity, heart diseases, and diabetes.
As per the experts, it is recommended that you should limit your daily intake of sugar to less than 10 per cent of the total calories. Swapping out drinks with added sugars, like sweet tea, regular soda, lemonade, and fruit drinks, for non-sugar alternatives like seltzer water, unsweetened coffee & teas, and 100% fruit juices in moderation can offer your body the much-needed hydration it requires without the involvement of sugars.
2. Consume a Glass of Milk Everyday
Milk is not just for kids. As a staple dietary item that is a great accompaniment to your favourite chocolate chip cookies, a glass of milk is loaded with a wide range of essential nutrients. Some of the nutrients a glass of milk boasts are bone-building calcium, magnesium, and protein. Even though milk is intense with nutrients, it is estimated that only 20 per cent of adults drink a glass of this essential beverage every day.
3. Add Fruits to the Mid-day Snacks
A lower intake of fruits has been associated with increased risks of developing heart diseases, certain cancers, and even strokes. Therefore, sneaking in some fruit almost every day is an intelligent move.
As your 3 p.m. hunger pang strikes, rather than searching for caffeine-laden drinks or sugar candy, enjoying different types of fruits as a part of the balanced, nutritious snack can offer you sustained nutrients along with energy. Blending a serving of fruit with ample protein can make your snack beneficial manifold. This allows you to feel satisfied while avoiding a prospective sugar crash right after eating.
Making healthy food choices in Ahmedabad, whether you are a local or a tourist, is crucial to being fit and healthy throughout. If you are health-conscious or are on a weight loss goal, you can make the most of your cravings for delicious foods by visiting some of the famous healthy food destinations in the city. Ahmedabad has no shortage of healthy restaurants and eateries that deliver the assurance of top-notch nutrition and well-being throughout.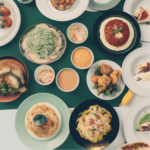 Satisfying your cravings, one bite at a time. Discover the best eats, trends, and uncover the hidden gems with us to make your online ordering or dining experience a memorable one.