Positioned centrally in the state of Madhya Pradesh, the City of Lakes or Bhopal is a famous city housing two popular lakes, the Upper Lake and the Lower Lake. Owing to its immense natural beauty, Bhopal is a highly sought-after tourist destination. In addition to picturesque natural beauty all around, the city is also famed for its culinary delights and local cuisines that you must try out on your next trip to the City of Lakes.

The food offered by the historic city is the ultimate delight. The best food of Bhopal speaks volumes about the unique ethnic culture and diversity that is prevalent in the region. Some of the most renowned dishes, including meat-based dishes like Kebabs and delicious curries, are highly preferred for the local touch of affection and hospitality towards one and all. If you are visiting Bhopal anytime soon, make sure you have a list of must-have food items in the city.
What are the Best Foods to Try in Bhopal?
For as long as you can remember, Bhopal has served to be the ultimate amalgamation of diverse cultures, languages, and ethnicities from all around. The glittering lakes and lush green hills make way for a beautiful city with an abundance of opportunities. The diversity in Bhopal is reflected in its vibrant food scene.
As you find yourself in the City of Lakes, here are some of the must-have food items you should not miss out on. You can either visit the famous restaurants in Bhopal or order food online in Bhopal from Swiggy.
1. Suleimani Chai
India is famed for its popular tea or chai culture. As a matter of fact, you will come across a lot of preparation styles for this all-time favourite beverage across different parts of the nation. In Bhopal, Suleiman Chai is one such variant featuring a classic blend of saltiness and sweetness, as the flavours of both salt and sugar are combined.

The process of preparing the tea is followed by adding a generous drop of cream right before serving. A single cup of this famous tea is enough to make you feel energised for the entire day. The unique Suleiman Chai recipe is a well-kept secret recipe followed down through generations at the popular Jama Bhai tea shop in the city.
2. Bade Ke Kebab
In addition to Lucknow, Bhopal is also esteemed for serving as the City of Nawabs. Therefore, you are bound to come across a Kebab-inspired dish when it comes to trying out the best food in Bhopal. Bade ke Kebab is a unique recipe prepared out of barbecued beef along with a delectable combination of delicious spices.

The dish is quite famous across the Chatori Gali of the city. The entire lane is renowned for its extensive serving of mouth-watering non-veg's delights. Beef is deliciously minced into the dish. Therefore, you can feel the delicate textures of the meat melting in your mouth with almost every bite. The scrumptious dish is usually served with delicious condiments, including chillies, onions, and chutneys.

Locals of Bhopal also love trying this dish with grilled buns prepared in lots of butter. You will find the dish quite fulfilling and affordable. In some cases, the local people have this dish as a complete course of meal as it is quite heavy and flavourful. Some of the best eateries to order this dish from are Hakeem's, Zam Zam Fast Food, and Mughal Darbar.
3. Poha Jalebi
Are you in the mood for some veggie delight? You can either head to or order from famous eateries like Mamaji Jalebi Wale, Chappan Bhog, and Padharo Sa for relishing the divine flavours of this must-have dish in Bhopal. Hot, fresh, moist, light, and flavourful Poha in Bhopal is garnished beautifully with a generous serving of crispy Sev.
To enhance your taste buds, Poha is served with all-time delicious and mouth-watering Jalebis. With such a divine combination, you are assured to enter a classic food coma. Poha Jalebi is one of the most sought-after breakfast options across Madhya Pradesh. The fact that makes this popular breakfast dish so famous amongst locals and tourists alike is that it is immensely rich in flavours and lightweight for a perfect start of the day.
4. Biryani Pilaf
The Biryani that you come across in Bhopal is slightly different than found in other parts of the nation. In Bhopal, you will come across this delicacy enriched with the flavours of raisins, sugar, pistachios, and saffron. In some eateries, you will also find generous servings of Biryani along with Zarda to make it more exclusive in the overall taste.
Primarily mutton is used as the main ingredient of Biryani in Bhopal. You can find chicken variants of the dish as well. Whatever your preference might be, the overall taste is divine throughout. As rice undergoes boiling with food colour, you will observe that the ultimate dish is quite colourful. The meat becomes quite succulent and tender to dissolve easily in your mouth. Some of the best places to try out this dish are Mughal Darbar, Biryani by Kilo, and Hakeem's.
5. Mawa Bati
It is one of the best dishes you should try out in Bhopal as it is extremely flavourful. If you are fond of sweets, it will be an ultimately gastronomical experience for you to try out this Bhopali delight. The recipe features stuffing dough with flavour-rich Mawa. Eventually, Mawa dough balls are fried.

In most restaurants, you will be served this delicacy by soaking the same in a sugary syrup along with chopped pistachios, cardamom, cashews, and other condiments. The recipe might appear like that of Gulab Jamun. However, Mawa Bati is slightly bigger in size. You can relish the sweet, rich flavours of the local dish at Mamaji Jalebi Wale, Raj Darbar, and Shri Krishna Bhojnalay.
Conclusion
With several famous landmarks to visit in the city, Bhopal is also home to some of the best restaurants to delight your taste buds. Order food online in Bhopal and make the most of your trip.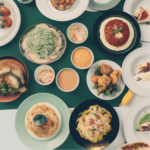 Satisfying your cravings, one bite at a time. Discover the best eats, trends, and uncover the hidden gems with us to make your online ordering or dining experience a memorable one.