Lucknow, the City of Nawabs, is renowned for its rich cultural heritage all around. In addition to this, if you cherish good food and enjoy delicious cuisines, the historical city is no less than a food paradise for you.
The rich culinary history of India is enriched with stories narrating instances of royal courts and their divine kitchens. Still, no one has been successful in matching the excellence of the iconic "Dastarkhwan" from the City of Nawabs. It is here that Awadhi cuisine came into existence. The overall fondness of the Nawabs for high-end things in life made its way into their culinary culture along with the development of the renowned Awadhi cuisine that is loved by foodies across the country.
Top Must-try Food in Lucknow
Treading on the food trail in Lucknow is nothing less than a pilgrimage for food-lovers. From Chai-Samosa to kachoris, Chole Bhature, to even Tokri Chaat, the city offers an interesting array of divine dishes for food aficionados. While Lucknow is equally famed for its cultural and architectural heritage, most tourists are drawn to the overall love for food.
When in Lucknow, here are some must-try food items at the best restaurants and eateries across the historic city:
1. Biryani
The scrumptious palate of Lucknowi Biryani is something you should not miss out. The delicacy is prepared by cooking rice gradually with different veggies, spices, fried onions, mint leaves, yogurt, and a myriad of other ingredients. The rice preparation is then topped deliciously with nuts, coriander leaves, and fried potatoes and served with a hot gravy or raita. The non-veg variants of Lucknowi Biryani are marinated with mutton or chicken pieces and are also highly preferred by food lovers.
To relish the best Biryani in Lucknow, you are not expected to head far. The famous restaurants and food joints in Lucknow serve highly authentic Biryani platters at affordable rates. From non-veg varieties like Butter Chicken Biryani, Hyderabadi Chicken Biryani, Seekh Kebab Biryani, and Sufiyani Chicken Biryani, to veg-based delights like veg kofta biryani, veg handi dum biryani, and paneer biryani, the options are endless. Some of the famous food joints for biryani in Lucknow are Mughal Zaika Aminabad, Tunday Kebabi, and Wahid Biryani.
2. Galawati Kebab
Any discussion about the delicacies of Lucknow unavoidably starts with the mention of Galawati Kebabs. It is regarded as one of the signature dishes of Lucknow. The dish is available as special, melt-in-mouth kebabs. The rich cuisine dates its origins back to the 19th century when the then Nawab of Lucknow, Nawab Wajid Ali Shah, had lost his teeth and still desired for the delicious flavours of the Kebabs.
Haji Murad Ali, the royal cook, had then perfected and invented the recipe of Galawati Kebabs. The famous food joint, Tunday Kababi in Lucknow was launched by Murad's son. Tunday Kababi is a renowned establishment with a rich, century-old history. The iconic food joint serves the most delicious Galawati Kebabs, prepared with a secret, age-old recipe.
3. Nihari Kulcha
You cannot leave the City of Nawabs without trying out the lip-smacking and amazing combination of Nihari Kulcha. The Nihari is available as a rich, mildly-flavoured mutton-based gravy. Kulchas are thick, leavened bread.
In combination, the ingredients make up a great love affair to delight your taste buds. The famous eatery Tunday Kababi in Lucknow is renowned for preparing the best-ever versions of this divine combination. Locals fondly refer to it as Raheem ki Nihari. It has become quite a ritual for all meat-lovers to pay a visit to this location during special occasions or celebrations.
4. Sheermal
Wish to try something unique other than regular rotis? Try the signatory Sheermal of Lucknow. Conventionally kneaded with milk, it is a sweetened form of Naan with the richness of saffron. The iconic Naan is baked in a specialised iron tandoor, lending it its special authentic flavours. The dish is prepared by sprinkling saffron and cardamom-flavoured milk on Tandoor walls. The dish tastes great with kormas, kebabs, and even by itself.
The classic baqarkhani is an elaborate version of Sheermal. Baqarkhani is fried on a griddle rather than getting baked on the Tandoor. Some of the famous variants of Sheermal include Hazri Sheermal, Zafrani, and so on. Lucknow features an entire lane dedicated to this local delicacy. Located close to the Akbari Gate, the iconic Sheermal Wali Gali is the best place to savour this unique offering from Lucknow.
Conclusion
Lucknow, the culinary capital of Uttar Pradesh, is famed for its exquisite cuisines and royal heritage. The intense culinary scene of the city offers a delightful blend of spices, aromas, and flavours that have been passed down through generations. You can try out the best delicacies of the City of Nawabs by ordering food online from the best restaurants in the city. Swiggy unveils the best food in Lucknow for you to try out.
FAQs
Q. What is Lucknow famous for in terms of food?
A. Lucknow is a food paradise for all food lovers out there. If you are visiting the historic city, you can try out its famous delicacies, including an array of veg as well as non-veg delicacies.. Make sure you order from top-rated restaurants in Lucknow to enjoy the best flavours.
Q. What makes Lucknow's cuisine unique?
A. The traditional dishes of Lucknow have been highly patronised by the Mughals. Therefore, the cuisines here impart a highly royal touch. Lucknow is famous for its rich cuisine that gets its inspiration from the ruler here.
Q. Are there any specific sweets or desserts that I should try in Lucknow?
A. Malai ki Gilori is one of the most sought-after sweet dishes of Lucknow that you should try. Some more desserts to relish are Makhan malai, Lucknow ki Revid, and Zafrani Kheer.
Q. Are there any historical connections between Lucknow and its famous food?
A. Lucknowi or Awadhi cuisine is a high-end cuisine native to the Awadh region in the northern region of the country. The cooking patterns of Lucknow are similar to those of the Middle East, Central Asia, and North India with the cuisine comprising both non-veg and veg dishes.
Q. How does Lucknow's cuisine differ from other regional cuisines in India?
A. Lucknow is a historic city that boasts a rich culture and history, an intense food scene, and heritage. The city is famous for its ancient cuisines that are quite unique to the region.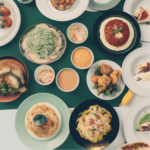 Satisfying your cravings, one bite at a time. Discover the best eats, trends, and uncover the hidden gems with us to make your online ordering or dining experience a memorable one.