The cities of India form a complete cosmos by themselves. The mere fact that every city is significantly distinct from the other is quite fascinating. As you span a few hundred kilometres of the subcontinent, you will realise that there are immense variations in terms of language spoken, culture, traditions, and food habits. India is known to be a unique territory due to the constant change taking place almost everywhere.
In the western provinces of the country, you come across the famous city Surat. Situated in the state of Gujarat, the city is renowned for its lucrative diamond industry. Therefore, it is aptly referred to as the 'Diamond City of India.' Quite interestingly, Surat is esteemed for its delectable range of local food. If you have plans of visiting the city anytime soon, we take you through a divine culinary journey by enlightening you about the best restaurants in Surat.
How to Eat Like a Local in Surat: Best Foods to Try Out
Famously referred to as the "Silk City," Surat is quite famed for its drool-worthy food scene. Drawing the attention of travellers from all around, the Diamond City never fails to surprise you with its delectable range of must-try foods in Surat. If you are a food aficionado, you must try out famous street foods in Surat.
Here are some must-have options for the best food in Surat:
1. Undhiyu
Derived out of the term 'Undu' (implying upside down), Undhiyu is a famous mixed veggie casserole prepared out of the most sought-after local ingredients known as Surati Papdi. The dish has a slight sweet flavour. However, according to traditional preparations, you will usually come across tangy and savoury preparations in leading destinations.
Most chefs prepare 'Muthiya' also for the preparation. It features gram flour and Methi. Usually prepared during winters due to the seasonal availability of Papdi, Undhiyu is a dish you can have with chapatis, rice, or by itself. Most locals prefer having Undhiyu with Puri and Shrikhand. Do not miss out the divine flavours of this popular dish in Surat by ordering food online from leading destinations like Jalaram Khichdi, Shubhlaxmi, Harikrushna Restaurant, and so on.
2. Locho
Come on weekends and you will find Suratis getting excited about the local dish Locho. The dish has managed to make its appearance across restaurants and street-side food stalls in the past couple of years. It has rapidly become the ultimate breakfast dish of the city. Locho is regarded as the by-product of Khaman, the famous gram flour-based steamed snack.
Locho typically features a thick yellow flat slab prepared out of powdered chickpeas. The slabs are cut directly from the steamer. The dish is served with spicy green chutney and garnished with finely chopped onions. For the condiments, you have some options, including butter and oil. Young Suratis, however, prefer new toppings, including mayonnaise, cheese, and Schezwan chutney. Some of the must try food in Surat are Jalaram Locho & Khaman, Gopal Locho, Jay Gopinath Khaman, and Radhe Dhokla.
3. Bhajias
The locals of the city love Farsan. The entire city is filled with small-sized, roadside ventures that you cannot get enough of. Some quite old, the shops are situated at the heart of the city amidst the madding crowd. You can head to these local eateries to try out the divine flavours of Bhajias, prepared out of a wide array of veggies, including potatoes, onions, cabbage, chillies, and much more.
Across such local shops, you can also come across delicious sweet dishes to complement with your plate of flavourful Bhajias. Like any Gujarati, you can try combining the scrumptious jalebis with crispy fafdas, a popular besan or gram flour-based snack. One of the most popular joints to try out crunchy, flavour-rich bhajias is Kutchi King.
4. Surati Sev Khamani
Wish to try out something that tickles your taste buds? Surati Khamani is your perfect dish. Prepared out of Chana Dal and a wide assortment of flavourful spices, Khamani in Surat is available as a spicy, tangy delight you would like to relish while visiting the Diamond City.
The popular Khamani in Surat is enriched by combining a wide range of special ingredients like garlic, ginger, chillies, pepper powder, and some sugar. The dish is garnished beautifully with Besan Sev to enhance its overall flavours. The dish is quite popular as a breakfast and evening snack. You can order this dish online from leading eateries like Jalaram Locho and Raswala Khaman, Gopal Locho, Mr. Dhokla, and Mukesh Sev Usal.
5. Ponk Vadas
Crispy hot snack that is as delicious as it sounds. The dish primarily leverages Jowar for its preparationThe chill of the winters brings the divine flavours of Ponk Vadas to Surat's culinary scene. It is both a delicious and healthy dish that can be consumed every winter evening. 
The locals of Surat relish this crispy snack item during foggy winter evenings with a cup of hot tea or coffee. As you are visiting the beautiful city, you can try out this local delicacy across famous street-side vendors. To enhance its flavours, try it with spicy green chutney and crunchy Sev all over.
Conclusion
Surat has it all when it comes to tasting the divine delicacies of Gujarat. To get the most out of your culinary experience, you can now order food online in Surat from Swiggy. If you wish to enjoy the interesting culinary offerings of the city, browse through top-rated restaurants to order the best food of Surat.
FAQs
1. What makes Surat famous for its food?
Food in Surat is famous for its simple use of ingredients and rich flavours depicted through the wise use of spices and sugar in a perfect balance. You will come across a myriad of local delicacies in Surat that tourists love to try out.
2. Can you recommend some popular sweet dishes from Surat?
Surati Ghari is one of the most famous local sweet dishes of the city. Ghari is typically prepared out of Puri batter along with milk, sugar, and ghee. The sweet dish is given round shapes with intense sweet fillings. The dish is usually prepared during special occasions or festivals.
3. How does Surat's food differ from other regions in Gujarat?
The food served in Surat takes its inspiration from the surrounding Maharashtrian cuisines. The dishes here make less use of sugar in comparison to other regions of Gujarat.
4. What are some traditional sweets or desserts in Surat?
In addition to Ghari, Magas or Magaj is yet another popular sweet dish in Surat and entire Gujarat. The sweet dish is typically prepared during festival occasions.
5. Can you suggest some dishes that represent the authentic flavours of Surat?
If you are visiting Surat, you can try some of the authentic dishes at popular restaurants. Some authentic flavours to try out are Surati Khamani, Rassawala Khaman Dhokla, Undhiyu, and Locho.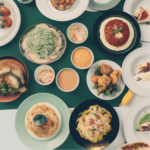 Satisfying your cravings, one bite at a time. Discover the best eats, trends, and uncover the hidden gems with us to make your online ordering or dining experience a memorable one.