You thought Agra was only famous for the mesmerizing Taj Mahal? Well, not so! In addition to the myriad of tourist places to hang out around the city, Agra also boasts a vibrant culinary scene to delight one and all. The local delicious prepared with love and served with immense hospitality are something you must try out on your next trip to the scenic city.
If you are a health-conscious individual, the city will not disappoint you. With no dearth of healthy cafes and eateries all around, you can fulfill your sudden hunger pangs without any guilt. While you might crave something nutritious and delicious at the same time, Agra never fails to surprise you with its innovative blend of health and taste by leading the best restaurants and cafes around the city.
Top Best Healthy Restaurants in Agra
The city has so much to offer to its guests, right from world-class architecture to rich culture & heritage, and unmatched flavours, your visit to Agra will never be complete without trying out its delicious offerings. However, if you are conscious about your overall diet, the eateries of the cultural city keep coming up with new ways to delight their customers.
Swiggy enlists some of the best, top-rated healthy restaurants in Agra that you must try out. Here are some of them:
1. The Salt Café Kitchen & Bar
Infusing the essence of Greece across the busy streets of Agra, the Salt Café Kitchen & Bar is a must-visit restaurant for those who love something new and healthy at the same time. Featuring a lively bar, the eatery has an extensive menu with high-end continental dishes. While these dishes are healthy, you can also come across the creative Indian touch to enhance the overall flavours. For instance, you can try out the delicious Chicken Pasta for a revolutionary feel.
The quality of the food in terms of health and hygiene standards is bespoke. To top it all, the famous café offers stunning views of the iconic Taj Mahal as you relish the nutritious flavours of the menu. The restaurant makes a perfect spot for a laid-back evening with your friends and family.
2. Dasaprakash Restaurant
While in Agra, you must have tried out the classic Mughlai recipe. If you are done with your cheat days during your vacation, you can head to Dasaprakash Restaurant to give yourself a break from all the spices and rich flavours. It is a famous South Indian restaurant in the city. The restaurant chain is quite popular across various cities of the country.
If you are craving for something simple, satiating, and delicious, a classic Thali will do your work. You can order the staple South Indian version of the Thali for yourself to imbibe is goodness and nutrition quotient. There are lavish offerings at the restaurant as well, including rice, veggies, papad, pickles, and desserts.
3. Tipsy Grill
Tipsy Grill is a classic blend of unmatched flavours and art. You will also love the innovative range of delicious desserts here. To take a break, you can try out the healthy menu of the restaurant featuring scrumptious dishes like Veggi Bomb, Fries Fill Burger, Zesty Nacho Fries, Mexican Spice Tacos, and delicious mini pancakes.
To cool down your senses, the café also unveils a creative menu featuring refreshing beverages. The café is situated in the heart of the city and can be easily accessed by food lovers from all around.
4. Aahar
As you explore the city, it will take ample time and effort. As you start feeling tired after your day's long adventure, it is time to head to Aahar and try out something fulfilling and nutritious at the same time. The menu of this famous vegetarian restaurant in Agra is recommended to both Indian and Chinese lovers. There is nothing better than having a fuller meal of healthy sandwiches, smoothies, and a full-fledged Indian course.
Must-try Dishes in Agra That Are Also Healthy
While Agra has no dearth of the best food joints to try out, you should also know about the best local healthy delicacies that the monumental city has to offer. While on your tour, you can enjoy your time guilt-free by ordering food online yet delectable delights in Agra. Some famous dishes to order online are:
1. Shawarma
You might get Shawarma in almost all cities. However, Agra has a delightful taste to offer. Served with delicious white and green mint sauces, this meat-stuffed roll would definitely make you crave more. It is the thick vegetable and meat filling inside loaded with the juiciness of sauces that makes this dish intensely lip-smacking.
Both locals as well as tourists alike prefer having Shawarma in Agra. Even though the delicacy is meaty, it is still a healthy option. The manner in which meat is grilled adds significantly to the overall taste. Moreover, there is an abundance of veggies and mouth-watering sauces that enhance the overall flavors. This offers people an authentic and fulfilling experience.
2. Kulhad Lassi
If you wish to minimize the heat and spice of meals you consume during your meals, Lassi is a must-have healthy, refreshing drink you would love ordering in the city. Agra offers the special Kulhad Lassi that is renowned for its unique flavors and the overall health appeal.
Lassi is typically a yogurt-derived shake or beverage that is thickened deliciously with milk films or malaai. The beverage is served chilled in Kulhad or Mud Cups. After you have enjoyed all the divine flavors of the city, the soothing aroma of Kulhad Lassi will enlighten your senses.
3. Bhalla
Bhalla represents a chickpea and potato patty. It is also known as Tikki. The Tikkis are served with tangy, spicy, and tasteful chutneys. In Agra, there is a tradition to submerge the tikkis in a special chickpea curry as well along with freshly flavored yogurt paste. It is one of the most delicious, yet healthy street food options you can try out in Agra.
Conclusion
With the most alluring healthy restaurants in Agra, you can fulfil your health objectives and cravings in a health-conscious manner.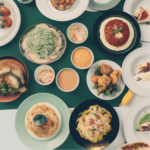 Satisfying your cravings, one bite at a time. Discover the best eats, trends, and uncover the hidden gems with us to make your online ordering or dining experience a memorable one.