At Swiggy, we understand the challenges faced by restaurants in expanding their businesses and staying ahead of the curve. Whether you're an established restaurant owner or just starting out, we're here to support you at every step of the way!
One critical factor in determining the success or failure of a new outlet is its location. The difference of even a few kilometres can change the picture! Most restaurant partners don't have enough information easily accessible to make such an important strategic decision.
Enter Swiggy's Network Expansion Insight Simulator —a game-changing tool that helps you discover the best locations to expand your brand, created by analyzing data from millions of customer transactions all over India.
What is the product?
The Network Expansion Insight Simulator empowers you to create a customized expansion plan aligned with your brand's objectives. It not only considers current customer demand but also identifies areas with a supply-demand gap.
This partner-friendly platform can help you understand which city and micro market to expand into by using key filters like:
Cuisine and Price: Choose the cuisine type you want to offer, such as Biryani, American, Asian. Choose whether it's for the mass market or for premium customers.
City Selection: Decide on the city type, for instance, top five or top ten cities, based on your expansion strategy. Then focus on a specific city.
How does it work?
After choosing your filters for cuisine, price point, and city, the product analyzes the data and presents a clear view of the best expansion locations. It allows you to explore high-potential zones within the chosen city based on current demand and expected growth of your cuisine, starting with the one that holds the highest potential for your brand.
It also offers a map view that shows potential expansion locations in the city that you have selected. You can zoom in and out of the map to see the exact geographic distribution of high-priority zones and select an area that covers multiple hotspots.
Partner Success with Network Insights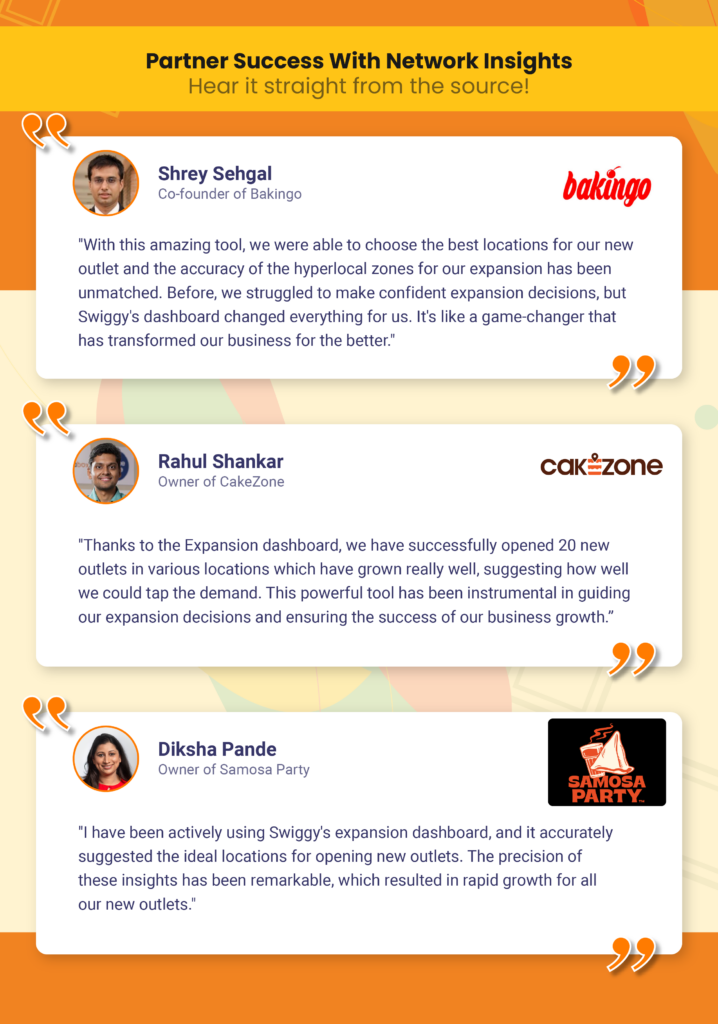 In summary:
Swiggy's Network Expansion Insights is a game-changing tool that simplifies brand expansion. Its user-friendly interface, data-backed insights, and customizable filters are invaluable for partners seeking growth opportunities. With this powerful product, you can make data-driven decisions, discover high-priority expansion areas, and unlock a new level of success for your brand!
The simulator platform is available to all of Swiggy's 250,000+ restaurant partners to use in a self-serve format. For further questions, please write to partnerinsights@swiggy.in