After you have explored the magnificent Gwalior Fort and Jai Vilas Palace, it is obvious to crave for something scrumptious and fulfilling at the same time. Thankfully, Gwalior, as a city, is a delight to visit, especially because of its wide gamut of delicious food offerings for your palate. To be more specific, the local street food scene in the city is something to relish whenever you visit this culturally-rich city.
Whether you try the deep-fried golden Kachoris or the decadent Paneer Jalebis, food aficionados here can have a great time exploring and enjoying the best food treats the historic city has to offer and order your favourite food from the top-rated restaurants too. Let us enlighten you about the best foods in Gwalior you must give a try.
Enhance Your Taste Buds with the Best Foods of Gwalior
The local cuisine of Gwalior is just like its architecture-steeped in a beautiful cultural heritage. Gwalior is famed for its vegetarian delicacies. Therefore, you can come across a myriad of veg food options in the city. The city has earned a mark for its elaborate breakfast scenes, featuring samosas, kachoris, jalebis, bedai, and poha amongst some of the must-have local cuisines in Madhya Pradesh.
From street food delicacies to high-end dining menus, Gwalior has a beautiful variety to offer as far as lip-smacking Indian cuisines are concerned. Here are some of the must-try food in Gwalior on your upcoming trip:
1. Kachori
If you have a knack for Indian breakfasts, you must already know the delicious scale of different types of kachoris. Amongst other cities, Gwalior seems to win the race by presenting some of the most lip-smacking and divine flavours of this famous breakfast snack.
To taste the finest kachoris in Gwalior, you are expected to be quite an early bird. If you are ordering online, you need to keep a lookout for restaurants and eateries delivering this delicacy usually during the morning hours. So hurry and order your favourite flavour of deep-fried, golden, and crispy kachori from famous hotspots like SS Kachori Wala, Brij Bhog Sweets & Namkeen, Parmanand Sweets, and LMB Sweets.
2. Poha
It is yet another delicious breakfast dish that wins the hearts of locals and tourists alike. The famous Aggarwal Puri Bhandar takes the entire credit in the city when it comes to serving the delicious, soul-filling snack in the best possible variations. You are assured to fall head over heels on the delicious servings of this healthy and flavourful delicacy in Gwalior.
The fact that makes this outlet famous for poha in Gwalior is that it has a distinctive style of cooking this staple dish. The delicacy is prepared by using extra spices to boost your tastebuds. Poha in Gwalior is an exciting breakfast and evening snack as it is packed with an unconstrained blend of peanuts, onions, aloo bhujia, coriander, and a dash of lime to enhance the overall flavours.
3. Karela Chaat
Already dreading the taste of this dish? Do not go by the name, however! You are mistaken that it is prepared out of Karela or Bitter Gourd. Instead, it is a tastier and healthier version of the typical chaat recipe that is loved by locals and tourists alike.
Rather than using papri, you will come across karela on the plate. Karela, in this dish, is usually deep-fried in the form of dough sheets. While you might be confused, still the overall taste is simply uplifting and fulfilling. The deep-fried, crispy karela sheets are not only delicious, but also appear quite aesthetic on your platter. The dish is served with matar to enhance your taste buds. You can order this delightful plate from Hemu Ji Cheela Chaat Bhandar and MBVAR Chatori Chat in Gwalior.
4. Paneer jalebi
Jalebis, in India, form an integral part of the sweet dish routine of almost all sweet lovers. There are several variations of this famous sweet dish across different parts of the nation. Moreover, jalebis have been an integral part of most breakfast scenes in India since times immemorial.
While you might have tried out different versions of this juicy and crispy sweet dish, Gwalior has something in store to enhance your culinary senses even more. Try out the highly sought-after paneer jalebis in Gwalior to enlighten your love for sweets. You can order a plate of this must-have delicacy in Gwalior from popular hotspots like Kaurav Sweets, Jodhpur Misthan Bhandar, and Rajshree Misthan Bhandar.
Conclusion
Gwalior is a culturally and historically rich city. The place unfolds interesting gastronomic experiences to fill your soul with unmatched pleasure. If you love exploring new cities and the local food scenes, you can order online food right from the comfort of your home. Swiggy provides doorstep delivery to help you enjoy your favourite meals peacefully.
FAQs
1.Are there any specific local delicacies that Gwalior is famous for?
Gwalior is a famous historic city that abounds in an unparalleled local food scene. Here, you can come across a wide range of street food delicacies that enhance your overall experience. For the best-ever feel, you can try out the local kachoris, samosas, poha, and paneer jalebi.
2. Are there any popular sweets or desserts unique to Gwalior?
For all the sweet-lovers, Gwalior is an ultimate sweet haven. Here, you can try out the famous sweet delicacies, including paneer jalebi, petha gilori, and scrumptious ladoos from famous sweet shops. 
3. How does Gwalior's cuisine differ from other regions in India?
The local cuisine in Gwalior is a blend of significant influences from surrounding regions. At the same time, the food scene here is quite authentic and distinctive in the sense that you will mostly come across a wide range of veg delicacies in the city to delight your senses.
4. Are there any historical or cultural influences on Gwalior's cuisine?
Gwalior is known for its rich cultural and historic background. Just like other parts of the nation, Gwalior takes inspiration from different traditional cuisines and dishes that have ultimately evolved across centuries. The rise of rich cuisines from the Gupta Dynasty and the overall Sindhian influence on Gwalior cuisines have made its food culture more diversified.
5. Are there any unique fusion dishes that combine Gwalior's traditional flavors with modern influences?
Traditional cuisine of Gwalior witnesses deeply-rooted influences from the previous dynasties that have ruled the city. At the same time, the rise of urban population has brought about a new wave of contemporary influences to cultural dishes and cuisines. In Gwalior, you can come across several such variations in the local food scene.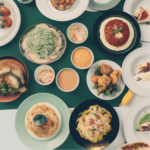 Satisfying your cravings, one bite at a time. Discover the best eats, trends, and uncover the hidden gems with us to make your online ordering or dining experience a memorable one.