Renowned as the cleanest city of India for several times in a row, Indore is a leading tourist destination in Madhya Pradesh. The city houses a number of famous tourist destinations, along with temples, shrines, and its unmatched street food culture. As far as the must-try food in Indore is concerned, the city takes pride in serving as the ultimate food heaven for food connoisseurs with its scrumptious local preparations.
Indore is rightly referred to as the 'Street Food Capital of India.' The local food scene in the city is a beautiful amalgamation of cuisines from surrounding areas, including Gujarat, Maharashtra, and Rajasthan. Still, you can also come across several unique dishes that are native to the region. To be assured of the best culinary experience, order food online from top-rated restaurants in Indore.
What are Must-try Foods in Indore?
As far as local street food in Indore is concerned, the beautiful city leaves no stone unturned in presenting immense variety in the overall usage of spices and tastes. The city is a paradise for those looking forward to exploring unique Indian preparations. Here are some of the must-try food in Indore you should order from the famous eateries in the city:
1. Dahi Bade
You might wonder what is special about this simple dish featuring soft balls made of lentils dipped in thick curd. Dahi Bade is one sweet, savoury snack item that is readily available across every nook & corner of the country. However, you must give them a try at the famous Sarafa Bazaar or order them online from the local eateries to enjoy the divine taste.
In some of the hotspots of the city, the classic dish transforms itself into a spectacular work of culinary art. Joshi Chat House in the city is famous for twirling the dish bowl into the air while tastefully adding unique spices before delivering this tangy delight. The Dahi Vadas are delicious and scrumptious while staying with you for some time.
2. Poha Jalebi
Poha is a traditional breakfast dish from the state of Maharashtra prepared out of beaten rice while being tossed with delicious veggies and flavourful spices. The famous sweet dish Jalebi is a spiral-shaped sweet and crispy preparation dipped in sugar syrup. In most cities of India, you will come across these dishes served separately.
However, in Indore, the culinary combination is served together in most eateries as a famous breakfast option. The crispiness of Jalebi mingles beautifully with the overall sweetness to impart a rich experience to your mouth. You can bite into crispy jalebis between spoonfuls of poha to make the most of the combination. Order this divine combination from the comfort of your home from famous hotspots like Mahakal Chat Corner, Gokul Restaurant, and Daddu Ki Dukan.
3. Khatta Samosa
<a rel="nofollow" href ="https://www.grihshobha.in/wp-content/uploads/2019/01/maggi-samosa.jpg"> Image Source </a>
Almost all cities of India have their unique preparation and taste for the ultimate snack dish Samosa. However, this dish in Indore is incomparable to other parts of the nation. The filling of Samosa in Indore is quite tangy and sour. Hence, the name has been given.
The popular snack item is served with a sweet chutney rather than tamarind chutney or mint chutney like in other regions. The sweetness of the tasty chutney beautifully mingles with the tanginess of the Samosa. You will enjoy the burst of intense flavours as you take delightful bites of the crunchy snack. Order your desired item from leading eateries like Jain Mithai Bhandar, Apna Sweets, JMB Moti Tabela, and Vijay Chaat House.
4. Khopra Patties
With the overall uniqueness in Indore's local food offerings and its out-of-the-box culinary scene, Khopra Patties is yet another innovative local food item that wins the hearts of food enthusiasts. The dish features potato patties that are fried to perfection and filled with a coconut base. The dish is best consumed with a tangy chutney to enhance its overall flavours.
The famous Vijay Chaat House in the city is one of the major hotspots to consume this popular dish. The eatery serves an array of variations of this must-try street food in Indore.
5. Sabudana Khichdi
Pearly white Tapioca Seeds or Sabudana is hard to imagine as a delicious ingredient. Indore's local cuisine is all about transforming even the simplest of ingredients into something flavourful and divine. A classic plate of Sabudana Khichdi features boiled tapioca seeds mixed tastefully with veggies, a variety of chips, and namkeens. The famous dish is topped with interesting spices and more creativity to offer your taste buds an unmatched experience. With a dash of lemon and garnishing with coriander leaves, you will have the most delectable version in Indore.
Conclusion
Indore is a street food haven for those who love trying out new flavours and cuisines. When in the city, you can order online from Swiggy by going through top-rated restaurants in Indore.
FAQs
Q. What makes the food in Indore famous?
A. In addition to the delectable range of street food and sweet dishes, Indore is also famed for its immense variety of deep-fried namkeens. Some of the must-try snacks here are aloo bhujia, Indore sev, chikkis, mathris, and so more.
Q. What are the signature flavors of Indore's cuisine?
A. Poha is one such signature dish of Indore that everyone is aware of. It is a famous breakfast dish filled with nutrition and divine flavours. It is sold across the nation as Indore Poha, especially during morning hours.
Q. How has Indore's food culture evolved over the years?
A. Indore has emerged itself to become a street food hotspot of the nation. People from all around the country and even abroad visit Indore to try out its local delicacies. Quite recently, Indore has gained impetus of being a leading street food destination in the nation.
Q. Are there any famous sweet dishes or desserts in Indore?
A. Mawa bati is one of the most famous sweet dishes or desserts of Indore. It is like a large-sized Gulab Jamun. The sweet dish is filled with rich, crispy nuts. There are several local sweet shops in Indore offering this famous sweet dish.
Q. Are there any regional specialties unique to Indore's cuisine?
A. The local cuisine in Indore is famous for its regional influences from surrounding areas like Maharashtra, Rajasthan, and Gujarat. The dishes in Indore are diverse in the overall flavours, especially when it comes to the diverse spectrum of local street food.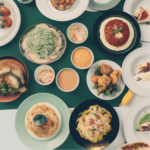 Satisfying your cravings, one bite at a time. Discover the best eats, trends, and uncover the hidden gems with us to make your online ordering or dining experience a memorable one.