Jharkhand, the state of East India, is renowned for its lush greenery and immense natural beauty. There are several spectacular landmarks and holy destinations like Baba Baidynath Dham, Rajrappa, and Parasnath. In addition to natural as well as human-made beauty, the local cuisine of the state is full of luscious and delicious dishes. As a majority of the state's population resides in rural areas, the food consumed throughout is quite simple, earthy, and rustic. Additionally, you can also be assured of the overall taste and richness of the local cuisines that are effectively depicted in the best food of Ranchi.
When it comes to trying out the best food in Ranchi, some of the staple delicacies here feature spicy pickles, lentils, rice, and vegetables. The vegetables are deliciously prepared in a myriad of ways, whether you prefer them roasted, fried, boiled, or curried. Moreover, in rural areas of the state, inhabited by tribal people, you will come across several exotic dishes that appear equally tempting and flavourful. Let us enlighten you about the best food in Ranchi. You should give it a try.
Best Foods of Ranchi to Try Out
A traditional meal in Ranchi will usually feature roti, sabzi, dal, chawal, raita, chutneys, and ghee. There are several delicacies of the state that ultimately steal the show with their authentic flavours and rich textures. You can order your favourite food from the top-rated restaurants in Ranchi. Some of the must-try food in Ranchi are:
1. Dhuska
It is a famous spicy preparation native to the Chota Nagpur Plateau of the region. It is a speciality dish of Ranchi, the capital city of Jharkhand. You can start your breakfast with this delectable dish. At the same time, you can have it for a fulfilling dinner meal as well.
Dhuska is prepared by using gram pulses and black lentils along with rice flour while deep-frying the mixture. The dish features a special flavour due to the use of distinctive spices. In most cases, the local people use mustard oil to fry Dhuska. To enhance its flavours, it is served with spicy, hot Gram and Aloo Curry. The dish is usually a part of a festive offering and special occasions. You can order this delectable offering from famous hotspots like The Kababbary, Dawat, and Gokul Veg Restaurant.
2. Litti Chokha
As soon as we talk about food in Jharkhand, Litti Chokha is the first dish that comes to our minds. The delicious preparation is not just popular in Bihar but also a sought-after delicacy in Jharkhand.
Littis are typically prepared in the form of balls made out of the dough featuring roasted gram and wheat. The balls are then charred on coal. Eventually, you are served piping hot littis drenched in ghee. The best accompaniment to littis is the flavourful baigan chokha or aloo chokha and papad. As Bihar and Jharkhand mostly depend on a veg meal, Litti Chokha is highly cherished amongst the locals. Order your favourite plate of this dish from famous places like Mr. Samosa, Spice N Rice, Ranchi the Restaurant, and Imli the Restaurant.
3.  Pitthas
It is yet another famous local dish in Ranchi. Pitthas is one recipe that is not just famous in Jharkhand but also loved across surrounding states of Bihar, Orissa, and West Bengal.
Pitthas typically depict dumplings made out of rice or wheat flour. The dumplings are richly stuffed with Aloo Chokha, thickened milk or Khoya, or different kinds of lentils. Pitthas can be both savoury and sweet, depending on the occasion for which they are prepared. It is a special delicacy usually prepared during Makar Sakranti in Jharkhand. Get this dish delivered to your doorstep from famous places including Desi Pitha, New Raj Sweets, and Maheswari Sweets.
4. Rugra
<a rel="nofollow" href ="https://theindiantribal.com/wp-content/uploads/2022/03/Rugra.jpg"> Image Source </a>
Jharkhand boasts this famous mushroom-based dish to relish. Rugra is one such special mushroom native to the region, especially during the monsoon season. Usually, inhabitants or tribals of forests are capable of identifying this type of mushroom growing underneath the soil.
Due to its unique and seasonal availability, it is a distinctive cuisine to Jharkhand. You will fall in love with this delicious preparation when the dish is prepared properly and by using the right components. It is a healthy rich dish with high proteins, minerals, and calories. The thick, curry-based dish is prepared with the help of garlic, onions, and other spices.
5. Malpua
Malpua or Desi Pancake is synonymous with the best sweet dish in Jharkhand. It is a popular sweet delicacy that is prevalent across the entire state. As a matter of fact, it is a tradition to prepare this sweet dish during festivals like Holi. While it is high in calories, malpua is irresistible in the overall flavour. It is a Desi pancake prepared out of milk, wheat flour, khoya, and dry fruits. It is best served hot. If you wish to truly relish this sweet dish, you can also have it with Rabri.
Order your delightful plate of malpua from famous sweet shops in Ranchi, including Kaveri, Shree Gangaur, Charuwalas, and Grameen Kulfi.
Conclusion
There are several authentic cuisines in Jharkhand, typically influenced by the local tribal culture and surrounding regions. You can order food online in Ranchi from Swiggy by going through the list of top-rated restaurants in Ranchi.
FAQs
1. What are some popular dishes that make Ranchi famous for its food?
Ranchi is famous for its authentic cuisine and local food preparations, including litti chokha, pittha, malpua, bamboo shoots, and dhuska. You can order these delicacies from the best restaurants in Ranchi and enjoy their delectable flavours.
2. How has Ranchi's famous food contributed to its local culture and identity?
The local food scene in Ranchi takes its inspiration from the authentic tribal flavours and those from surrounding states like Bihar and West Bengal. As such, Jharkhand has earned the identity of being a famous food hotspot if you wish to explore some tribal delicacies and authentic dishes.
3. Are there any unique food items or specialties that are exclusive to Ranchi?
Yes. There are several tribal delicacies that are totally authentic and unique to the region. For instance, rice being the staple ingredient, you can come across several specialties like Dhuska, Pittha, Litti Chokha, and Thekua.
4. How has Ranchi's famous food influenced the culinary scene in other parts of India?
The local food scene in Ranchi has significantly influenced the food scene of its surrounding regions like Bihar, West Bengal, and Orissa. You can find the taste of Ranchi's delicacies like Dhuska and Litti Chokha in other regions of the country as well.
5. What efforts are being made to preserve and promote Ranchi's famous food heritage?
Restaurants and eateries across Ranchi are taking inspiration from other parts of North India to diversify the menu. Moreover, the Jharkhand Government also strives to preserve and promote the local Adivasi or tribal food scene of the state.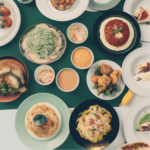 Satisfying your cravings, one bite at a time. Discover the best eats, trends, and uncover the hidden gems with us to make your online ordering or dining experience a memorable one.