Nagpur is famously referred to as the City of Oranges. In addition to this fame, the city is also quite vibrant and an upcoming mega city in the state of Maharashtra. Famous for its national parks, Ashrams, and temples all around, Nagpur has a lot on its plate to offer to visitors.
While Nagpur has earned the fame of being a leading tourist destination, it is worthwhile visiting the city, not only for its famous landmarks, but also for its interesting food scene. It is possible that you might not have come across Nagpur as a leading foodie destination. However, a number of top-rated restaurants and the local food scene have made the city a hotspot for food lovers. It is high time you should acknowledge the famous food in Nagpur.
Top Must-try Authentic Food in Nagpur to Not Miss Out On
When compared with other cities in Maharashtra, the local food scene in Nagpur might not be on top of your list. However, as you visit the city, you will be surprised to come across a plethora of top-rated restaurants and cafes offering the best of tastes and flavours to delight your senses.
When in this beautiful city, some of the must-try food in Nagpur are:
1. Tarri Poha
A journey to Nagpur will be incomplete without this famous local dish named Tarri Poha. It is the iconic street food of Nagpur. The scrumptious snack item is prepared by making use of onions, rice flakes, and tomatoes. Eventually, to enhance its taste, the dish is served with Tarri (a thick, spicy gravy). The dish is a famous snack option and is regarded as a healthy snack as well.
In the city, you can come across a number of Poha Wala carts and street-side stalls delivering their own unique flavours to the dish. If you wish to relish the flavours of this popular delicacy right from the comfort of your home, you can order online from reputed spots like Bombaywala Sweets, Pohewala, and Shree Ganesh Farsan.
2. Saoji
Hot and full of spices, this delicious curry-based dish is a must-have for every non-veg lover in the city. Native to the region, the scrumptious curry meal is prepared using a spicy combination of delectable masalas and trotters.
Some top-rated restaurants in Nagpur serve Saoji with veggies and chicken as well. Therefore, if you are not fond of trotters, you can choose between chicken and vegetarian versions. Saoji serves as a signature non-veg dish of Nagpur. Some of the best places to order a full-course Saoji are Hotel Sujal Saoji, Ghodpage Saoji Bhojnalaya, and Om Shakti Saoji.
3. Matka Biryani
An interesting aspect of biryani in India is that different corners of the country represent different variations of this staple rice preparation. In Nagpur, the speciality dish is Matka Biryani. The dish is served steaming hot in a copper pot, referred to as matka.
Matka Biryani is usually prepared out of chicken or mutton as the main ingredient. However, you can also come across vegetarian options as several restaurants prepare vegetable biryani as well. It is a must-have food in Nagur when you wish to try something fulfilling and flavourful. Some of the leading destinations to order this food from are Moti Mahal Delux, Haldiram's Restaurant, Maharaj Bag Lawn, and Varhadi Pahunchar.
4. Dosa
While you might regard Dosa as a South Indian speciality, this staple dish has a unique charm in Nagpur. If you are fond of South Indian food, you would indeed be mesmerised by the lovely surprise Dosa in Nagpur has to offer to your palate. The famous food joint named Suraj Dosa Wala brings forth a contemporary twist to this otherwise conventional South Indian delicacy.
The street food vendor in the city is famous for serving a wide range of Dosa variations, including Paneer Dosa, Motu Patlu Dosa, PubG Dosa, Butter Dosa, and so more. Locals here are attracted to the overall hygiene standards as well that are effectively maintained during the preparation of your loved dishes. The food joint has, therefore, been famed as one of the most hygienic Dosawala in India.
5. Patodi and Kadhi
A trip to the City of Oranges is not worthwhile unless you try the famous local dish, Patodi and Kadhi. The dish is a popular Besan-based curry, quite a delicacy in Maharashtra. The Besan curry is mixed and served in another spicy gravy. The curry-based dish is best consumed with Bhakri or Roti.
The curry dish is a Maharashtrian delight and full of proteins. In Nagpur, they prepare Patodi by adding the richness of red chillies to make it spicier and more flavourful. Be warned, this dish is hot & spicy! Try out the delicate flavours of the dish by ordering online from Rushkar Assal Maharashtrian Vyanjan, Ghodpage Saoji Bhojnalaya, and MH Breakfast & Restaurant.
Conclusion
The street food scene in Nagpur is quite unique and inviting. Therefore, if you are visiting Nagpur anytime soon, make it a point to order your food online from top-rated restaurants and cafes. For an authentic local culinary experience in the city, order the best food in Nagpur from Swiggy by sitting right in the comfort of your home.
FAQs
Q. Are there any unique local delicacies in Nagpur?
A. If you are in Nagpur, you will come across a wide array of unique delicacies that are local to the area. Some of the must-have local delicacies in Nagpur are Samosas, Karri Poha, Matka Biryani, Sheermal & Rott, and much more.
Q. Are there any renowned bakeries or dessert places in Nagpur?
A. If you wish to satiate your sudden cravings for something sweet and delicious, Nagpur has no dearth of famous bakeries and sweet shops to fulfil your desires. Some of the leading options are Haldiram's Restaurant, Bombaywala Sweets, and Shabana's Bakery & Café.
Q. Where can I find the best Saoji cuisine in Nagpur?
A. Saoji is one of the most sought-after local delights Nagpur has to offer. It is a flavourful, curry-based dish in the city that is adored by both locals and tourists alike. To relish on its divine flavours, you can order online from Ghodpage Saoji Bhojnalaya, Om Shakti Saoji, and Manohar Saoji.
Q. What are the unique flavours or ingredients found in Nagpur's cuisine?
A. The local food and cuisines of Nagpur are full of flavours and spices. If you are fond of spicy food, Nagpur is your place to be. Here, you will come across local delicacies like Saoji that are filled with the richness and spiciness of chillies and other delicious ingredients.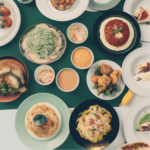 Satisfying your cravings, one bite at a time. Discover the best eats, trends, and uncover the hidden gems with us to make your online ordering or dining experience a memorable one.