Vadodara is one of the largest cities of the state of Gujarat. Located along the banks of river Vishwamitri, Vadodara is an advanced cosmopolitan city that boasts an intense food scene to try out. The cultural city is a treat for those who have a knack for trying out something unique and interesting in terms of culinary flavours. The city boasts the presence of a number of eateries and restaurants offering varied tastes throughout.
Across the best restaurants in Vadodara, you will find everything, right from multi-cuisines to the classic Gujarati food that you would drool over. You might assume that there is not much in store for non-vegetarians, but do not be in this illusion. Vadodara has something for everyone out there. However, with the most extensive vegetarian menu in option, even the most ardent meat-lovers will be drawn to the vegetarian menu.
What are the Best Foods to Try in Vadodara?
Immense diversity is reflected in the must-try food in Vadodara. The city takes pride in depicting a rich culinary scene with a blend of Gujarati, Marathi, and Rajasthani food influences. Most still believe that the flavourful Gujarati cuisine rules the food palate in Vadodara. However, the iconic city showcases its gourmet love affair by providing divine flavours of Chinese, Thai, Italian, and North Indian cuisines as well.
To embark on your culinary journey, you should try out the best food in Vadodara. Here are some of your must-have options:
1. Gujarati Thali
The people of Gujarat have perfected the science of delectable vegetarian cooking. There is no denying the fact that Gujarati cuisine is lip-smacking and highly sought-after in the entire Vadodara. To taste the divine flavours of the classic Gujarati cuisine, you should have a Thali meal, the ultimate vegetarian fare. A classic traditional Gujarati Thali is one of the best ways to indulge in the local delicacies of Vadodara .
The typical seasonings of Saurashtra, including turmeric, mustard seeds, pounded red chillies, coriander, cumin, and other spices, are distinctive of the veg cuisine of a Gujarati thali. A typical Gujarati thali comprises dishes like fried or steamed snacks, a green veggie, gourd or tuber Shaak (a main course item with veggies and spices combined into a delicious curry), yogurt dishes, and a dessert. Some of the best places to try out a Gujarati Thali in Vadodara are Flavour Restaurant, Govinda's Restaurant, Khaki Dining Hall, and much more.
2. Dhokla
Originating from the state of Gujarat, Dhokla is a famous vegetarian dish in Vadodara. It is a popular snack that is prepared out of rice and fermented chickpeas flour. Additional spices like ginger and chilies are also added to the batter to make it more flavourful. Upon baking, Dhokla is beautifully garnished with coconut, coriander, or chopped chillies. The popular snack is accompanied by peanut or besan chutney.
As it is a popular vegetarian snack in Vadodara, Dhokla depicts multiple variations, including rice powder, semolina, or even cheese Dhokla. Low in calories, fluffy, and packed with proteins, there is no surprise that Dhokla remains a staple dish in the city. Some famous places to order this snack item from are Jagdish Foods Pvt Ltd, Satyavijay Farsan, and Shree Kheteshwar Sweets.
3. Dal wada and Samosa
The ever-delicious Samosa is a deep-fried flaky pastry featuring flavourful stuffing of a spicy potato masala. In India, it is common to find a flavourful plate of Samosa along with tea as the most famous street food item. In Vadodara , the most popular snack is the Aloo Samosa. Locals here prefer grabbing a handful of Samosa and enjoying it with sips of hot masala tea.
Dal wada is another famous street food in Vadodara. The sought-after snack item is deep-fried until golden and crispy on the outside while being fluffy, spongy on the inside. In Vadodara, you can come across several eateries offering delicious Dal Wada. Enjoy hot steaming Dal Wada with hot coffee. Order your favourite plate of Dal Wada from Shree Kheteshwar Sweets, Jagdish Foods Pvt. Ltd, Manmohan Samosa, and so more.
4. Dabeli
Dabeli is also referred to as 'Gujarati vada pav.' In contrast to the famous Vada pav, Dabeli in Gujarat features a flavourful potato patty along with the special Dabeli masala. The spicy and rich patty is placed between soft buns. The dish is best served with sweet, delightful chutney. People usually prefer having a delicious platter of Dabeli during snack time.
To enhance your gastronomical experience, Dabeli in Vadodara is available across several street-side vendors and eateries in multiple variations, including Cheese Dabeli, Dry Fruits Dabeli, Matunga Dabeli, and so more. Fulfill your sudden cravings for Dabeli by ordering online food from famous spots like Bhai Bhai Dabeliwala, Saideep Dabeli Corner, New Freeze Land, and so more.
Conclusion
Get the best of local Gujarati flavours in Vadodara by trying out the must-try food from the best restaurants and eateries in the city. If you wish to relish something delicious right from the comfort of your home, you can order food online in Vadodara from Swiggy.
FAQs
1. What is the speciality of Vadodara's cuisine?
The city of Vadodara is famous for offering unmatched flavours of the famous Gujarati cuisine. Even though it is a coastal city, the cuisine across Vadodara is mostly vegetarian. On your visit to Vadodara, you can try some of the local delicacies, including Dabeli, Dhokla, Sev Usal, and so more.
2. How does the street food culture in Vadodara contribute to its reputation for great food?
The city of Vadodara features its own cuisine and concepts of enjoying the local food scene. Like most other cities in India, Vadodara also boasts a lively street food scene presenting a wide array of delectable local dishes, including Samosas, Dal Wada, Fafda & Jalebi, and so more.
3. Are there any unique or unusual food combinations or fusions that are popular in Vadodara?
Vadodara is a melting point of different cultures. Therefore, you can come across an amalgamation of several cuisines in Vadodara. Some of the unique cuisines to try out here are Gujarati, Marathi, Rajasthani, and even international cuisines.
4. What are the must-try desserts or sweets in Vadodara?
To fulfill your sweet cravings, you can try out the famous desserts in Vadodara, including Ghari, Magas, Sukhdi, Sutarfeni, and so more.
What sets Vadodara apart when it comes to its culinary offerings and famous food?
The local cuisines in Vadodara are famous for their vegetarian delights and a fondness towards lightweight dishes full of flavours. You can try out the famous local delicacies across street food vendors and even famous restaurants delighting your culinary senses.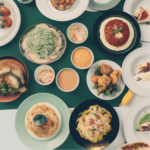 Satisfying your cravings, one bite at a time. Discover the best eats, trends, and uncover the hidden gems with us to make your online ordering or dining experience a memorable one.