Whether it is the unique style of preparing food or the fertile soil of the state of Punjab, there is no denying the fact that Amritsar is renowned for its topmost quality of street food flavours. The highest standard of street food delicacies that you can have in Amritsar is simply unparalleled.
Whether you get astounded by the buttery softness of Kulcha or the richness of fulfilling lassi, the dripping sweetness and flavours of the highly sought-after jalebis, or the scrumptious tandoori fish, every delicacy in the pilgrimage city is prepared by keeping the overall freshness and quality in mind. When you are visiting the City of the Golden Temple, there are multiple options to try out the best restaurants in Amritsar.
Top Street Food in Amritsar to Satiate Your Soul
The lively street food scene in Amritsar is simply unmatched. It is one famous pilgrimage destination in India that deserves your undivided attention if you are a die-hard food connoisseur. To kickstart your gastronomic journey, you can consider adding these must-try food in Amritsar to your eating itinerary for the day:
1. Amritsari Kulcha
A local version of the classic Naan, as soon as you think of Kulcha, the picture of Amritsar draws upon itself. It is a popular must-have and highly sought-after breakfast option in the city. In fact, Amritsari Kulcha has managed to make its way into delectable Punjabi cuisine as well.
When you order kulcha in Amritsar, you also get several interesting variations, including Aloo Kulcha, Paneer Kulcha, and Masala Kulcha. The kulcha is typically served with hot chana or chole. The curry is deliciously prepared using boiled chickpeas and a gravy with the richness of spices and several other tasteful ingredients. As you order a plate of Amritsari Kulcha, you also get add-ons like different chutneys, sliced onions, and pickles to enhance your taste. Kulcha is renowned for its crisp texture and spicy Chole to set your tone for the entire day.
Order the most delicious serving of Amritsari Kulcha from local delights like Brothers Dhaba, Kale De Dhaba, and Pahwa Vaishno Dhaba.
2. Dal Makhani
The overall delight and pride non-vegetarians take while having a scrumptious serving of Butter Chicken is reflected in the love of vegetarians for Dal Makhani. While it might appear as a simple dish prepared out of a combination of lentils, the dish still features a profound legacy and history, especially in the land of Punjab.
There is no denying the fact that Dal Makhani is one of the most renowned local dishes, right after Butter Chicken in the entire Punjab. Amritsar comes forth with its unique creative touch to the must-have dish by adding interesting ingredients and wholesome spices to boost your taste buds. There are a number of local dhabas and street-side food offering this delicacy in its best culinary form. Some of the best places to order a plate of Dal Makhani in Amritsar are R. K. Food Plaza, Brothers Dhaba, Chaman Family Restaurant, and Pahwa Vaishno Dhaba.
3. Sarson Da Saag and Makki Di Roti
An entire meal in itself, this famous local dish is not just a traditional recipe of Punjab, but also a popular seasonal dish across North India. The fulfilling and flavourful meal is usually consumed with ghee or butter to enhance its overall flavours. Some people also prefer having it with honey or jaggery during cold months to provide essential nutrients and warmth.
Sarso implies mustard, Saag depicts a preparation of lentils, and Makki implies corn. Makki di Roti is a corn-based flatbread to be consumed in combination with saag. This famous recipe is available across all famous restaurants, local eateries and Dhabas of the city. Some of the popular places are Bharawan Da Dhaba, Old Kundan Dhaba, The Yellow Chilli, and Chawlas.
4. Amritsari Fish
While a typical Punjabi cuisine is famous for its scrumptious variety of savoury Chicken delicacies, Punjab geographically is the land of fertile land due to its flowing rivers. Therefore, there is an abundance of freshwater fish blended with the high-end culinary skills of the residents. As such, the invention of a dish prepared out of fish took place in this holy land.
Amritsari Fish is locally prepared out of Amritsari Macchi. It is a popular dish made out of gram flour batter while being served with mouth-watering chutneys made out of coriander and mint. The use of secret ingredients that make this dish delectable are gram flour, carom seeds, and the use of sole fish or singhara. Some of the famous places to order this delicacy from are Bubby Fish & Chicken Corner, Pritam Punjabi Dhaba, and Makhan Fish & Chicken Corner.
Conclusion
Good food can indeed set your entire day. As you think about a land of people who have immense love for delicious food and rich cuisines, your thoughts will immediately head to Amritsar in Punjab.
Amritsar is the culinary capital of Punjab. If you are paying a visit to this holy city, it is high time you order food online from Swiggy. There are several famous local eateries and dhabas to order your must-try food of Amritsar.
FAQs
1. What makes Amritsar's food unique and distinct from other Indian cuisines?
The rich cuisine in Amritsar is renowned for its intense flavours and delectable dishes. When you try out the famous food in Amritsar, you are bound to be surprised by the richness of its flavours and the unique touch to entice your taste buds.
2. What are some popular sweet dishes or desserts in Amritsar?
In addition to a wide range of scrumptious savoury and spicy foods in Amritsar, you can also try out the lovely offering of sweet dishes or desserts to enhance your culinary experience. Some of the must-have local sweet preparations in Amritsar are Aam Papad, Phirni, Gulab Jamun, and Jalebi.
3. How does the food culture in Amritsar reflect the city's heritage and history?
The food scene in Amritsar boasts a dazzling portrayal of secular heritage and composite culture. The rich Punjabi cuisine in the region has a glorious past while also promising a bright future.
4. Are there any seasonal or specialty dishes in Amritsar that visitors should try?
If you are visiting Amritsar during the winter season, you are in for a pleasant delight. You can try out the highly sought-after Sarson Da Saag and Makki Di Roti on a chilly winter afternoon. It is a complete meal by itself to satiate your cravings deliciously. For the summer season, you can have a glass full of Punjabi Lassi.
5. How can visitors learn more about the history and cultural significance of Amritsar's famous food?
If you are visiting Amritsar anytime soon, you will feel proud to learn about the rich culinary history and cultural significance of food here. The local cuisine unfolds the richness in its glorious past through a scrumptious range of Punjabi cuisine to enhance your overall experience.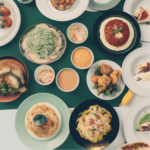 Satisfying your cravings, one bite at a time. Discover the best eats, trends, and uncover the hidden gems with us to make your online ordering or dining experience a memorable one.