Meerut, the ancient city close to the capital of India, is renowned for its classic Revdi, Gajak, and the manufacturing of musical instruments across the country. The city also boasts an impressive historical past during the Independence Era when the 1857 Rebellion started in Meerut. Therefore, you can easily come across a number of cantonment areas in the city as well.
While the city might take pride in its rich historical background, the local culinary scene in Meerut is a must-try. While in the city, you are bound to fall in love with the intense local flavours as you try out the famous food in Meerut, across both high-end restaurants and local street food If you are a food-enthusiast, we strive to uncover some of the must-try food in Meerut to fulfill your desires gastronomically.
Best Food in Meerut, Enjoy the Local Delicacies
Positioned in the state of Uttar Pradesh in North India, Meerut is an attractive, ancient city presenting endless possibilities, especially for food lovers. While you will come across beautiful streets lined with structures dating back to the Indus Valley Era, the city also houses a number of best restaurants and famous eateries that take you through a fulfilling gastronomical journey.
If you are visiting Meerut anytime soon, here are some of the must-have options to satisfy your sudden hunger pangs:
1. Seekh Kebab
If you are fond of non-veg delicacies, scrumptious Seekh Kebab should top your list of famous food in Meerut. Kebabs in Meerut are renowned as a famous snack item. They are famed for the exotic melt-in-mouth flavours that are hard to find anywhere else. The famous eateries and Kebab food joints in the city prepare this delicacy with additional spices and intense flavours to enhance your culinary experience.
With its close proximity to the City of Nawabs or Lucknow, Seekh Kebab in Meerut derives its unique taste without compromising the original flavours. Infused with the richness of spices and other ingredients, you can order this delicacy in Meerut from popular joints, including Haji Sayeed Family Restaurant, Nazeer Foods, The Kitchen Hotspot, and so more.
2. Chaats
Most chaats you have in different parts of the nation have their origins in the state of Uttar Pradesh. While a chaat might not be regarded as a complete meal, it is a popular snack item that locals in Meerut love to have during evenings. You can come across a number of local street food along the narrow lanes of the city offering scrumptious, lip-smacking flavours of a variety of chaats to excite your taste buds.
While there are several variants of this famous snack item, Meerut boasts an extensive presentation of the best chaats, including Matar ki Chaat, Tamatar Chaat, Tokri Chaat, and Bhalla Papdi Chaat. To relish the juicy and intense flavours of your favourite chaat, you can order online from popular spots like Hira Sweets, Raju Chaat Bhandar, and Chaat Courtyard.
3. Kachori & Jalebi
With its lineup of famous street-side food vendors across the beautiful lanes, Meerut has some of the most delicious and flavourful Kachoris and Jalebis loved by the locals and tourists alike. One of the die-for combinations you can have in the ancient city is Kachori with Sabji, especially for a fuller breakfast. The combination tastes divine when you finish with a platter serving of hot, crispy Jalebis.
The unmatched combination of crispy kachoris, flavourful Aloo ki Sabji, and sweet, juicy Jalebis is the perfect brunch option while visiting Meerut. Try out the divine combination at the famous hot-spots of the city, including Hira Sweets, Chaat Courtyard, Kachori Wala, and Bikanervala.
4. Chole Bhature
If you are cheating on your fitness regime, spare us some time to delight your culinary senses with the highly sought-after Chole Bhature in Meerut. You cannot deny loving the scrumptious flavours of the deep-fried dough turning into a paper-like balloon with a striking combination of spicy and flavour-filled Chole, curried to perfection. All of these ingredients, consumed heartily with green chillies, a dash of lemon, finely chopped onions, and achaar.
As you have the best platter of Chole Bhature at the famous eateries in Meerut, including Hira Sweets, Mangi Da Dhaba, and The Kitchen Hotspot, you can go ahead with washing it all down with a fulfilling glass of lassi.
Conclusion
When it comes to trying out the best food in Meerut, the historic city has no dearth of famous restaurants and local eateries serving the most sought-after delicacies of the region. If you wish to enjoy comfort food in your home, you can even order online food in Meerut from famous hotspots. Swiggy assures the delivery of your desired food items in no time right at your doorstep.
FAQs
1. What makes the food in Meerut famous?
Food in Meerut is renowned for its divine taste and a unique touch of the local spices and ingredients. The local delicacies have a charm of their own in terms of food influences from ancient cultures and dynasties that ruled the area. You would love trying out the exquisite flavours of the local dishes in Meerut from famous eateries.
2. Are there any unique desserts or sweets associated with Meerut?
People of Uttar Pradesh have a special love for sweet dishes and desserts that boast their origin in the region. If you are a sweet tooth and visiting Meerut, Balushahi is a must-have dessert item you should try at least once. It is famed for its light sweet flavours and the overall crunchiness that adds to the overall texture and taste.
3. What are the signature dishes of Meerut's cuisine?
In terms of culinary grounds, Meerut takes its inspiration from the ancient era of the Mughals that ruled the region. Therefore, you can come across a number of signature dishes that have been passed down through generations. Some of the must-try options are scrumptious Kebabs, local Chaats, Pakodas, and so more.
4. Can I find unique regional delicacies in Meerut?
Yes. Meerut is home to a number of unique regional delicacies that make your experience worthwhile. Some of the must-have local delicacies in the city are Kebabs, Chaats, Samosas, and Pakodas. The city has a distinctive Mughal flavour, hailing down through several generations.
5. Are there any regional specialties or delicacies unique to Meerut?
Meerut is home to several local delicacies. You can come across regional specialities like North Indian delicacies, Mughlai cuisine, and even snack items.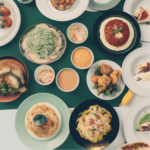 Satisfying your cravings, one bite at a time. Discover the best eats, trends, and uncover the hidden gems with us to make your online ordering or dining experience a memorable one.