Goda Doreswamy Ramkumar joined Swiggy in April 2020 and is currently the Vice President Data Science at Swiggy. We are excited to present #ANewSide to Goda: the dreamy, insightful, and a little filmy. Read her story of giving a new meaning to fandom in her words, for she is #MoreThanASwiggster.
Our school lives are full of unique and unforgettable firsts: from our first friend, fight, and trip to our crush, we experience it all. And if we are lucky enough, we stumble upon an extraordinary love that changes our lives in ways unimaginable.
I found mine sitting in a dark theatre when he graced the silver screen and said, "Rahul, naam toh suna hi hoga". It was the first time I saw the romance king of Bollywood, Shahrukh Khan and got captivated by his infectious charm and charisma.
After that day, when my friend dragged me to watch Dil Toh Pagal Hai, there was no looking back. I started watching his movies, interviews, and stage performances. As any young schoolgirl, I kept a scrapbook, recited his dialogues during lunch breaks, and danced to his songs during school events.
Even though his screen presence enchanted me, it was the man behind the larger-than-life persona I felt drawn towards. His perseverance, confidence, and undying passion for his art led me to believe in the power of an unwavering will to make anything in life possible and helped me to give everything in life my 100%.

I remember the first time I watched DDLJ, I wished to have a life partner like Raj (Shahrukh's character from the movie). And it was only magic that his dialogue from Om Shanti Om, 'Kehte hain agar kisi cheez ko dil se chaho; to puri kainaat usse tumse milane ki koshish mein lag jaati hai', came true for me, and I found someone even better than Raj! After all, he promised to watch all Sharukh Khan movies with me (First Day, First Show) even though he wasn't a fan.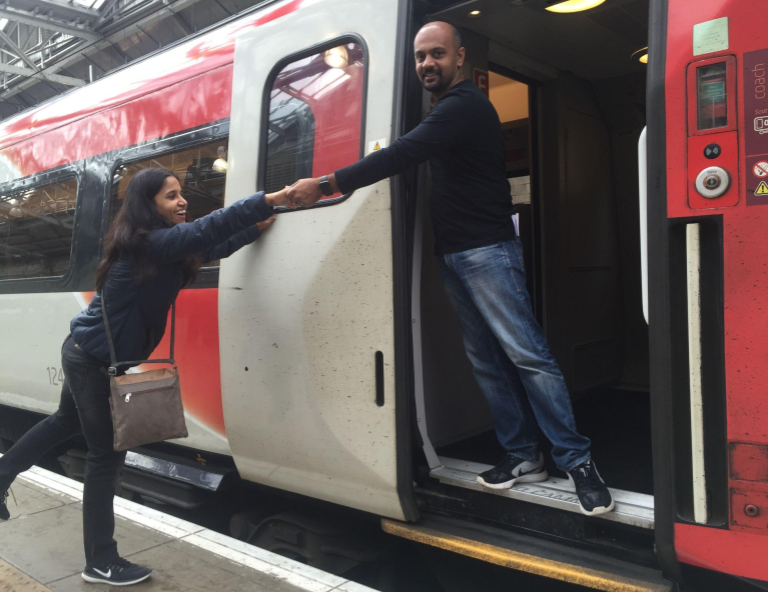 Fun Fact: my love for Shahrukh came full circle when I gave birth to my beautiful daughter on the same day as his birthday.
Fueled by my undying love for Shahrukh and my family's love for me, I embarked on a daring quest to take my fandom to the next level. I started travelling to all the iconic locations where Shahrukh shot his movies, recreating the magic I witnessed on the screen. I chose my trip locations and planned the itinerary according to his shoot locations, route-optimized to find all the hidden gems, and took screenshots of the shots to find the exact spots. From the streets of London to the picturesque landscapes of Switzerland to the dreamy monuments of Prague, I sang, danced, acted, and experienced life, Shahrukh style! I have recreated scenes from Dilwale Dulhania Le Jayenge, Jab Harry Met Sejal, Kuch Kuch Hota Hai, and more. And I have a long way to go.
Emboldened by my journey, I started to share my recreation videos on my YouTube Channel to express my love for Shahrukh, hoping one day I get a chance to meet him. If that ever happens, I would like to tell him how I am unlike any of his other fans, as fandom for me has never been just about his on-screen presence but about aspiring to enjoy every bit of life and becoming a better version of myself every day.