Here's how Swiggy promotes self-care among its employees.
At Swiggy, there is a consistent effort to prioritise both high-performance and employee well-being in equal measure. With carefully thought-through policies, Swiggy's leaders believe their people's health and happiness is a key metric and indicator of the organisation's performance. Here's a look at the company's policies and benefits that both provide support and facilitate self-care among Swiggsters.
Parental Support: Swiggy understands that parenthood is a big shift and that people need time to manage the change. For this, they have a gender-neutral parental policy that provides a substantial period of paid leave for primary and secondary caregivers both. Along with this, primary and secondary caregivers can avail a 15-day bonding leave for those with children who are three years old or younger. Along with time, new parents also benefit from financial support. The company offers a reimbursement of up to INR 20,000 for prenatal care and also helps employees celebrate their entry into parenthood with a 'Child Welcome Gift' of INR 10,000.
Tenure-based Benefits: Swiggy offers celebratory benefits to employees who have completed three, five, or seven years with the company. Swiggsters who have been with the company for more than three years receive an experiential gift, a trophy, and a bundle of goodies. Employees who have completed five years can avail a travel voucher worth INR 20,000 along with a trophy and a goodie-bag. Those completing a period of more than seven years can avail a travel voucher worth INR 40,000 along with a trophy and a goodie-bag.
Learning & Development Wallet: This initiative encourages Swiggsters to invest in enhancing their professional and personal skills. The wallet facility provides employees a full reimbursement of their financial investment. Each employee has a dedicated amount credited into their wallet and they are free to use it for an activity, product, or service that adds to their development. Employees can get a reimbursement for educational courses, books, conference fees, professional certifications, psychometric assessments, or functional/behavioural coaching. Additionally, they can opt to use the wallet money to pay for personal development activities like a gym, personal trainer, nutritional guidance, yoga & meditation, sports training, or performing arts. The policy also allows employees to purchase a Kindle device once in their entire tenure at Swiggy.
Plum App: This is Swiggy's one-stop healthcare and well-being solution for employees. On Plum, Swiggsters can avail unlimited tele/video consultations with doctors, mental health counsellors, and a variety of specialists. Swiggsters can also seek financial, legal, social, sexual, and philosophical consultation on the app. The platform assists employees with dental and eye check-ups, health check-ups, and discounts on medicine. It also conducts a range of wellness webinars to help employees make self-care a regular practice. Through this facility, Swiggy aims to bring all-round well-being to its employees so they can lead an informed, worry-free, healthy life.
Time-Off Policy: Swiggy's leave policy offers a satisfying amount of time-off for employees to pursue extra-curricular interests or just unwind and enjoy some downtime.
As an organisation, Swiggy creates an inclusive culture of overall well-being for its people, all while working to deliver unparalleled convenience every single day. The company's employee-first policies are and will continue to be critical for individual and collective success.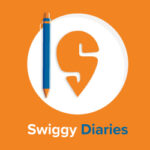 Swiggy Editorial is a team of writers who work with the company's Employer Branding team.