The local cuisine in Coimbatore is depicted by the use of homestyle and timeless ingredients and flavours. Therefore, it comes as no surprise that the best food in Coimbatore is symbolic with its rich traditions.
Also referred to as Koval, Coimbatore is situated across the Kongunadu region of the state of Tamil Nadu. The region is known for its rich culinary traditions with the use of native ingredients like dried coconut, fresh turmeric, and local rice variants to define your palate explicitly. If you are craving for something scrumptious while in Coimbatore, you can order food online to make the most of your experience right from the comfort of your home.
Must-try Food in Coimbatore – Dishes You Should Not Miss Out On
Right from the presence of ancient temples to scenic views of the breathtaking natural beauty all around, Coimbatore has a lot to offer to its guests. While you will have an abundance of opportunities to spice up your taste buds with the heavenly South Indian platter, there are several more foods to try in this city.
When you order from top-rated restaurants in Coimbatore, you will come across both Indian delicacies as well as international cuisines to delight your culinary senses. Here are some of the must-try foods in Coimbatore to enhance your overall experience:
1. Ghee Roast Dosa
You can kickstart your day by having a fresh-off-the-griddle Ghee Roast Dosa. This must-try food in Coimbatore is paper thin and immensely crisp to make way for a lightweight yet fulfilling breakfast. The best part is that when this famous fish is doused in fresh Ghee, the flavours are simply unmatched. In most restaurants, you can come across this variant of Dosa folded into a beautiful cone.
The menus of top-rated restaurants and street food in Coimbatore are usually packed with different options of Roast Dosa, usually diverse with the use of onions, rava or semolina, potato masala, and much more. Whatever variant you select, you can scoop your paper-thin serving of the Dosa with delicious coconut chutney, piping hot Sambhar, and spicy coriander chutney. Try the most delectable range of this dish at Sree Annapoorna, a popular eatery with multiple branches across the city.
2. Pallipalayam Chicken
It is a famous Kongunadu speciality from the nearby town of Pallipalayam. It is a traditional dish featuring dried chicken to pack an entire punch. Just like any dish in classic Kongu cuisine, the meat in Pallipalayam Chicken is also not marinated.
The dish excels in using local ingredients to enhance the overall flavours. Chicken chunks are fried using minimal oil along with green chillies, shallots, and coconut ribbons. The dish is best complimented with rice and delicious rasam for a wholesome meal. You can order your delicious platter from Haribhavanam, famous for serving scrumptious Kongunadu cuisine.
3. Arisi Paruppu Sadam
It is yet another delicious and fulfilling dish featuring homestyle rice and lentil preparation. It is an age-old recipe in the region that is famous in the form of instant one-spot preparation across most homes. The dish is deliciously served with pickles, rasam, curd, and papad.
Once you have had a long tiring day and do not wish to indulge in a complete cooking session, a fulfilling meal of toor dal (pigeon pea) and rice tempered with onions, mustard seeds, and garlic is a drool-worthy meal option. For your ease, you can order this dish online from famous hotspots like Meenu Restaurant and Erode Biryani.
4. Paniyaram
It is a delicious snack that is famous across most South Indian. Paniyaram typically depicts dumplings made out of a batter prepared by mixing steamed rice and lentils. It is quite common to come across this scrumptious snack item in famous restaurants and roadside vendors as well.
The locals in Coimbatore consume paniyaram in the form of light breakfast or evening snacks with tea. The stuffy rice bowls are crispy on the outside and tender on the inside. The lightweight, crispy snack is served with piquant chutneys. You can also find savory versions of this dish to be consumed along with veggies or even in the form of a sweet, jaggery-flavoured treats. You can order your favourite serving of Paniyaram from popular spots like Shree Sai Virundhu, Idly Virundhu, and Salem Ravichandran Tiffin House.
5. Kongunadu Biryani
Have you ever come across White Biryani? Coimbatore offers you an opportunity to try out this unique delicacy. As you order a plate of Kongunadu Biryani in Coimbatore, you will be served with a flavourful and rich platter featuring white-coloured rice cooked deliciously with succulent pieces of chicken or mutton.
The scrumptious offering of this biryani at Kovai Virundhu in Coimbatore is a milder version of the otherwise fiery counterparts from surrounding regions. This authentic biryani in Coimbatore is distinct from other variants as it includes minimal spices and uses local, short-grained Seeraga Samba rice. In other biryanis, you will usually come across longer grains of rice.
Conclusion
Coimbatore is a food heaven for those who would like to try out something distinct, especially Kongunadu cuisine. The best part is that you can now order food online in Coimbatore from your favourite restaurants, right by sitting in the comfort of your home.
FAQs
1. What makes the food in Coimbatore unique and different from other regional cuisines in India?
Coimbatore is known for its rich Kongunadu cuisine and other local specialities. The local dishes here are distinct from that of other parts of the country in the sense that they use local ingredients while bringing about richness in texture and flavours throughout.
2. Are there any must-try sweets or desserts that are popular in Coimbatore?
If you have a sweet tooth, you can try out the delicious, mouth-watering Mysore Pak. It is one of the most famous sweet dishes in Coimbatore. The sweet dish is prepared by using gram flour, sugar, and ghee. Cardamom is yet another primary ingredient of this sweet.
3. How would you describe the flavor profile of the best food in Coimbatore?
When you try the must-try foods in Coimbatore, you will realise that the overall flavour profile of the region is quite rich and tasteful. The locals here prefer using a lot of local ingredients, those commonly found in other South Indian cuisine. The dishes here are characterised by the use of tangy and savoury flavours.
4. Are there any must-try street food items in Coimbatore that tourists should not miss?
There are several must-try street food items in Coimbatore that tourists must try, including kaalan, The Bhajji, an extensive Dosa menu, paniyaram, and much more. You can order food online in Coimbatore from leading restaurants and local street food vendors.
5. How can visitors best immerse themselves in the culinary culture of Coimbatore and explore the must-try food options available?
As a tourist, if you wish to immerse yourself in the rich culinary culture of Coimbatore, you can indulge in some of the local delicacies like paniyaram, kaalan, elaneer payasam, pallipalayam chicken, arisi paruppu Sadam, and so more.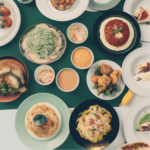 Satisfying your cravings, one bite at a time. Discover the best eats, trends, and uncover the hidden gems with us to make your online ordering or dining experience a memorable one.