Kota is a vibrant city in the state of Rajasthan famous for its esteemed coaching culture. As students and dreamers from all parts of the country come to Kota to fulfil their career goals, there is no dearth of interesting hotspots and highly sought-after eateries in the city to satiate your cravings.
Kota is famed for its rich, authentic cuisine experiencing major similarities to the famous Rajasthani cuisine. The numerous eateries in the Coaching City will offer you just that! The local dishes in Kota are a perfect blend of the traditional Rajasthani delicacies and influences from cuisines of different parts of India. To enjoy the best food in Kota, you can easily order food online and get doorstep delivery from Swiggy in no time.
Top Delicacies to Enjoy in Kota for a Great Experience
Whether you are visiting Kota to pursue your coaching classes or as a tourist, you should know about must-try food in Kota to enlighten your senses. Thankfully, the city has emerged into best restaurants to help you relish on the divine flavours of both local as well as other famous cuisines.
Some of the must-try food in Kota on your next visit should be:
1. Veg Thali by Saffron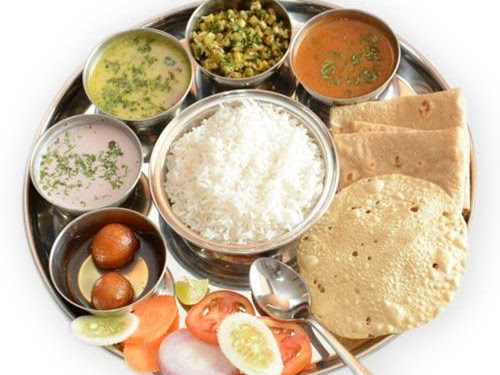 Craving for something vegetarian and lip-smacking? Thankfully, there are several vegetarian food spots in the city offering access to some of the most scrumptious vegetarian delights at your disposal. Whether you crave for a healthy delights of delicious sabzis or tender rumali roti, the complete vegetarian thali at Saffron is a must-try.
In addition to a traditional thali, you can also savour the divine flavours of the delicious Chinese cuisine at this famous restaurant. Saffron is the place to order from if you relish everything vegetarian yet multi-cuisine.
2. A Divine Rajasthani Thali by Amar Punjabi Dhaba
The famous Amar Punjabi Dhaba in Kota is highly sought-after for its delicious food offerings for both locals as well as tourists. The diverse menu of the restaurant is something to die for. Chances are you will be overwhelmed by the immense variety of vegetarian dishes to be served on your platter.
You can order the most delectable range of vegetarian delights, including soft, tender naan, scrumptious paneer, and flavourful raita to enjoy a full-fledged meal when you are not in the mood to cook. To complete your meal, you should also should not miss out the delectable and fulfilling lassi. The best part is that you can get steaming hot meals from this famous restaurant in no time when you order food online in Kota from Swiggy.
3. Delectable Sandwiches at Krishna Fast Foods
Craving for some healthy yet delicious sandwiches for a quick snack? Krishna Fast Foods in Kota is a go-to destination to order your favourite plate of sandwich from. The popular fast food center is renowned for serving a wide range of delectable sandwiches in endless varieties.
Some of the must-have sandwiches here are Krishna Special, Garlic Cheese Paneer Patties, and Grilled Double Cheese Sandwich. You will be amazed at the overall taste and freshness of these sandwiches when you are looking for ways to satisfy your sudden hunger pangs. These delicious sandwiches at Krishna Fast Foods are made out of the freshest ingredients and the highest hygiene standards.
4. Juicy Burgers at Ambay Burgers & Sandwiches
Are you looking for a pocket-friendly way to satiate your cravings for something delicious? Wish to get online food delivery at your doorstep without burning a hole in your pocket? Ambay Burgers & Sandwiches in Kota has all your concerns answered. With its delicious and extensive offerings of some of the juiciest and the most delicious burgers, you can fulfil your sudden cravings pleasurably.
Located in the coaching area of the main city, the eatery provides online food delivery to all major parts of the city. Students and tourists alike enjoy relishing on the interesting flavours of lip-smacking burgers and sandwiches in uncountable varieties. Some of the must-have delicacies here are Ambay Special Burger, Paneer Sandwich, and Cheese Burger.
5. The Belgian Waffle Co.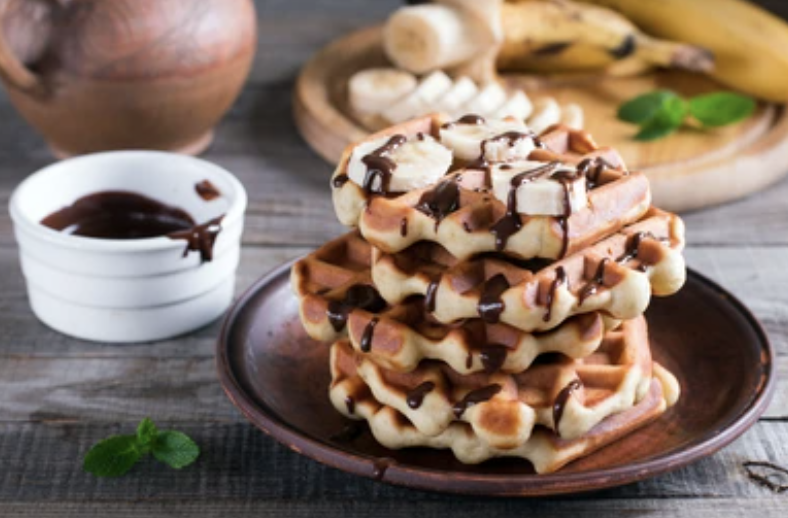 For all the sweet tooth people who love enjoying loads of chocolate and other toppings, Belgian waffle in Kota gives a happy ending to your otherwise busy day. These Belgian beauties are made with a recipe that includes yeasted batter and crunchy pearl sugar. Waffles served here have extra-deep pockets—the better for filling with butter, jam, or maple syrup.
6. Chinese Heaven at Santript
If you love Chinese, this place and its unmatched Chinese cuisine is your ultimate food paradise. The eatery is renowned for its delicious range of Chinese delicacies at their best. You will be surprised to come across the extensive menu of innumerable Chinese delicacies that you can order from.
To make the most of your online ordering experience, you can enjoy delicacies like Chinese Sizzler, Burnt Garlic Rice, Sichuan Fried Rice, and Hakka Noodles. In addition to authentic Chinese delicacies, you will also adore trying out the entire spectrum of multi-cuisine dishes that are equally delicious.
Conclusion
Famed for being a major coaching hub of the nation, Kota witnesses the inflow of thousands of students and tourists alike. Therefore, it is common to come across leading food chains and local eateries offering some of the most delicious menus of the city. Get your hands on the most sought-after food items in Kota as you order food online.
FAQs
1. Are there any must-try sweets or desserts that are popular in Kota?
Kota is famous for its wide range of both savoury as well as sweet dishes on your platter. If you are a sweet-lover, you can try delicious waffles at the belgiaan waffle co. or you may also explore the dairy-based delicacies, like laddus, jalebis, jangiri, Bengali sweets, and mouth-watering pedas.
2. Are the local delicacies in Kota influenced by any particular cuisine or culture?
Influences from the local Rajasthani cuisine is quite prevalent in entire Kota. Being a major education hub of the state, Kota takes pride in presenting its rich culinary culture taking cues from the rich and historic Rajasthani cuisine.
3. Do the local delicacies in Kota have any cultural significance?
As you start exploring the local dishes of Kota, you will find immense connections with the local culture and traditions of the place. Kota has a strong culinary influence from the royals and kings who ruled the entire state of Rajasthan. Therefore, it is common to come across special authentic delicacies like Daal, Baati, and Churma.
4. Can I find a variety of international cuisines in Kota, or is it primarily local food?
As Kota is a major education hub, it is evident to come across multi-cuisine restaurants and eateries to delight the sense of one and all. Therefore, in addition to local authentic food, you can also relish the flavours of lip-smacking international cuisines from all around.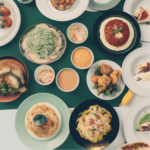 Satisfying your cravings, one bite at a time. Discover the best eats, trends, and uncover the hidden gems with us to make your online ordering or dining experience a memorable one.