Did you know?
Restaurants with higher quality menus witness up to 40% more sales
Adding relevant combos and add-ons to your menu can increase the average order value by up to 10%
Adding an image to a dish makes it 5 times more likely that a customer would order it
Adding accurate descriptions and images to a dish reduces the chances of customer complaints by up to 15%
At Swiggy, we understand the vital role your menu plays in driving business success. That's why we've created the Menu Score Tool, a data-driven approach to help you drive better conversions.
What is the Menu Score Tool?
The Menu Score Tool is powered by Swiggy's platform data and presented in a user-friendly dashboard. It offers actionable recommendations based on customer preferences and competition analysis. These insights span across menu categories, dishes, images, add-ons, and combos, enabling you to enhance your menu, improve menu-to-cart conversions, and foster organic business growth.
How does it work?
The Menu Score Tool provides you with a score on a scale of 100 at both the brand and individual outlet level as a measure of overall menu quality.
At a brand level, it enables you to understand the performance of your outlets with key metrics such as Menu to Cart conversion percentage. Additionally, the dashboard will show how your outlets in different cities are scoring across key menu components like Categories, Dishes, Images, Descriptions, Combos, and Add-ons and what actions you can take to improve.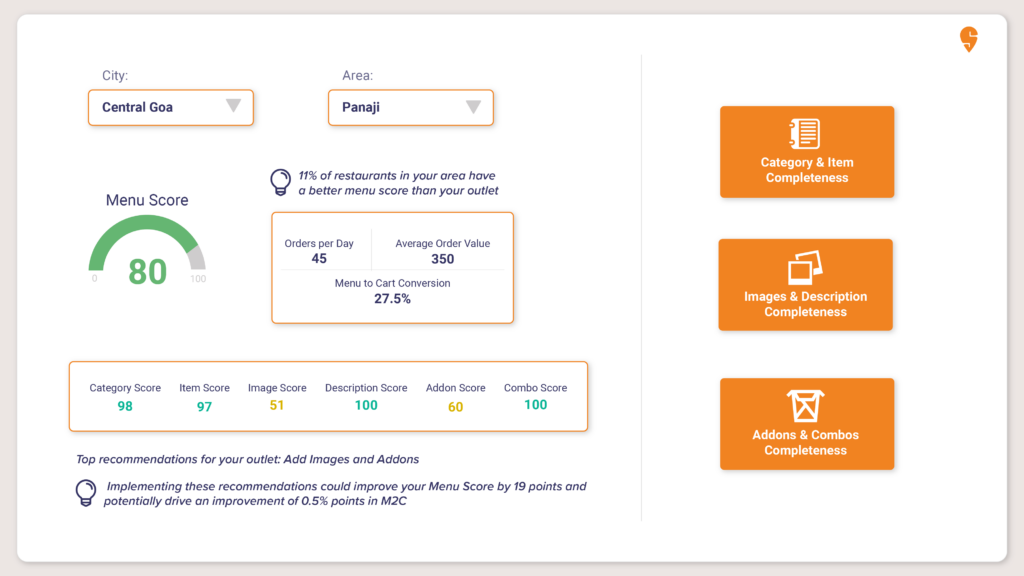 Zooming in at the restaurant level, the dashboard delves into menu improvement at a granular level, giving insights like:
Top dishes that customers prefer in similar restaurants
Top dishes without images and descriptions on your menu
Top add-ons and combos preferred by customers in similar restaurants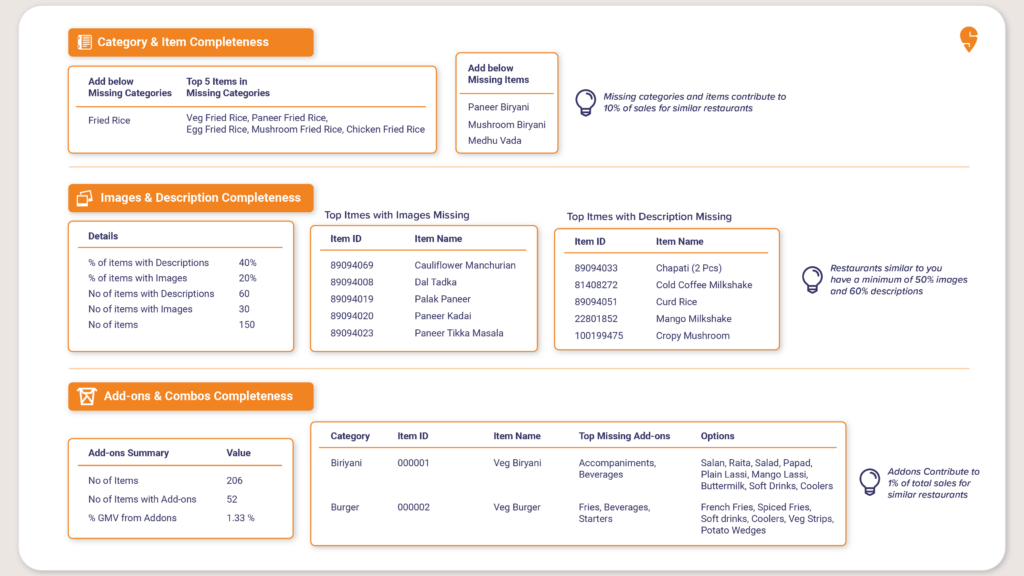 Additionally, it assesses the potential benefits of implementing these recommendations. You can also see how many restaurants in your area have higher Menu Scores, giving you a sense of your competition and where you stand.
What our Partners have to say:
Rehan Ahmad, Owner of Mughal Zaika
"I have been using this tool called the Menu Score Dashboard, and it has not only provided valuable data points regarding the business but also offered a fresh perspective on which areas of my business need to be improved and worked upon."
Irshad Saeed, Owner of Jehangir Hotel
"The Swiggy Menu Score Dashboard has been very helpful. It provides us with the freedom to access data points at any time, enabling us to manage our menu independently, at the best quality"
Adarsh Choudhary, Owner of Vision Foods
"Menu Score Dashboard is an invaluable tool that has revolutionized the way we manage our menu and track our performance. Since integrating this dashboard into our restaurant's operations, we have experienced a significant positive impact on our business. It has empowered us to identify areas for improvement and take proactive measures to enhance the overall quality of our menu items. This valuable feedback loop has been instrumental in continuously elevating our culinary creations and setting high standards for ourselves. We recommend Swiggy for developing and providing these sophisticated tools that have streamlined our menu management and enhanced our performance on the platform."
In summary:
The Menu Score Tool is the ultimate support system to address your menu-related questions and concerns. Whether it's optimizing categories, adding images, introducing dish combos, or gauging performance against competitors, the Menu Score Tool provides the answers you seek. Embrace this game-changing tool, make data-driven decisions, and propel your menu conversions to new heights.
The Menu Score Tool is now available to all of Swiggy's 250,000+ restaurant partners to use in a self-serve format. For further questions about this, please write to partnerinsights@swiggy.in