There is probably no other bond as unique and beautiful as the one shared between brother and sister. Sure, they will fight with each other over the tiniest of things (and tell the other one that he/she is adopted with absolute confidence), but when the world knocks them, they become an unbreakable team. Do you relate? Yes, indeed, the loyalty and deep-rooted understanding between this brother-sister or sister-sister duo is considered one of the strongest social forces in the world. To celebrate this inimitable bond, there is an occasion where nostalgia hangs in the air like a sweet fragrance, memories of childhood moments come flooding back, and the profound sibling bond takes centre stage with pomp and splendour! The festivities of Raksha Bandhan are around the corner. Whether you find yourself separated by miles from your beloved brother/sister or sharing the same four walls, the quest for the ideal Rakhi celebration must surely be playing in your thoughts. Also, this year, the celebration has doubled. While we rejoice in the preparations for Rakhi festivities, a remarkable event has graced the skies- #Chandrayaan 3. In this blend of sibling love and space triumph, our hearts have found joy beyond the Earth.
During this special occasion, sisters tie the Rakhi as a thread around their brother's wrists, which symbolises love and protection. While in the exchange of gifts, how can we forget the delicious Raksha Bandhan sweets? It is a thoughtful gesture generally offered as Rakhi with sweets to honour their sweet bond and express affection. The presence of mithais represents the true essence of Raksha Bandhan and that's the reason there is a heavy footfall at sweet shops around this time.
But you must have gotten confused looking at the plethora of options either at the shops or while ordering sweets from Swiggy. Don't worry! We've got you covered. Below are the top and delicious sweets for raksha bandhan that you can't miss to express the sweetness in your relationship.
Top 10 Delectable Raksha Bandhan Sweets for Sweetening Sibling Connections
Here are some of the best sweets for Rakhi that you must try:
1. Kaju Katli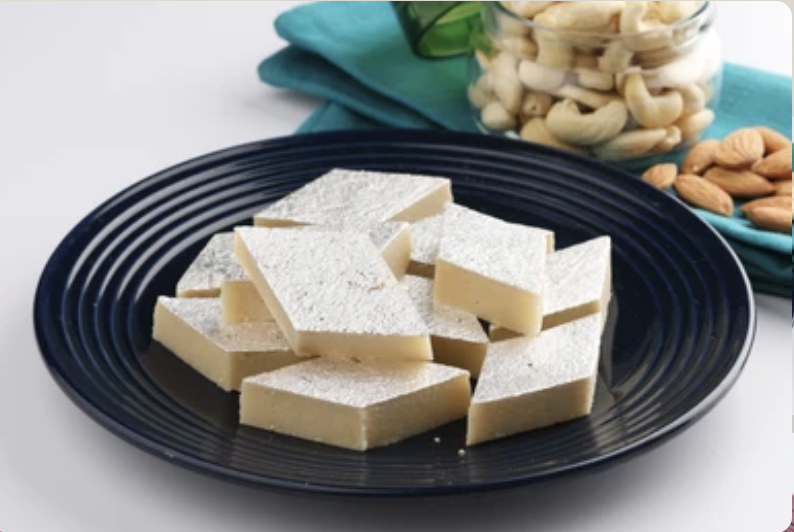 Starting with Kaju Katli, which is the most-loved Indian mithai made from cashews, sugar, and a bit of ghee. In this, cashews are turned into a smooth paste, cooked just right to create a treat that melts in your mouth and is often topped with silver decoration. During Raksha Bandhan, Kaju Katli takes on a special role. As brothers and sisters celebrate, giving the box of Kaju Katli along with a rakhi adds a touch of elegance that expresses their close and sweet bond. This yummy treat isn't just delicious; it's also a warm gesture that makes the festival even more special.
2. Motichor Ladoo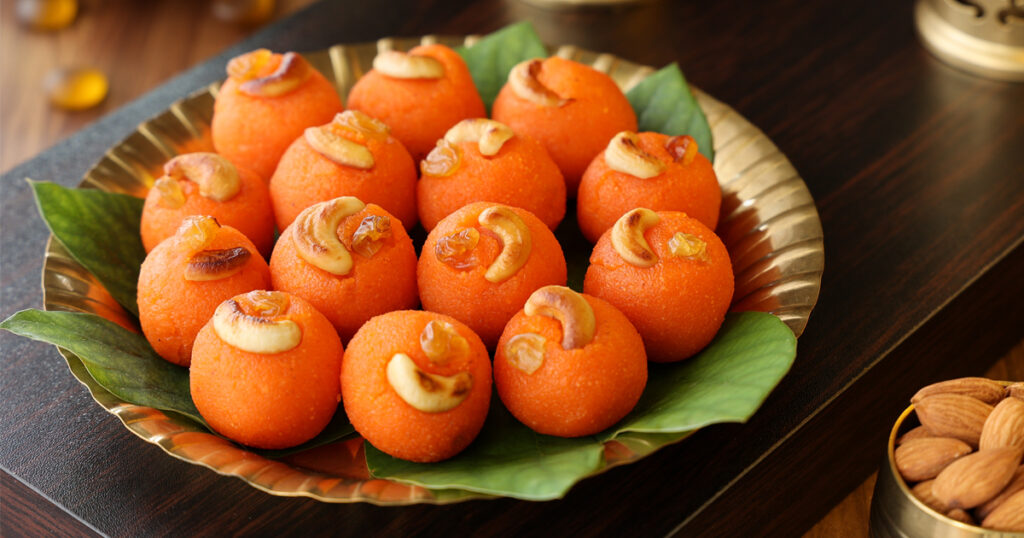 Motichoor Laddu is like little golden droplets of joy that grace the Raksha Bandhan sweets platter by offering its unique taste and gentle texture. It is made with lots of traditional ghee and simple ingredients like besan, sugar syrup and dry fruits. Their soft, mouth-watering texture and bite-sized round shape offer a heavenly experience, and this holds a place of honour in establishing a profound tie with the Raksha Bandhan festival. As siblings unite for the celebration, presenting these delightful Ladoos with a rakhi signifies the sweetness of their connection.
3. Gulab Jamun
When talking about traditional Indian sweets, the first delight that graces the mind is Gulab Jamun. Crafted from khoya and fried until golden, these little wonders are then dipped in sugar syrup. So, this Rakhi, opt for a trusted online store like Swiggy to order your Raksha Bandhan sweets and gift your brother a delightful box of Gulab Jamun. We are sure that it will be adored from infants to grown-ups; each piece infused with sugary essence leaves taste buds craving for more. This Indian delicacy, Gulab Jamun, can be made in various ways, yet remains the most loveable treat found gracing nearly every festive occasion. These syrup-soaked delights are always a timeless treat.
4. Cakes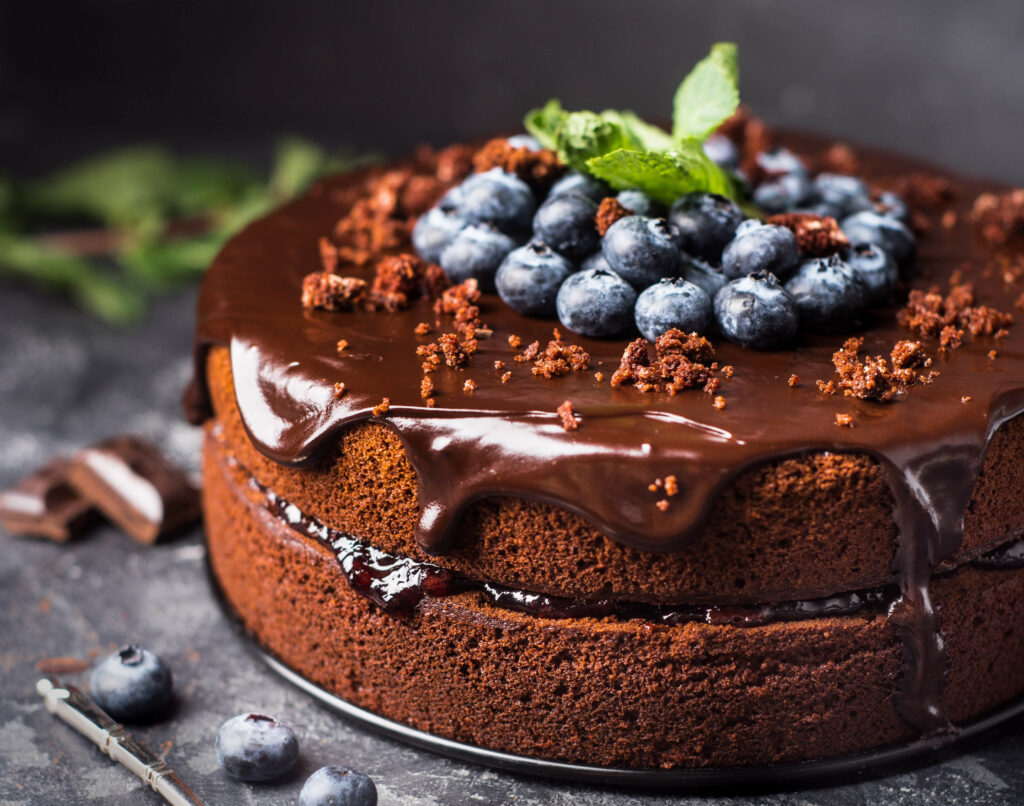 Cakes are an awesome way to celebrate anything, from birthdays to anniversaries. They're like a must-have now. And the flavours? You can find plenty of them! Classic ones like Vanilla, Chocolate, and Butterscotch, and then cool ones like Mango, Oreo, Red Velvet, and Pudding cake. There's a cake for every taste. And now cakes are widely used in festivals too, like Raksha Bandhan. Take this sweet for raksha bandhan, and how about making it even more special? Get a personalised cake with your brother's and sister's names and photos. You can pick the flavour and even how it looks; be as creative as you want. There's no limit when it's about making your loved ones smile with a cake.
5. Malpua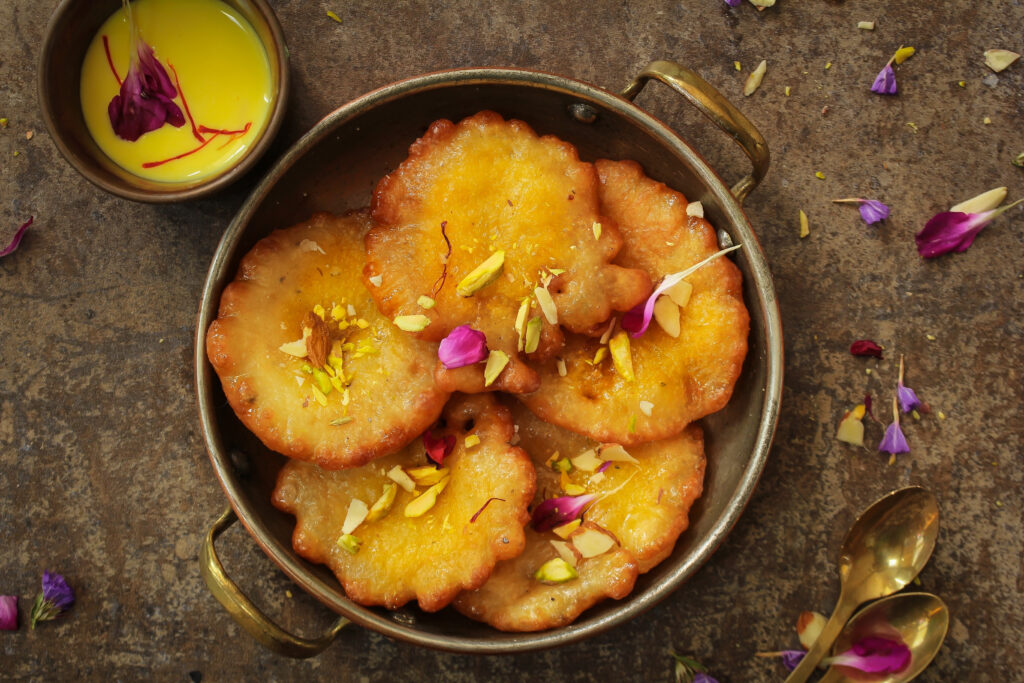 Malpua is a perfect raksha bandhan sweet which is made from flour, milk, and sugar and is fried to a mouth-watering crispness and then soaked in sugar syrup. Its exquisite taste and unique texture make it a delightful choice. Malpua's heartwarming presence showcases the sweetness of sibling bonds perfectly, adding a touch of tradition and love to the festivities. As you share these delectable sweet treats, you're not just enjoying a sweet but also strengthening the connection that makes Rakhi so special.
6. Rasgulla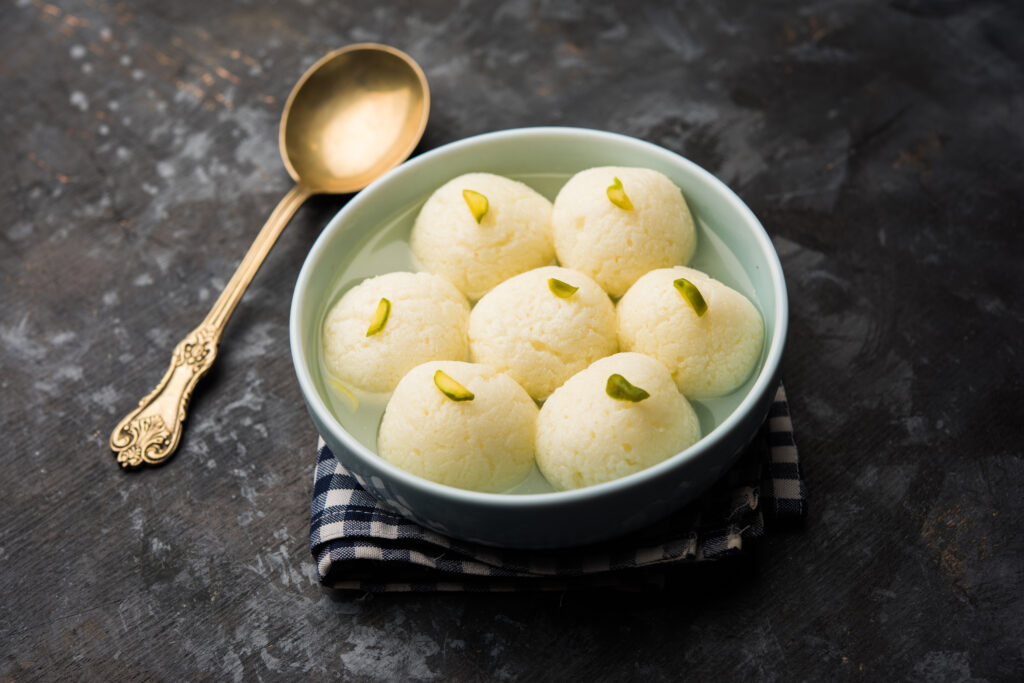 Even though Rasgulla originally comes from East India, it has won the hearts of people all around the world. If there's a list of favourite Raksha Bandhan sweets, Rasgulla would surely be on it. With its juicy and spongy texture, sweet sugar syrup, and different flavours, it's a treat we can't resist. Whether you like it warm or cold, every bite is a burst of deliciousness. It is a popular Indian dessert made with paneer soaked in sugar syrup. People even call it the "king of Indian sweets." So, it's a perfect sweet for Rakhi celebrations.
7. Coconut Burfi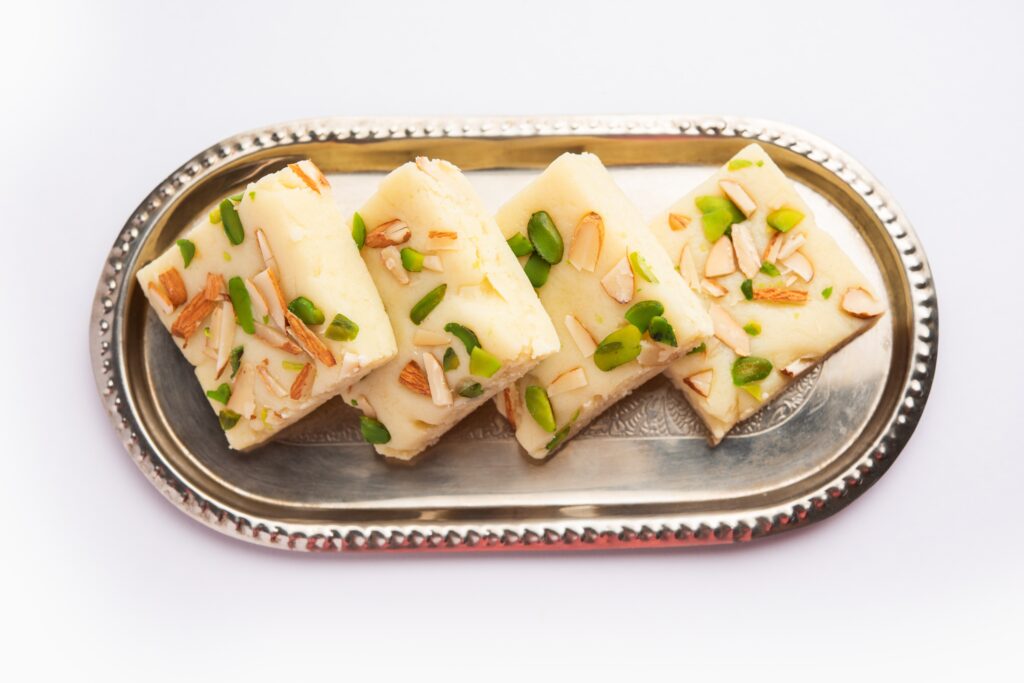 Coconut barfi is becoming a favourite these days as it is made from dried coconuts. Also, it's not just delicious but good for health as the star ingredient is the coconut. You can easily make it at home using coconut, condensed milk, and dry fruits. And we must say that in traditional sweets or mithai for Rakhi, barfi stands out as a favourite. Make sure to eat it within 2-3 days to keep it fresh, and don't store it in the deep freezer.
So, order the yummy coconut barfi box sweets for the Rakhi celebration.
8. Mysore Pak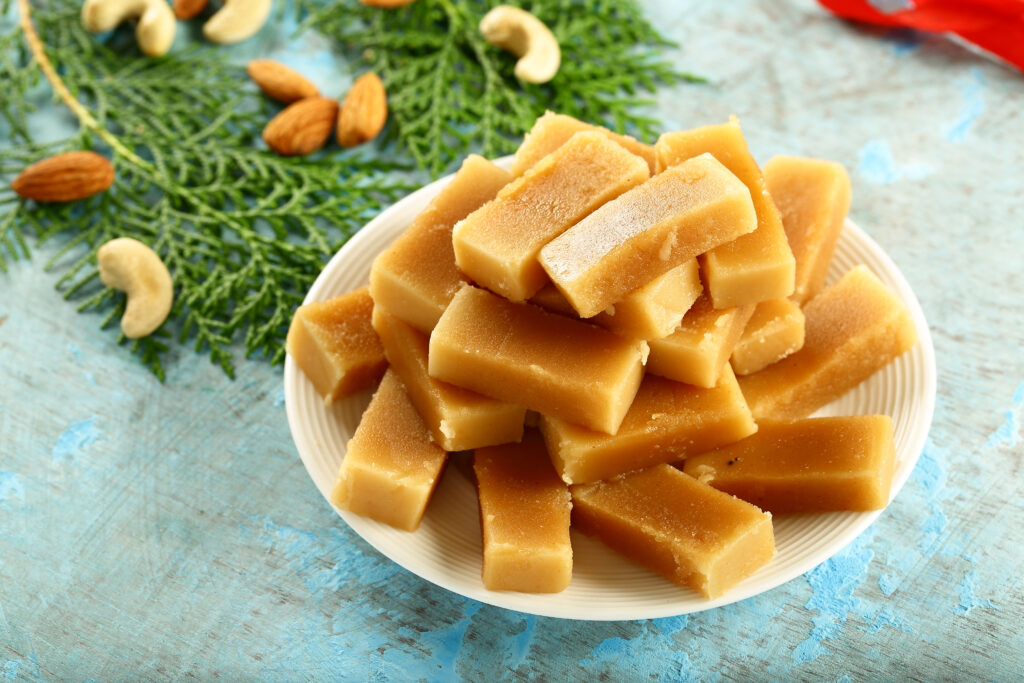 Embrace the deliciousness of Mysore Pak this Rakhi! It's a special food from Karnataka that's been loved for 70 years. It's like a sweet symphony made with ghee, sugar, and gram flour. There's a pinch of turmeric and cardamom for extra flavour. Just like how Rakhi ties siblings together, Mysore Pak ties tradition with taste. Each bite is not just delicious but also a taste of history. So, let this Rakhi be a blend of love and flavours as you share this special sweet treat and celebrate your bond.
9. Walnut Brownies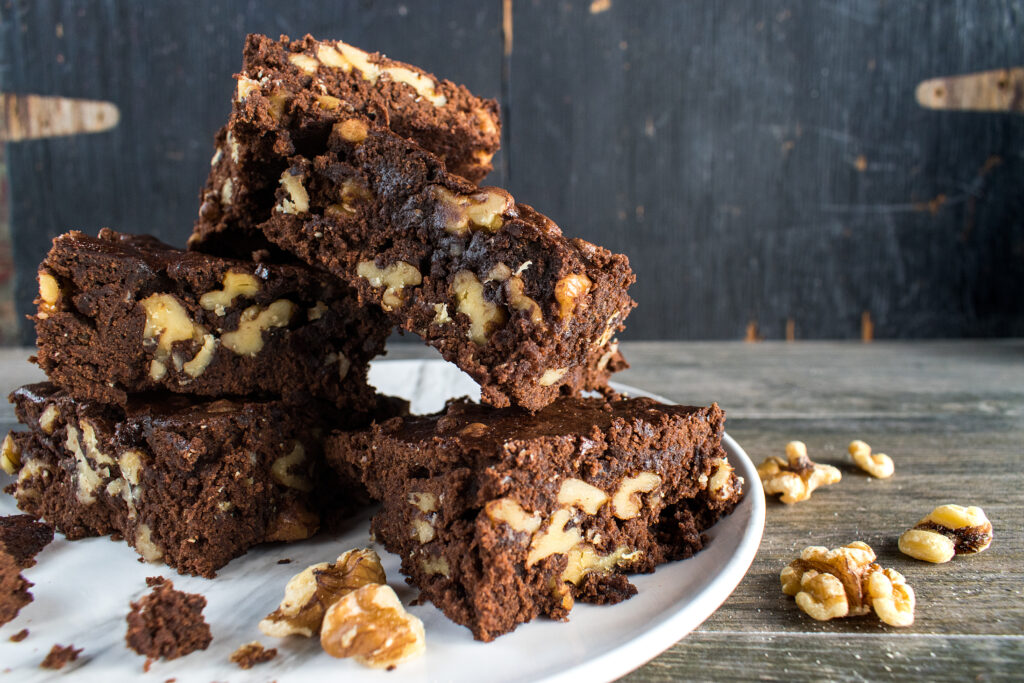 When it comes to sweets for the Raksha Bandhan celebration, indulging in gooey walnut brownies is a must! These treats are too scrumptious to be left behind. You don't need to be a baking expert; just order online from Swiggy. With simple ingredients like white flour, butter, chocolate, and walnuts, this delight is sure to please both grown-ups and kids. And don't forget to elevate the experience by pairing it with a scoop of velvety vanilla ice cream.
10. Jalebi
Enjoy the deliciousness of Jalebi, a crispy and sweet treat. It's made by frying batter into spirals and soaking them in sugary syrup. Jalebi's golden colour and sugary taste make it a hit at celebrations like Rakhi. Just like Rakhi threads, Jalebi's spirals show the strong love-hate relationship between siblings. So, add some tangy flavour to your celebrations with Jalebi as Raksha bandhan mithai that reminds you of the bond you have.
Conclusion
From classic Kaju Katli and Gulab Jamun to royal Mysore Pak and delightful Barfi, each raksha bandhan sweet welcomes the essence of this cherished festival. As we eagerly await Raksha Bandhan 2023, let these finest sweets for Rakhi enhance your joyful moments and reinforce the precious bond between brothers and sisters. With the ease of online ordering from Swiggy, you can find a variety of rakhi sweets. May the sweetness of these Raksha Bandhan treats remind you of the beautiful connection you share, turning this festival into a heartwarming celebration of love, unity, and togetherness.
With this, we wish you a very Happy Rakhi!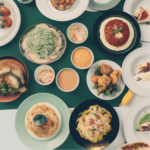 Satisfying your cravings, one bite at a time. Discover the best eats, trends, and uncover the hidden gems with us to make your online ordering or dining experience a memorable one.