Nancy Nayak joined Swiggy in April 2021 and is currently a Senior Manager – HR (D&I) at Swiggy. We are excited to present #ANewSide to Nancy: the free, adventurous, and kind. Read Nancy's solo backpacking story in her words, for she is #MoreThanASwiggster.
The moment you're born, your life is pre-planned for you for the next 25 years. I always knew I would steal one moment away from mine to break the cycle and listen to my heart's calling. My journey to reach that moment began with weekend getaways during my college days at TISS.
Coming from a traditional family in Indore, the trips gave me an intoxicating taste of freedom and independence. With voices of doubt in my head, I promised my heart that someday I would leave to backpack full-time and let nothing stop me.
When I reached a point of emotional and financial stability during my first job, I knew it was time because "When it feels scary to jump, that is exactly when you jump…" And my solo backpacking journey began!
I did not want my backpacking journey to include visiting touristy places, sightseeing, staying in pricey hotels, or eating at fancy diners. I intended to go slow and local, spending time with myself, nature, and people.
Anegundi, a village near Hampi, is where I started my trail of adventure. It was the first time I went to a place without booking a hotel, deciding to find myself a homestay upon reaching there. I spent four days there fishing with the kids, farming with the ladies, or quietly sitting by the riverside. My favorite memory from Anegundi is attending the wedding of a local auto rider's daughter. (Fun Fact: I invited myself to the wedding while taking an auto ride :p).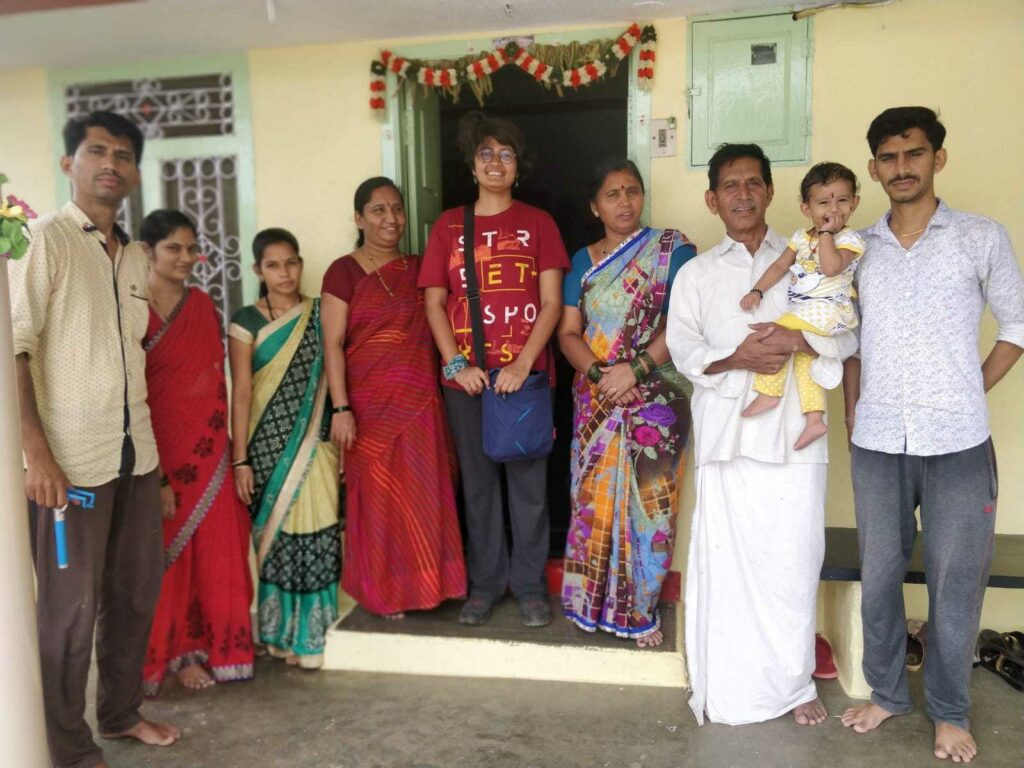 After the tranquil stay in Anegundi, there was no stopping me. I found myself exploring unknown territories, living with local families, eating their regional food, & experiencing life as it came to and through me. I could never have imagined what started as a passion would turn into a solo backpacking adventure of 1+ years.
Wherever I went, I found love and kindness. It felt like my intuition and the Universe guided me to all the right places and people. The farther I travelled, the more I started to feel and experience, seeing myself as a mere speck of dust in the larger scheme of things. 
When I visited Hyderabad to help a friend's friend set up a kirana store, staying in their house that led to a graveyard, I experienced life and death closely (it was frightening, tbh). My days in Manipur as a volunteer teacher in a school brought me closer to the joys of learning from everyone around. Visiting the largest women-led market in Asia, Ima Keithel, brought me face-to-face with the unbound strength of womanhood and community. My relief work in Kerala during the 2018 floods helped me find gratitude, compassion, and family.
My journey finally concluded in Shoja, where I helped set up a cafe, Firgun, from scratch. Living and breathing in -7 degrees with no water supply for days, Shoja gave me memories that helped me get through some of the most challenging moments in life.
Somewhere amidst my journey, I thought I would figure out the next big thing for my life, but to my surprise, I found something even better.
I found abundance, friendships, a love for building spaces to connect people, and the strength to always stay true to my inner voice.