The festive season is finally upon us. Don't you love the rhythmic beats of the drums, the aroma of incense all around, and the lively processions? Indeed, we are referring to the grand celebration of the highly awaited festival Ganesh Chaturthi that is celebrated across all parts of the country. It is the time when lanes of every Indian city come to life with the lovely chants of "Ganpati bappa morya." At the same time, households are adorned beautifully with the use of fragrant flowers and stunning decorations to please the Lord.
While you might be ready to welcome Bappa with all grandeur, one thing you cannot miss out on is preparing or bringing home Bappa's favourite sweets. To your surprise, there is a huge variety of delectable sweets for Ganpati that you can offer to Lord Ganesha to amplify happiness and prosperity in your home.
Ganesh Chaturthi: A Festival of Devotion and Sweet Delicacies
Every year, millions of ardent believers of bappa celebrate the festival of Ganesh Chaturthi with ample happiness and devotion. But, what is a celebration without mouth-watering delicacies like sweets?
Ever wondered why we offer sweets to Lord Ganesha? Legends say that Ganesha loves sweets, especially the all-time famous modak. Therefore, he is also depicted with a modak in his hands. As you offer sweets to Lord Ganesha, especially during aarti on special occasions like Ganesh Chaturthi, it serves to be a gesture of devotion and love.
If you are an ardent devotee of Lord Ganesha, here are some of the famous Ganesh Chaturthi sweets you can offer to your deity:
1. Modak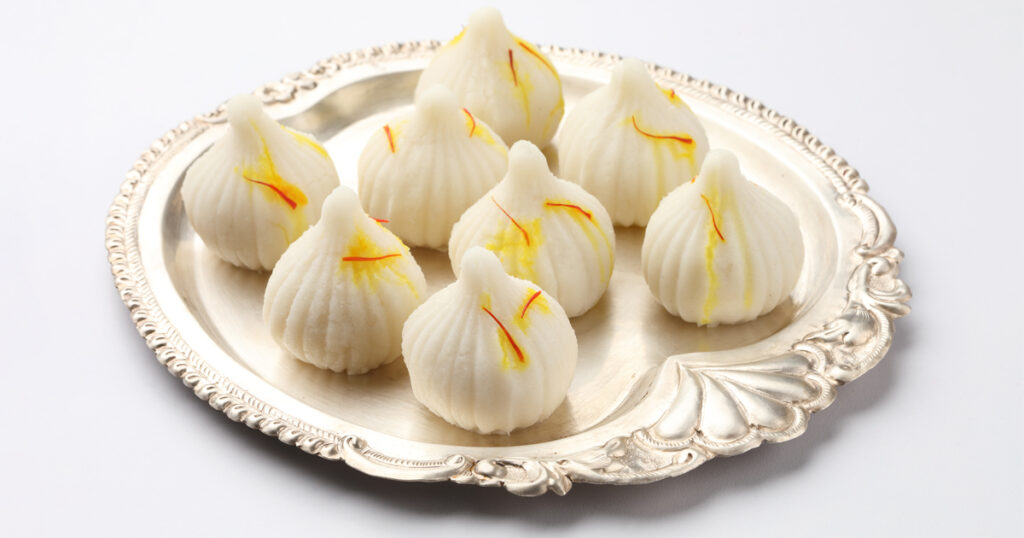 Modak is a type of delicious steamed dumpling. It is, in fact, one of the most favourite sweet items of Lord Ganesha. Almost all idols and pictures of Lord Ganesha feature the God holding a delicious modak or even indulging in the delicious treat through his trunk. Such is the ultimate love of Lord Ganesha for modaks.
On the eve of Ganesh Chaturthi, Modak is a staple sweet item across every household. These are available as rice flour cakes featuring a sweet, delicious filling. The rice flour dumplings are then steamed to perfection. When it comes to treating the "birthday boy" with his favourite treats of the day, there is a myriad of modaks available in different flavours and textures. Some of the most sought-after options are chocolate modak, coconut modak, khoya modak, and so more.
2. Pooran Poli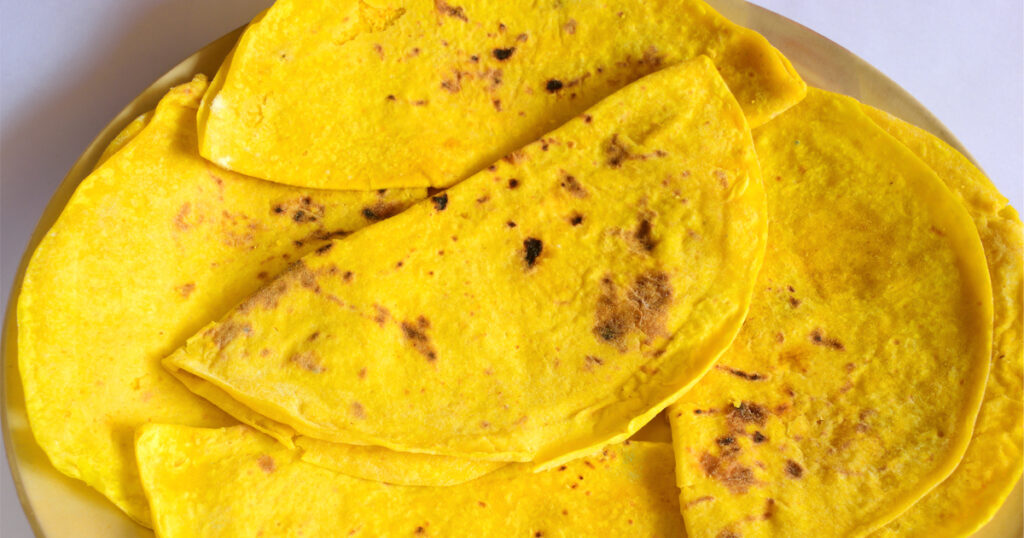 Food or scrumptious sweets are the ultimate spirit of any festival in India, especially Ganesh Chaturthi. Puran Poli or Pooran Poli is a delightful Maharashtrian sweet delight that defines the grandeur of this festival. It is a simple recipe featuring the goodness of flatbread stuffed with a delicious sweet lentil filling. The filling material is prepared out of chanda dal and sugar or jaggery.
In Marathi language, the sweet filling is referred to as Puran and the flatbread is known as Poli. It is a delicious sweet treat with intense flavours. The sweet dish is preferred by people of all age groups. As an added bonus, this sweet recipe is also quite nutritious, implying you can have it for your breakfast as well.
3. Motichoor Laddu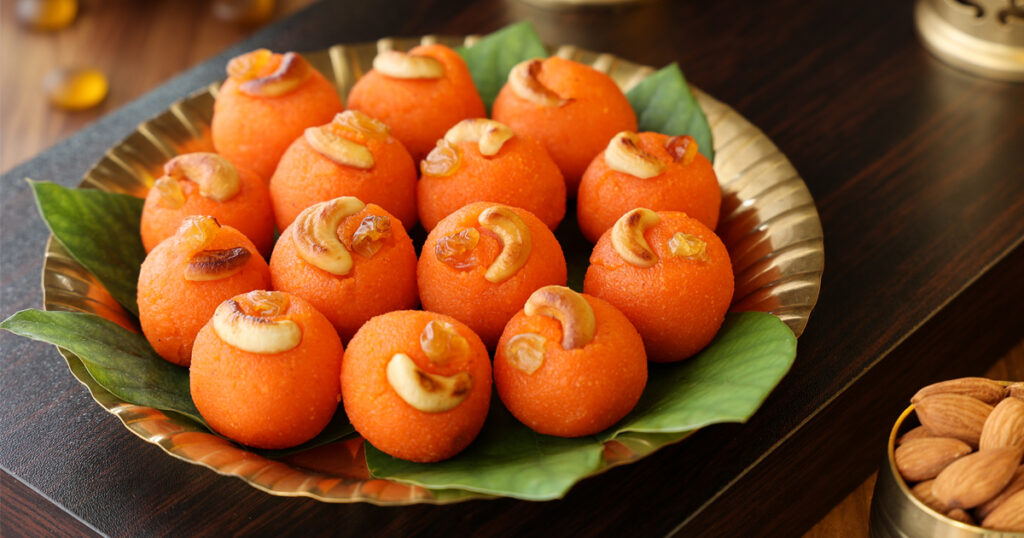 The term "motichoor" literally translates to crushed pearls. Commonly offered as prasad during festivals like Ganesh Chaturthi, Motichoor Laddoo is a highly sought-after festival treat across the nation. It is available as a round-shaped sweet delicacy prepared out of tiny, fine balls of besan. The besan flour globules are eventually fried in oil or ghee and eventually soaked in a sugar syrup. These sweet, pearl-like balls are effectively moulded into small balls or laddoos.
Laddoos are significantly given away as sweet treats or prasad during the festivities of Lord Ganesha. Some of the famous sweet shops and eateries of different cities also prepare this delicacy with the addition of dry fruits or nuts to enhance the overall flavours.
4. Peda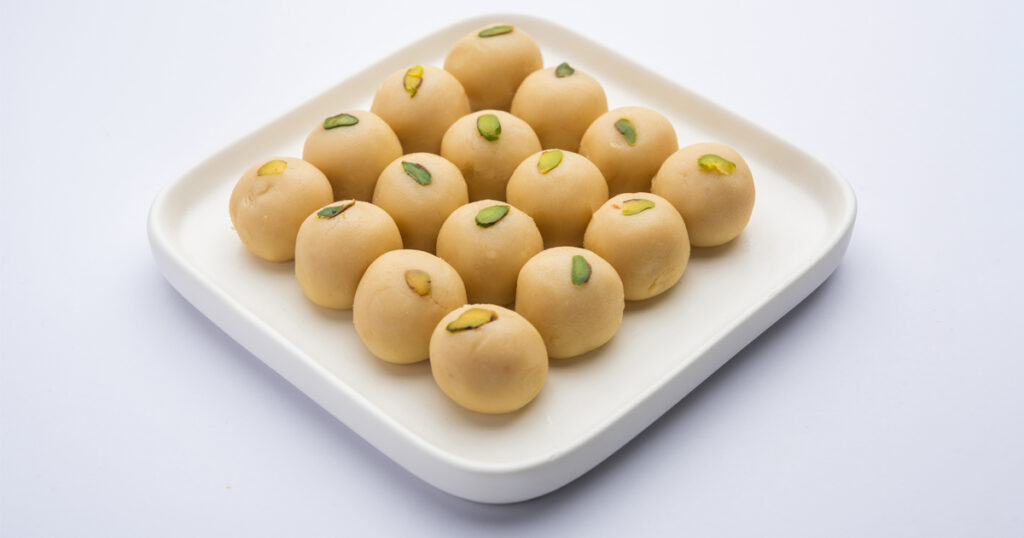 Peda or Pera is a sweet delicacy featuring its origins from the Northern states of Uttar Pradesh. With time, the sweet treat has gained ample impetus across other parts of the country as well. The sweet dish is typically prepared and distributed as prasad on special occasions or festivals like Ganesh Chaturthi.
Usually prepared in a semi-soft, thick round, the core ingredients of the famous sweet dish are sugar, khoya, and other traditional flavourings, including pistachio nuts, cardamom seeds, and saffron. The colour of the delicacy can vary from caramel to white tones, depending on the ingredients used. Different regions of India feature different methods of preparation. Some of the most famous variants of this delicious mithai are Doodh Peda, Kunthalgiri Peda, Lal Peda, and so more.
5. Puffed Rice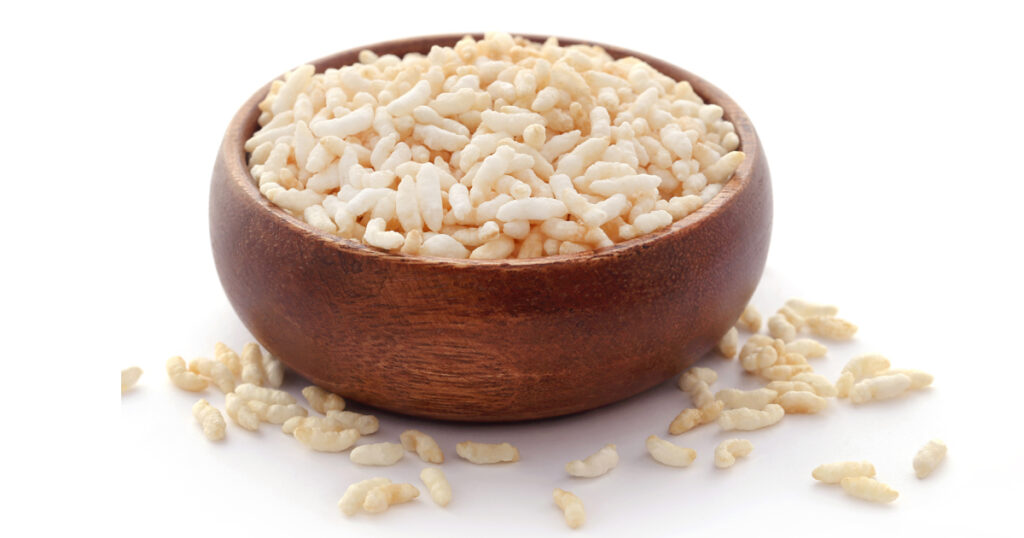 Also known as Pori, this sweetened form of puffed rice is offered to Lord Ganesha during the pooja or aarti of Ganesh Chaturthi. There are several mythological stories behind the concept of offering puffed rice to Lord Ganesha.
It is believed that once Kuber (the custodian of wealth in heaven) invited Lord Ganesha for a feast. Shiva had warned Kuber that Ganesha is an ardent eater. However, Kuber wanted to show off his wealth to Lord Shiva. As Ganesha arrived for the feast, he finished all the items in a short span of time and asked for more. Kuber started feeling helpless and reached out to Lord Shiva. Shiva asked Kuber to offer Ganesha a handful of puffed rice with ample devotion and love. Ganesha was able to satiate his hunger.
Therefore, it has become a traditional practice to offer Pori or puffed rice to Lord Ganesha on the eve of Ganesh Chaturthi.
Conclusion
With a myriad of sweets to offer to your favourite Bappa this Ganesh Chaturthi, make way for grand celebrations by ordering sweets online from Swiggy. This way, you can focus on other core preparations of the festivity while relishing delicious flavours from the famous sweet shops and eateries in your city. Try out the most favourite dishes of Lord Ganesha this Ganesh Chaturthi and seek blessings, love, and prosperity.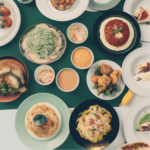 Satisfying your cravings, one bite at a time. Discover the best eats, trends, and uncover the hidden gems with us to make your online ordering or dining experience a memorable one.