Prasanna Venkatesh joined Swiggy in November 2016 and is currently the Director of Design at Swiggy. We are excited to present #ANewSide to Prasanna: the epicurean, versatile, and innovative. Read Prasanna's story in his words, for he is #MoreThanASwiggster.
In the whirlwind of life, we often find ourselves caught up in the everyday routines: wake up, work, eat, sleep, repeat. Yet, every now and then, life throws some unexpected and delightful surprises our way, with the potential to change everything. As I look back, there is one thing I never expected to happen – a steamy love affair with cooking!
You see, I'd always been an epicure who loved to indulge in the flavours, aromas, and presentation of a well-cooked meal, but the idea of cooking felt like a pipe dream. And then, life did what it does best: revealed its plans for me.
During the lockdown, when the world stood still, and everyone found themselves wandering off to the wonderland of tummies, I, too, found myself drawn towards the culinary realms. It felt like I opened the gates to the magical world of Narnia, and there was no going back.
I started cooking new recipes, day in and out, from Rasam Rice to Capsicum Poriyal to Thai Chicken Curry and a lot more. (P.S.: I still haven't come out as a non-vegetarian to my strictly vegetarian family, so keep it a top secret). I began inviting friends to taste my food and give me feedback: constantly looking for ways to improve myself, get better than the last day, and share my love through cooking.
Amidst my culinary quest, I realised how many of my design principles applied to cooking and vice-versa. The process of thinking, decision-making, reflecting, and executing — I could link them all together. There was magic in unfolding the scientific mysteries behind cooking — an abstract jigsaw puzzle fitting together perfectly!
Cooking opened doors for me that I never knew existed. I started travelling with the sole aim of trying authentic food recipes, discovering different popular and hidden cultures, learning from experts, and innovating in the kitchen.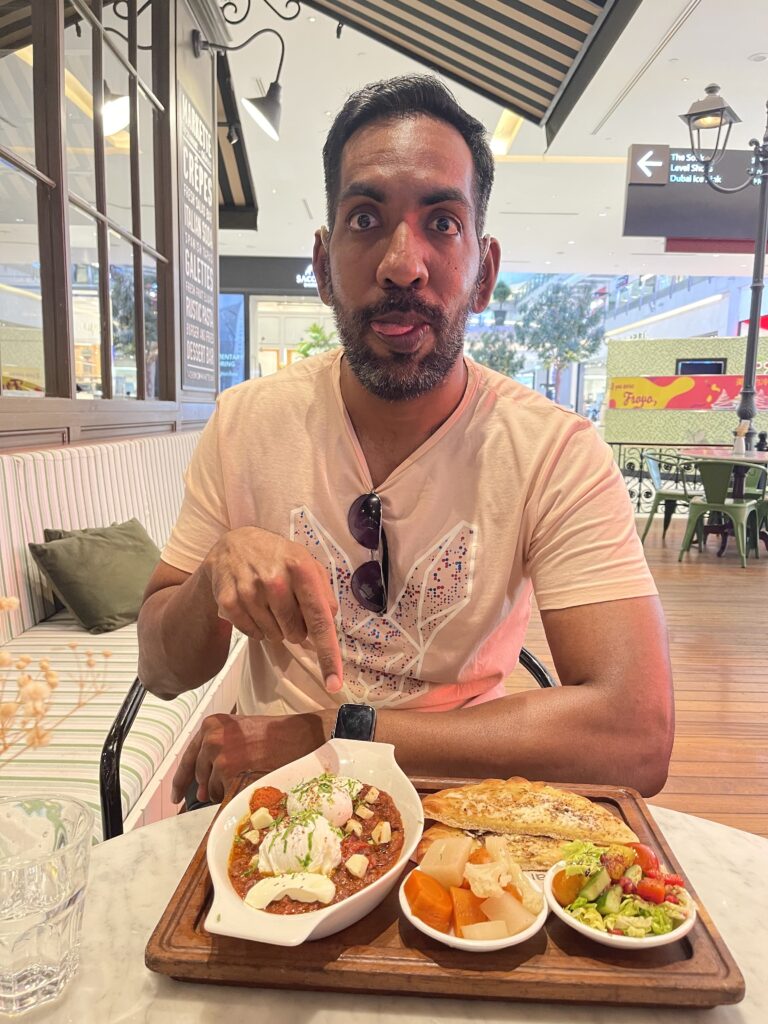 I still fondly remember one meal in Coimbatore when I visited a couple who prepared sambar and rice for visitors in their tiny hut. It has been 12 years, but I still remember the flavours as if I just had the meal; that is the power of a well-cooked meal.
Not only did cooking enhance my culinary skills, but it also shaped my outlook on life, imbibing in me a new lens of universal principles. It showed me that no matter what you do or want to do in life, you can apply the same principles of unlearning, imitating, learning, growing, and experimenting everywhere to achieve success. It is all a matter of outgrowing yourself and becoming better with every step.
Though I've come a long way, it's only the beginning. There is so much more to cook and eat, so many recipes to learn and innovate. My next culinary conquest? Japanese!

I found my love language, my favourite medium of expression and a lifelong passion for life in cooking, something my twenty-year-old self would never have imagined. The moral? Keep your mind open. You never know what unknown passion might be simmering within you, waiting for the next opportunity to unravel.