In the restaurant industry, staying relevant means more than just serving delicious food. Every successful eatery has something that sets it apart—be it a signature dish, a unique atmosphere, or an unforgettable experience. Swiggy has always been dedicated to supporting our partner's growth & bringing such ideas to life, and one of the ways we do that is by offering financial assistance.
Having enough working capital is vital for a restaurant's success, and we're here to provide the support our partners need to make their dreams a reality.
Meet Swiggy Capital Assist: Your Growth Partner
A first-in-the-segment solution designed to bridge the financing gap and empower restaurant owners. By partnering with multiple banks and NBFCs like Indifi, Incred, FT Cash, PayU & IIFL, Swiggy facilitates and offers a range of financial products to cater to a restaurant owner's specific needs, including:
Term Loans: A lump sum amount with a set payback time that can be returned in instalments. This can be used for restaurant expansion, renovation or to buy equipment.
Credit Line: A pre-approved credit amount based on the restaurant's performance on Swiggy that can be borrowed whenever needed, with interest charged only on the used amount. This can be used to buy raw materials, inventory, pay salaries, utility bills, and rent.
The Benefits
From quick sign-ups to even quicker approvals, Capital Assist takes a fast, easy and efficient approach to getting funds for your business needs:
Easy Sign Up: Apply online in just 3-5 minutes here: Apply Now
Digital Process with Quick Approval: Most of the loan process is digital, and loan approval happens within 1-2 days.
Competitive Interest Rates: Our lending partners offer one of the most favourable interest rates that you can get.
Collateral-Free: No need for collateral security.
Use Money Your Way: Use these funds for your specific requirements.
Both Term Loans and Credit Line offer these benefits.
"Swiggy is constantly looking at innovative ways to help our restaurant partners succeed. We will soon provide more exciting solutions like pre-approved loans to enable our partners to gain easier and quicker access to capital, driving even more growth for their businesses."
-Swapnil Bajpai, VP – Supply COE.
Success Stories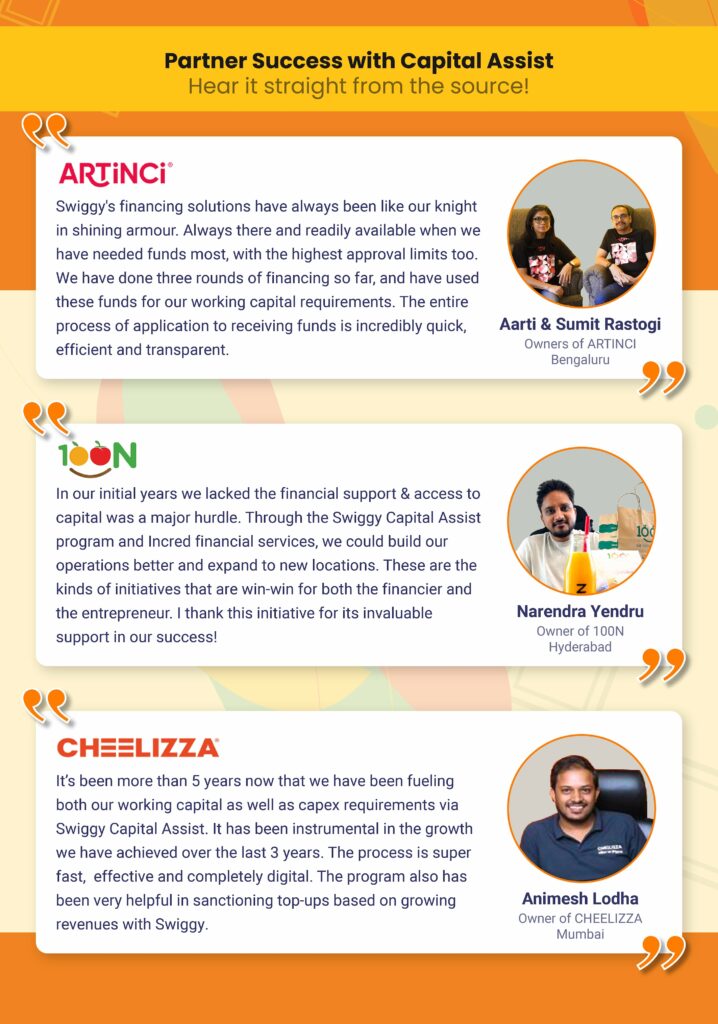 Since its inception in 2017, more than 8,000 restaurants have availed loans through this program, with over 450 crores disbursed.
Apply via Swiggy's Owner App
Open the Swiggy Owner App, and click on "Get Loans". If you can't find it, don't worry – we'll get in touch with you.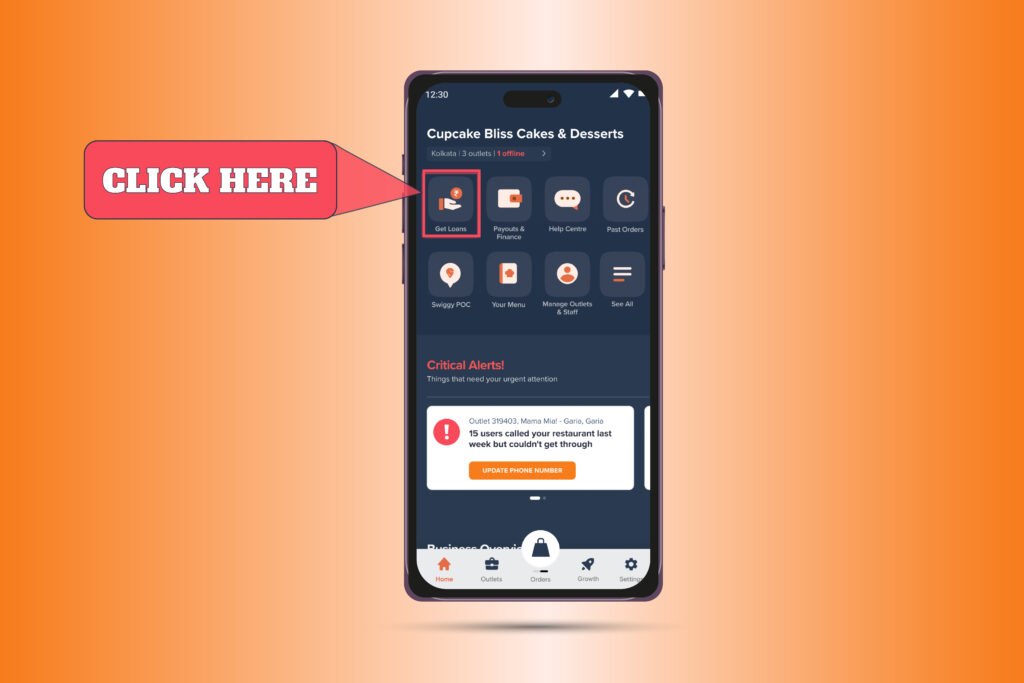 Swiggy's Capital Assist initiative is a testament to the platform's commitment to empowering its restaurant partners. Whether you're a budding restaurateur with big dreams or an established eatery looking to stay ahead in the game, Capital Assist has the financial solutions to support your journey.
For further questions about this, please write to capitalassist@swiggy.in