Navratri is just around the corner! The 9-day festival happens to be a period of immense festivity, happiness, fasting, and even feasting to seek blessing from Goddess Durga. Celebrated across all parts of the nation, different regions have unique ways of celebrating this festival with much grandeur and glory. Even with diversity in cultures, food, and traditions, one thing that remains constant with the festivities is the wide range of sweet dishes prepared to impress the Goddess.
If you are a sweet lover, you would love trying out the wide assortment of sweet dishes that are mostly offered in the form of bhog or prasad to the deity. The sweet items that are offered in the form of prasad are later on distributed amongst devotees, friends, and family. To make the festival even more auspicious for you, we have prepared a list of the must-have traditional sweets of Navratri that you should not miss out on!
Navratri Special Sweets for 9 Days
The 9-day long festival of Navratri features a myriad of layers around its grandeur and celebration. While fasting remains at the core of the rituals, a number of sweet delicacies are also prepared during the festivities. While some are offered as prasad, others add to the rich spread of festive desserts you should not miss out on.
Here are some of the must-have Navratri sweet dishes you should try:
1. Sweet Pongal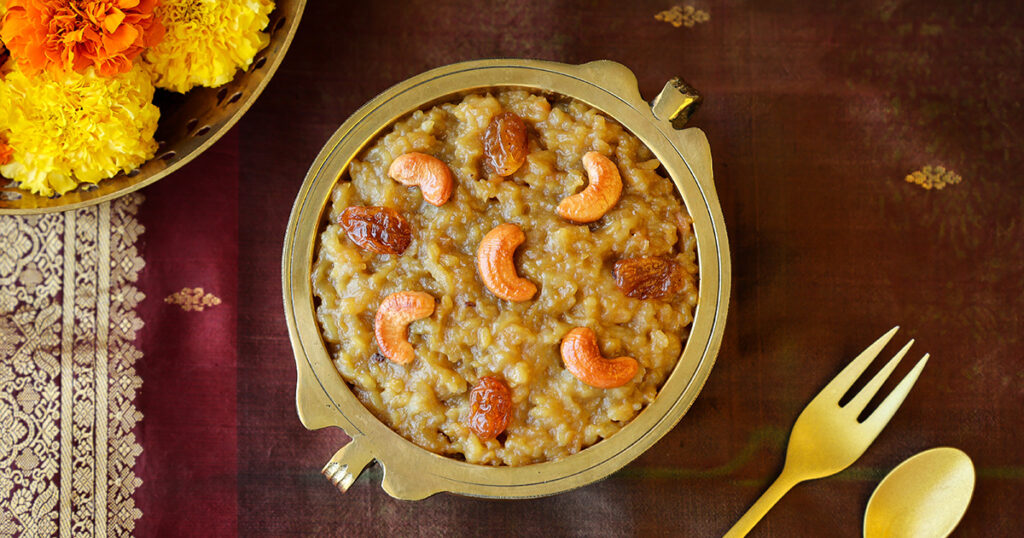 It is a traditional porridge that features a creamy and mushy texture. It is a conventional, authentic dessert quite popular across South India. In some regions, it is also known as sakkarai Pongal or chakkara Pongal. The primary ingredients of this delightful dessert are split & skinned green or yellow lentils, rice, cardamom, dry fruits, and jaggery.
2. Jalebis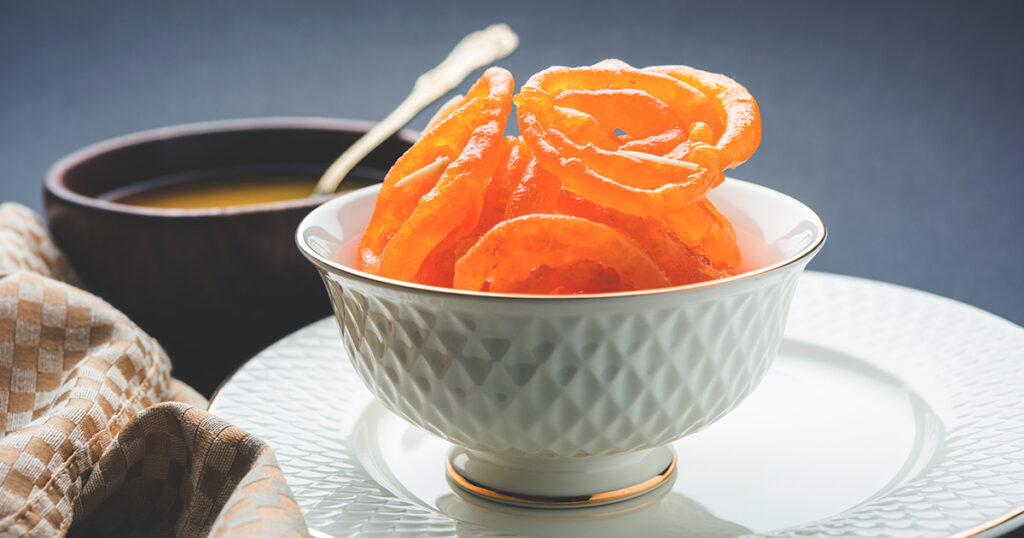 Jalebi Fafda is a classic combination that is consumed across several parts of the nation on the eve of Dusshera. There is a popular belief that reveals that Lord Rama was fond of sweets. Lord Hanuman used to prepare the same for Lord Rama. There have been different traditions following the preparation of jalebis with fafdas to commemorate the festivity.
You can have this mouth-watering combination during the Navratri period, especially for a fulfilling breakfast. To top it all, most satvik restaurants in different cities offer vrat-friendly versions of jalebis to make the dish extra special for you.
3. Kesar Milk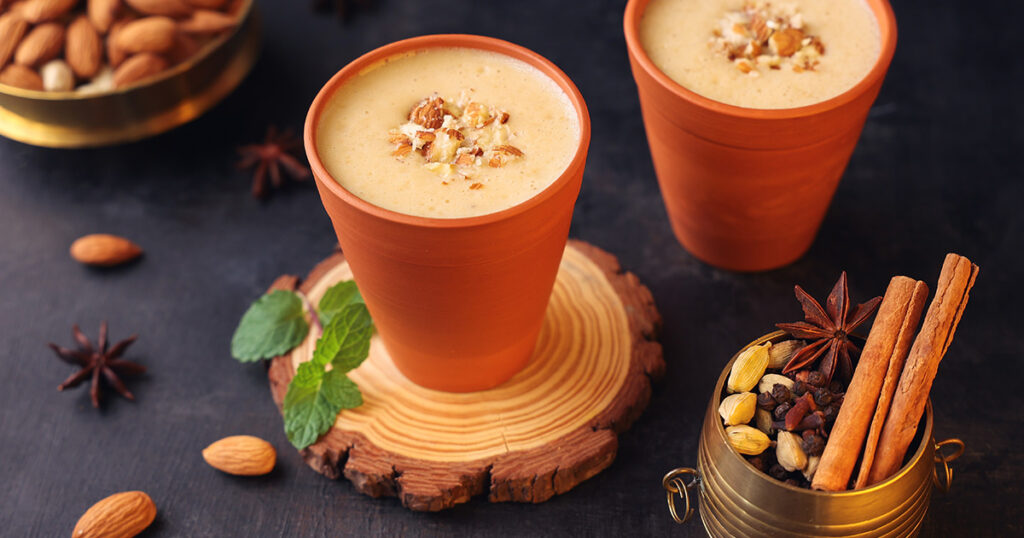 It is another famous Navratri-special recipe from South India. The sweet dish is primarily offered to Goddess Lakshmi. The dish is prepared out of an assortment of rich ingredients, including rava or semolina, milk, sugar, ghee, cashew nuts, and saffron. Some sweet shops or eateries also add cardamom powder to enhance the overall flavours.
4. Paal Poli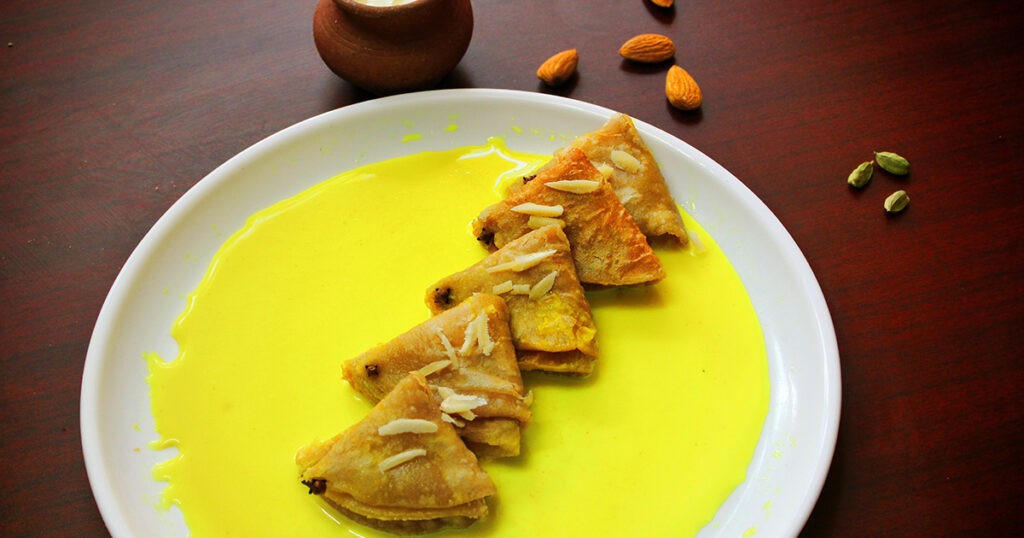 Have you ever attended a typical South Indian wedding, especially in Tamil Nadu? You might already be aware of the melt-in-your-mouth taste of this scrumptious dessert. It is a traditional dessert known as Paal or Milk Poli.
Some of the core ingredients used in the preparation of this authentic dessert are sugar, condensed milk, maida or all-purpose flour, clarified butter, rava, and roasted cashews. To enhance its flavour profile, most sweet-makers add a hint of saffron as well.
5. Sabudana Kheer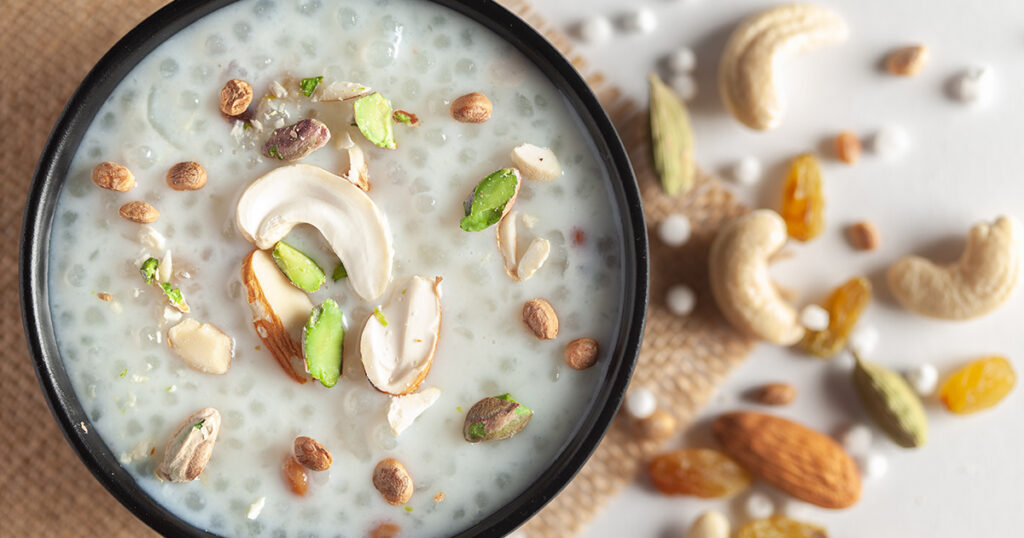 If you are observing the fasting period during Navratri, you can have this delicious sweet dish that is ultimately vrat-friendly. This creamy, flavourful pudding is prepared by mixing sabudana or tapioca pearls in a mixture of milk and sugar.
To boost the flavours of the dessert, you can spot the addition of special ingredients like cardamom powder, saffron, and blanched almonds. The sweet dish is not only delicious but also fulfilling and immensely nutritious for those observing a fast on the auspicious days of the festival.
6. Chenna Payas
It is one of the most relished sweet dishes during Navratri. Chenna Payas is famous for its rich taste and aroma as it takes ample time & patience during the preparation time. The term 'chenna' translates to cottage cheese and 'payas' to pudding.
It is a type of rich kheer featuring smaller pieces or balls of paneer. A good amount of milk is used for the preparation in addition to other ingredients, including chopped almonds, sugar, cardamom, and pistachios. Vinegar is also used for curdling part of the milk in order to prepare fresh chenna. You can relish this thick and consistent kheer as you embrace the festivity all around.
7. Rasgulla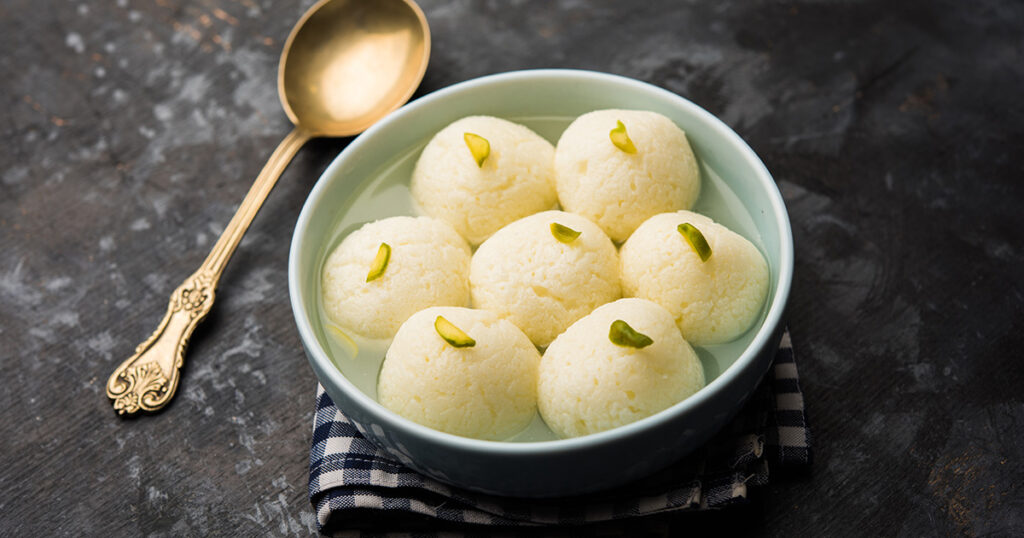 As far as the grand celebration of Navratri or Durga Puja in the East is concerned, no feast is complete without the serving of melt-in-your-mouth rasgullas or rosogollas. These soft sponge balls are filled with the goodness of sweet water to tantalise your taste buds.
Rasgullas typically originate from authentic Bengali cuisine. Therefore, it is a widespread dessert item during the festivities in Bengal. It is a delightful sweet to be consumed during festivals like Durga Puja as almost everyone is fond of this special dessert.
8. Ras Malai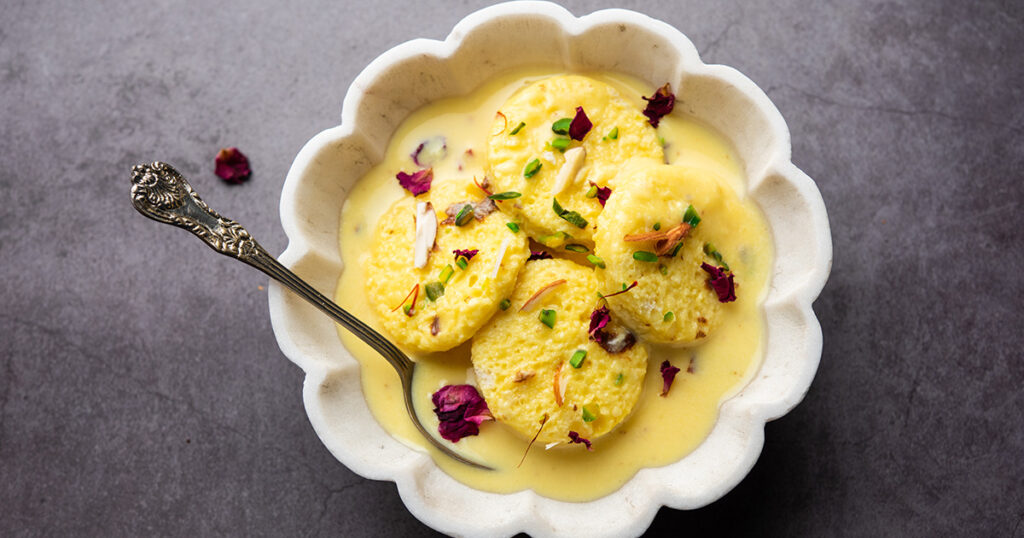 We all have consumed this lip-smacking, rich dessert item at least once in our life. The delicious dessert is renowned for its rich taste and fulfilling flavours. The dessert is typically prepared by using chenna or paneer. Paneer or chenna balls are dipped into a thick, consistent milk mixture (known as malai) to get soft and spongy.
To enhance the overall flavours, aromatic saffron is also added to the mixture. Some sweet shops also top the chenna dumplings with pistachios and other crushed nuts.
9. Sweet Potato Halwa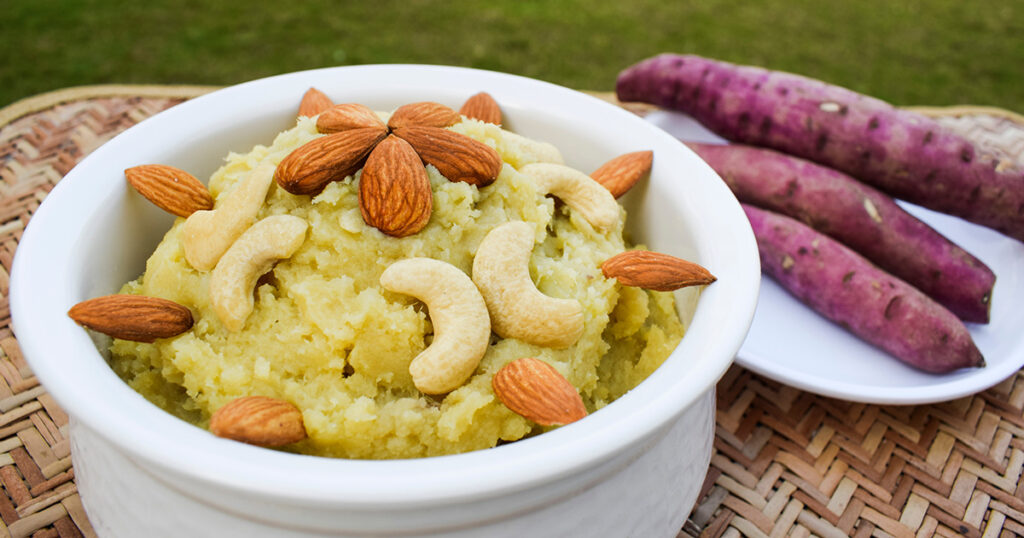 It is yet another vrat-specific dessert that can be heartily enjoyed by those observing fast on the 9 days of Navratri. It is an excellent alternative to all your sweet cravings during the fasting period. The halwa is prepared by cooking mashed or boiled sweet potatoes in ghee, milk, and sugar. The dish turns out to be extremely delicious, healthy, and fulfilling.
Conclusion
As the period of festivity and happiness approaches, make way for enjoying the time by indulging in feasts of different days. In addition to savoury delights, there is a myriad of sweet delicacies that can be savoured upon during the festive season. For your ease, you can now order sweets online in your city from Swiggy to enjoy your favourite sweets in the comfort of your home.

Satisfying your cravings, one bite at a time. Discover the best eats, trends, and uncover the hidden gems with us to make your online ordering or dining experience a memorable one.